Absen Launches Featured Category Brands
Absen introduced its featured category brands — AbsenLive, Absenicon, and AbsenCP — during its 2023 Spring Launch Event.
Leave a Comment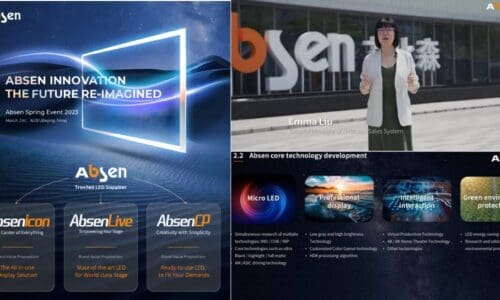 Absen, prominent LED display brand, unveiled its featured category brands — AbsenLive, Absenicon and AbsenCP at its Spring Launch Event 2023. Along with the brands, attendees also witnessed the launch of a range of new LED technologies, solutions and products.
AbsenLive
According to the Shenzhen, China-based company, AbsenLive is a dedicated category brand focused on the high-end rental and staging market, and virtual production/XR stage. Built upon decades of LED display experiences, AbsenLive constitutes a prior choice for global companies. It is especially suitable for those companies that demand high image quality, extremely stable structure, and superior color reproduction.
AbsenLive facilitates the fusion of virtual and real, bringing an immense experience to the audience and creating extraordinary customer value. Its latest Jupiter Pro series is also ideal for outdoor use. This series features a high-transparency platform, high brightness LED and precise curving capabilities. At the same time, it is lightweight and durable. Meanwhile, the modular and hanging-stacking design makes installation fast and easy.
Absenicon
Absenicon, an intelligent screen, founded in 2018, is a high-end brand of Absen. It focuses on conference display and consumer display. It thus aims to promote the digital transformation of enterprises and upgrade the audiovisual experience of the high-end consumer market with an intelligent interactive LED all-in-one machine.
The Absenicon intelligent screen is a large intelligent screen of more than 100 inches. It is an LED intelligent display terminal integrating document display, high-definition projection screen and remote-video application. It is applicable in multiple scenarios such as university lecture theaters, conference rooms, lecture halls, exhibitions and private theaters.
X series, one of the two new LED display solutions, offers large formats (108 inches/136 inches/163 inches). It also comes with improved clarity using flip-chip COB technology, easy-to-use controls and 100% seamless displays. Meanwhile, the C Ultrawide series provides widescreen displays applicable to 21:9 content and 154 inches/181 inches/208 inches formats at 33% more visible area. They are suitable to deliver exceptional visibility and impact for advertising and other digital-signage applications.
AbsenCP
AbsenCP is a dedicated category brand specially established for the global LED display channel market based on the development concept of 'Ready-to-use LED to fit your demands.' The new CP series feature high-resolution LED displays, minimal bezels and advanced control features. With this, it aims to meet commercial needs. It is thus applicable for corporate, retail, theme parks, exhibitions, e-sports, entertainment bars, and other scenarios. The brand thus focuses on the commercial-display market and comprises products combining creativity and simplicity.
Also Read: ARwall & Absen Partner on Virtual-Production Stage at Webster University
Additional Products
In addition to the category brands, Absen launched several new products and solutions across multiple categories at the event. Their image quality, brightness and color accuracy, make them ideal for indoor and outdoor applications.
First, the CL V2 is a cutting-edge MicroLED product for indoor use featuring a fine-pitch pixel configuration, high brightness and contrast. It also has advanced color accuracy. Its black coating, full flip chip and HDR 10 technologies produce a non-reflective and highly reliable display. Moreover, it provides stunning visual results and capabilities.
KLCOB V2 is a revolutionary MicroLED product that is suitable for outdoor use. Its display surface is designed with extraordinary deep blacks that create black consistency and exhibit a deep and pure black. Thus, it improves the visual performance to an unprecedented level and capturing all brilliance. Lightweight and ultra-thin, KLCOB V2 saves time and effort during installation.
DOOH Solutions and More
A new flexible LED display product, A27 V3 is lightweight, ultra-thin and bendable. With a 16:9 commercial display aspect ratio and premium color management technology; it offers a wide-viewing angle suitable for all types of signage applications.
A new line of DOOH solutions highlights Absen's LED light box displays. According to Absen, it provides exquisite picture quality using ultra-high-definition displays with a refresh rate of ≥3840Hz. Stable and reliable, the displays are convenient to install and maintain and offer integrated solutions, cluster control and security guarantee.
Finally, Absen has a fresh line devoted to sports and entertainment. Here, the four key components include intelligent centralized multi-system management and control, a multi-functional system adjustable to various scenarios, simple and convenient installation, operation and maintenance, and energy efficiency.
Channel Recruitment
As part of its commitment to expanding its global network, Absen also announced the Absen Channel Recruitment Program. This program aims to attract new partners and resellers to the Absen network and give them access to the latest LED display products and solutions.
If you enjoyed this article and want to receive more valuable industry content like this, click here to sign up for our digital newsletters!