Abt Expands Commercial Business with URC System
Residential and commercial retailer Abt used URC's Total Control to create a reliable, easy-to-deploy system for a Chicago sports bar.
Leave a Comment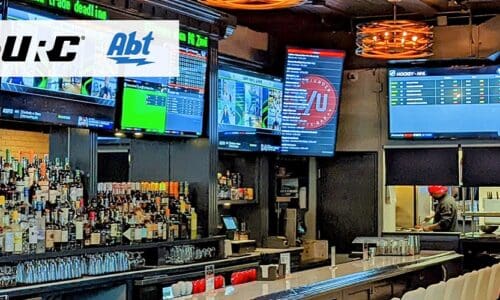 Located in Chicago's Lincoln Park neighborhood, the Over Under Sports Bar is a new sports bar dedicated to fueling the passion of the online sports betting app enthusiast. Featuring over 40 sports viewing and wagering information screens, it relies on making the space enjoyable for patrons and easy to operate for its staff. To fuel success, the ownership at Over Under Sports Bar enlisted Abt, a large, independently owned, single-location retailer of electronics, appliances and home goods. Using a basic IR system, Abt's commercial team used Harrison, N.Y.-based URC's Total Control to create a reliable, easy-to-deploy system.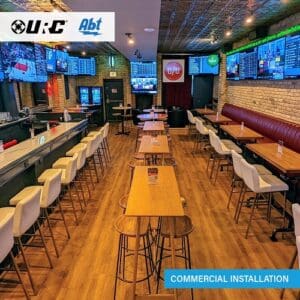 Per a statement, Abt is a powerhouse with over 86 years in operation, over 4 million satisfied customers and over 1,700 employees. The Glenview, Ill.-based company also works with leading brands across residential and commercial electronics.
According to Abt's commercial installation team led by Devin Ohlsen, the sport bar's management team wanted a very simple, reliable IR control system to work with each LG TV location." He continues, "We used Total Control as our new go-to system, and it has been working very well."
Also Read: URC and Wavelength AV Recreate Doc's Workshop from 'Back to the Future'
This location is the first where Abt has deployed a URC Total Control system in a commercial environment. After years of collaborating on residential installations, Abt acknowledges that it recently started using URC systems for easy deployment, reliable operation and available product.
Equipment List
MRX-15 Advanced System Controller
MRX-2 Auxiliary Base Stations running IR emitters to each TV location
TDC-7100 Tabletop Touch Screen
URC App