Airtame Partners With Orangebox on Technology Showroom
The Airtame solutions equip Orangebox workspaces with wireless hybrid conferencing, digital signage and screen sharing.
Leave a Comment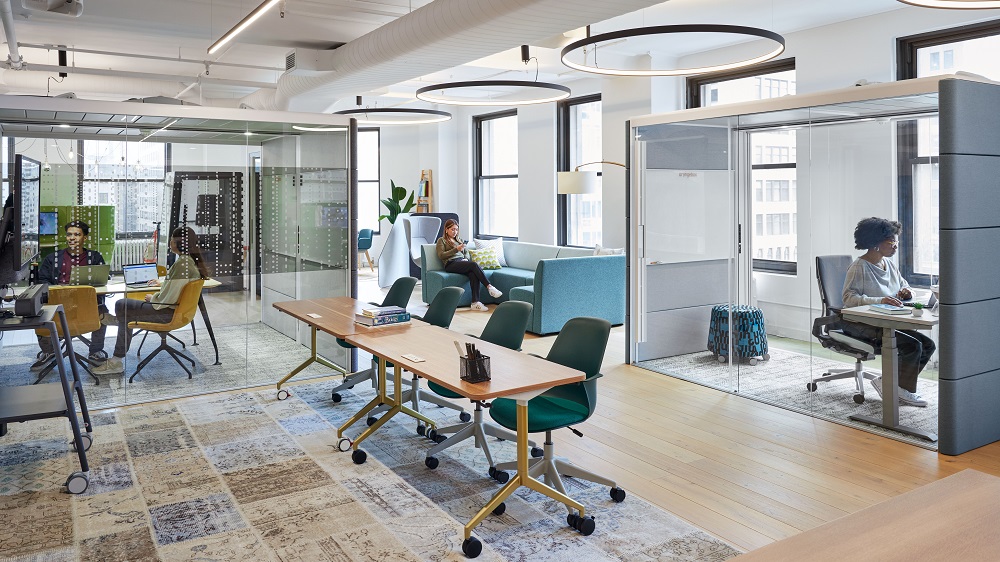 Airtame, creator of the hardware-enabled SaaS platform that allows seamless collaboration in schools and businesses, announced a partnership with Orangebox, designer and manufacturer of furniture solutions, to demo their collaboration solutions in Orangebox's New York City-based showroom. Here, the company will showcase its communication and collaboration tools now available to educators, administrators and organizations.
"Partnering with Orangebox is a natural progression of Airtame's hybrid technology offering to schools, universities, and businesses; as we have strong common interests and [remain] dedicated to providing end users with intuitive solutions that enhance hybrid communication, regardless of environment," says Jonas Gyalokay, Airtame co-founder. "The New York showroom is an excellent example of how Airtame technology caters to flexible spaces and supports individual needs and activities."
For more than 20 years, Orangebox says it has provided unique and accessible furniture and space design to educational facilities and businesses. Thus, it has encouraged focused work and team collaboration. As universities and workplaces transitioned from traditional work environments to more networked spaces in the midst of the COVID-19 pandemic; Orangebox states that it recognized the need for dedicated settings to support hybrid communication. As a result, it created Smartlearning Spaces. This offering involves curated spaces designed to facilitate individual study and group learning of different sizes.
Per a statement, Smartlearning Spaces and Airtame aim to deliver state-of-the-art furniture and technology design for ultimate end-to-end flexibility. They also will enable simple, aesthetically pleasing solutions for any space.
Airtame Core offers seamless digital signage capabilities and intuitive wireless screen sharing, the company states. Additionally, Airtame's Share from Browser feature makes Bring Your Own Meeting (BYOM) environments and presentations simpler and more secure than ever before.
Airtame Hybrid and Orangebox Smartlearning Spaces
According to a statement, Airtame Hybrid takes collaboration a step further for those using Orangebox Smartlearning Spaces. Together, they facilitate flexible hybrid conferencing to ensure users can easily connect with hybrid participants.
Supporting Teams and Zoom calls (and soon, Google Meet and Webex), Airtame Hybrid thus brings crucial flexibility to Smartlearning Spaces which support and adapt to the tools used by multiple users daily. The Share to Call feature is also available through the Hub. Per the company, it solves one of the biggest pain points experienced in hybrid meetings. Here, it allows any person in the meeting room to instantly share their screen into a Zoom or Teams call without the hassle of joining the call from their personal device.
Paired with Airtame technology, Smartlearning Spaces enhance education environments, according to a statement. It also foster seamless collaboration for in-person and hybrid users. The showroom will thus highlight a variety of spaces. These include student commons for in-person social connection; learning commons where students can find places to work undistracted or collaborate virtually; and a faculty hub designed as a flexible space for educators to reserve based on their task, mood and personal preference.
"The showroom represents an ecosystem of solutions that facilitate flexibility, focus and flow; making engagement and hybrid communication effortless," adds Sophie Cramer, senior marketing manager of Orangebox. "We're thrilled to elevate the capabilities of our Smartlearning Spaces with solutions from Airtame, a like-minded partner who prioritizes creating hybrid conferencing environments that allow for the required flexibility of shared workspaces."
If you enjoyed this article and want to receive more valuable industry content like this, click here to sign up for our digital newsletters!