Almo Hybrid E4 Experience Melds Thought Leadership, Holography
Almo Professional AV held its first fully hybrid E4 event last month. It was a resounding success, blending thought leadership and holography.
Leave a Comment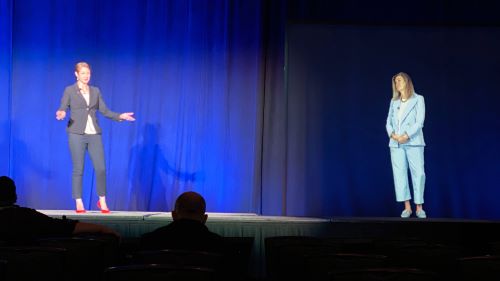 Almo Professional AV's E4 Experience hybrid event, which took place in Dallas on November 30, combined essential industry thought leadership with an exhibit floor populated by about 45 vendors, including heavy hitters like Kramer Electronics, Listen Technologies, Absen, AtlasIED and NETGEAR.
Not having had an opportunity to participate in an in-person E4 Experience since before the pandemic, I thoroughly enjoyed the opportunity to learn and network, but especially to get my hands on new technology!
My fellow attendees clearly agreed, as the exhibit floor was packed from open to close. According to Melody Craigmyle, vice president of marketing and communications with Almo Professional AV, "The exhibitors are very pleased. I've heard nothing but great feedback."
E4 Experience Keynotes
More than 425 attendees registered for the in-person component, complemented by a whopping 2,400-plus registrants for the E4 Evolution virtual offering. The E4 Experience offered keynotes centering on how the pandemic has forever changed the workplace, the importance of meeting equity, and how to make physical offices hubs of creativity and collaboration. Craigmyle deftly sums up one of the key conclusions, saying, "You've got to have your conference rooms ready to be inclusive of those people who are still working from home. You cannot forget that they're there. You can't go back to your old ways."
What's more, presenters like HOK's Kay Sargent put the lie to the idea that physical offices are dead and gone. Along with her colleague, Rachel Rouse, Sargent shared research data to indicate that, when employees come to the office at least sometimes, their engagement grows appreciably. The operative question, then, is how to optimize those environments.
NSCA's executive director, Tom LeBlanc, moderated an illuminating discussion with panelists from Almo, Texadia Systems and Sharp Business USA to discuss the challenges that integrators face and the opportunities available to them. Several education sessions earned participants CTS renewal units.
Steak And Sizzle
Clearly, the Texas-based show had a lot of steak, but there was plenty of sizzle, too. "It's nice to have a 'wow factor' like a hologram to get people to the event," Craigmyle quips. She was referring to the eye-popping holographic technology that ARHT Media deployed on the main stage. The technology involves a remote individual—in this case, presenters from Los Angeles and Washington, D.C.—occupying a studio space with a roughly six-foot-wide green screen. Then, the presenter's holographic image appears on a display surface on the far side (in this case, at the Hyatt Regency Dallas, site of the E4 Experience). The hologram blends seamlessly into the background environment, and the individual can speak, move and interact with the audience in real time.
The technology is a potential substitute for business travel, and it could find a home in education lecture environments. "The applications for it are really endless," Craigmyle enthuses. Almo exclusively distributes this ARHT Media technology in the U.S.
With Almo's first fully hybrid E4 Experience a resounding success, Craigmyle expresses optimism about 2022 events. "We're going to be back out on the road," she promises. "We've got four locations—two in the spring, two in the fall." All will have robust online/virtual offerings because, as Craigmyle observes, that offers an opportunity to reach thousands of people effectively.
Commercial Integrator detailed plans for the show last month.