Almo Professional A/V Announces 2018 E4 AV Tour Dates
2018 E4 AV Tour by Almo emphasizes 'experience,' in line with AVIXA focus on creating integrated customer experiences through AV technology.
Leave a Comment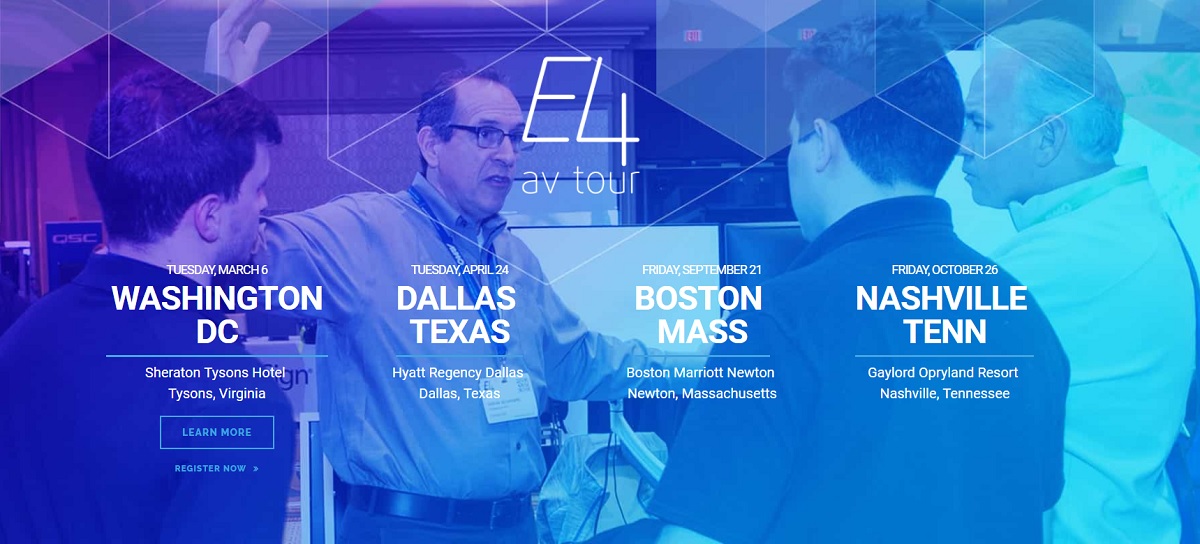 Almo Professional A/V and the Audiovisual and Integrated Experience Association (AVIXA) have announced the dates and highlights for its 2018 E4 AV Tour program.
The CI BEST Award-winning traveling one-day E4 program – which stands for Educate, Exchange, Explore and Experience – takes place March 6 in Washington, D.C.; April 24 in Dallas; Sept. 21 in Boston and Oct. 26 in Nashville. 
"In step with AVIXA, we've updated the final 'E' in E4 to 'experience,'" says Almo VP of marketing Melody Craigmyle.
"Many of our AVIXA-accredited educational sessions and workshops are focusing on the integrated customer experiences that are possible through the use of AV technology.
"2018 is going to be an exceptional year for the E4 program with new opportunities for our partners to learn how to create these integrated AV experiences while advancing and profiting in this incredible industry," she said in the joint press release.
In the announcement, AVIXA CEO David Labuskes says E4's "emphasis on the power of audiovisual experiences is exactly in line with the direction of our industry. We look forward to working with the Almo Professional A/V team again this year as they build on the traveling E4 Tour and bring the experience portion into practical application for program attendees."
Craigmyle noted that an end note speaker has been added to every E4 event this year and that Joe Theismann, Super Bowl champion quarterback, broadcaster, entrepreneur, corporate speaker and restauranteur, is wrapping up the first E4 in Washington, D.C. in March.
Additionally, the Oct. 26 event in Nashville includes an evening technology tour and cocktail reception.
"It will continue as a family-friendly weekend to be enjoyed by resellers and integrators throughout the country," said Craigmyle.
Almo's E4 AV Tour won a 2017 CI BEST award in the Training, Consulting, & Publications/Business Services category because of its easy ROI, non-stop networking opportunities and product variety.
Learn more on the tour's website.