If Hard Hats Could Talk: Installers Share the Stories Behind Their Dings, Scratches, & Stickers
AV installers share why their hard hats look the way they do right now, reminding us of the importance of on-site safety and having a sense of humor.
Leave a Comment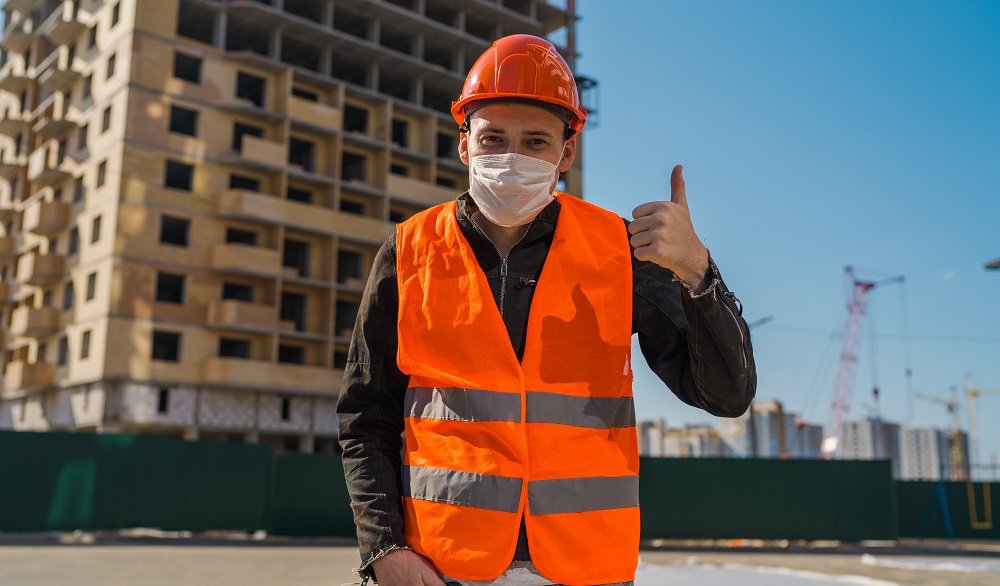 What is it really like to be an AV installer? You can tell a lot by their hard hats.
Every day on a job site, there's potential danger to one's noggin that these helmets prevent. Their scratches, dings and dents are testaments to accidents that could have been worse. Their stickers, modifications and accouterments show off something about the people wearing them.
We asked a few AV installers to share photos of their hard hats and provide the story behind why they look the way they do. We hope you'll take part and share your safety helmets' stories with us, too.
Justin Bryant, project manager, Felix Media Solutions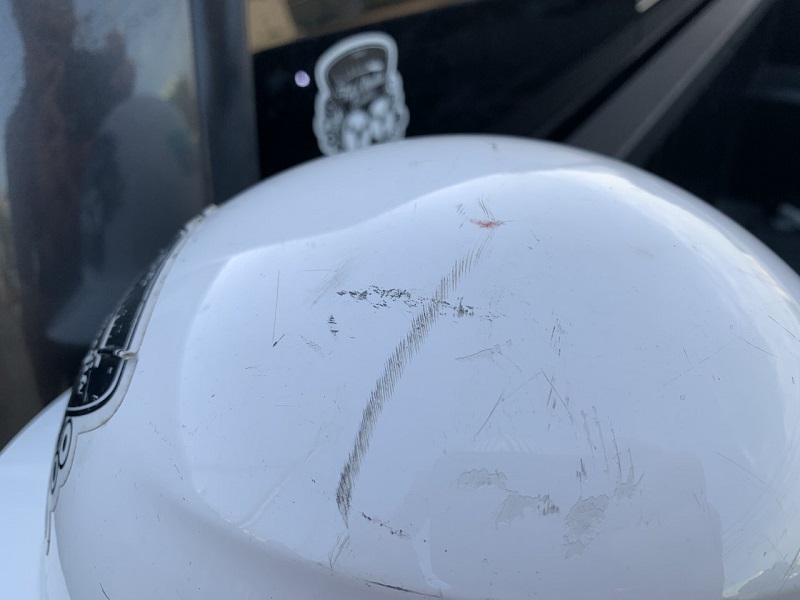 "This picture illustrates the importance of hard hats… we were doing wire pulls in a busy office space with people working beside us and behind and above us… I was minding my own business trying to hear my guys calls for more slack when I hear a " LOOK OUT!" about the time I registered what was going on I got a BIG TUMP on my head… the plumber had dropped a 8ft section of all thread from about 10 ft up… without the hard hat, there is no way I wouldn't have been going to the hospital.
"Branding on your hardhat is important… Obviously I'm a long time employee of Felix Media Solutions, but one thing that this job has spun off is the Odin Plasma company, its my company and I make brackets and other custom parts for the AV industry (mostly for FMS)… we have our own wall mount bracket we have created that blends all that we like from several vendors."
Derek Teaderman, foreman, Spinitar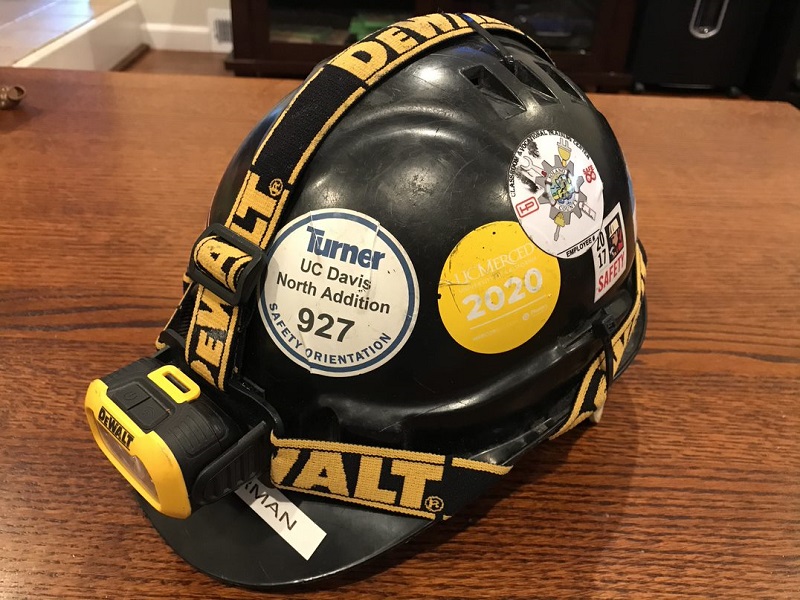 "My hard hat has seen a lot of jobs. I can't tell you how many times I've hit my hat while doing structure above a ceiling or jammed it up on to a piece of all-thread. Given the force you can hit your head when you're in full motion, I easily could have busted my head open many times. You can see the hits clearly.
"My headlight is essential; many places we work in are not lit above the ceiling and job sites don't always have power to light every corner. I also use it to communicate with my techs, inspectors and other contractors. I used zip ties to secure it through existing openings and dual lock to secure the actual lamp in place so it doesn't shift.
"One of the more unique stickers I got was from the UC Merced 2020 project. We had to go through a very serious environmental impact training before we could go onsite, so that the wildlife we were working on was not disturbed and when to notify those on site to halt work. For example, if birds or reptiles made nests, we would have to abandon materials/work areas until they moved. That job also had us put emergency information sticker on the inside, and other jobs required us to put things like my name on the front. All my stickers made it there for a purpose; the only personal one is my "I voted" sticker."
Bentley Gallegos, program manager, Felix Media Solutions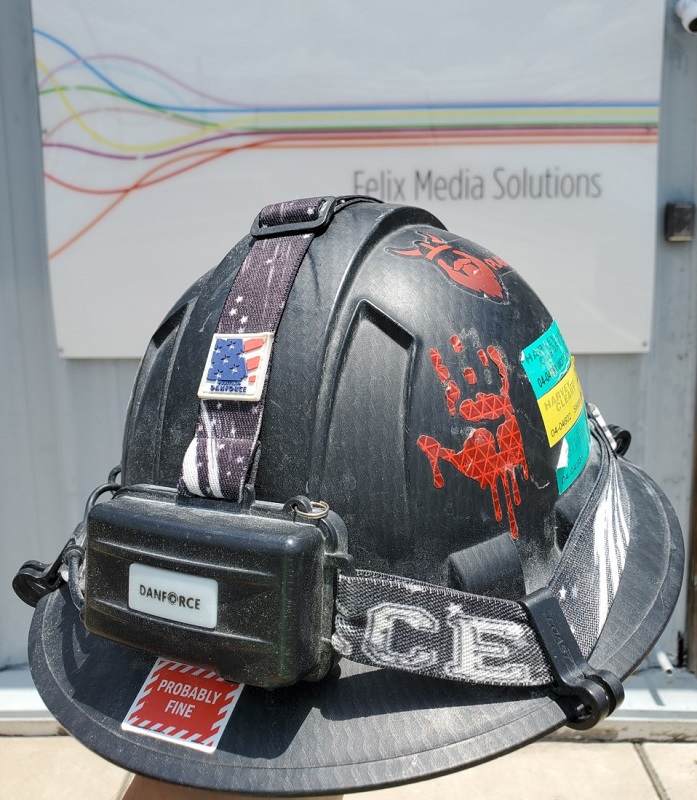 "If hard hats could talk, they would surely claim we are more hard-headed than they are. God knows when you're crammed above a grid just trying to get that one wire through your conduit, or that one turn of the wrench, you rely on that hard hat to be your saving grace as you just shove past the grid wires and the all-thread so you can get that extra inch of room to work.
"It's always interesting to see the stickers on your fellow workers hats to, they're like little badges of history as you grind through each job site earning every nick and ding while moving toward your end goal. Gazing up at each instance knowing that your hard hat is the only thing keeping you from muttering frustration under your breathe as you make moves into the unknown… As the sticker on the back of mine says, and as we say… it's 'Probably Fine'!"
Miguel Crespo, Senior Field Technician, Verrex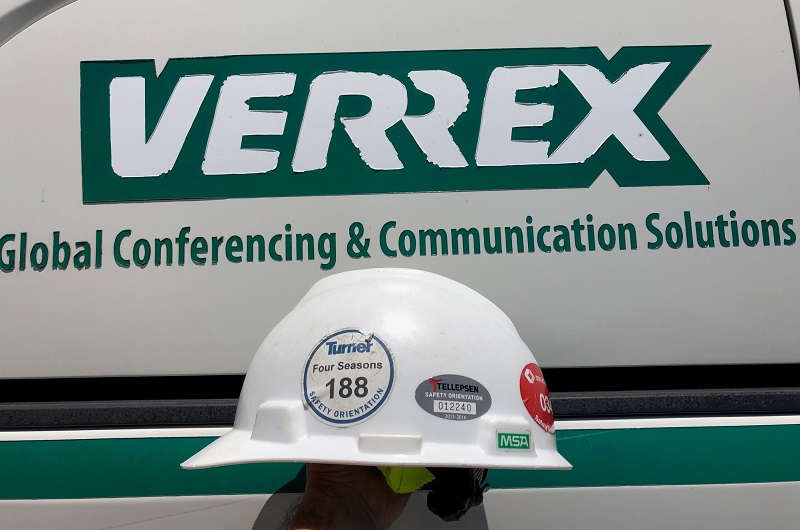 All sorts of different styles and colors of hard hats are made. Some companies have their logos on them, some are more fancier looking than others, Some companies have the different colors which identifies the Forman and the workers. Meanwhile they are all made to protect one when wore correctly, style and colors do not matter when it comes to protection.
Some construction sites have a an amusing policy for any contractor or personnel that forgets or needs to borrow a Hard Hat for the day. I was on a job site that required a hard hate and PPE to walk and or work on the site. Unfortunately the gentleman I was with didn't have a hard hat and he needed to borrow one. The only hard hat that the General Contractor would let borrow was "The amusing hard hat" which was hot pink in color with rainbow Mohawk hair type. You can just imagine the giggles, laughs and stares; let alone I had to walk with him.