AV News Roundup April 15: Products, Projects and People in New Places
Here's a closer look at some of the AV news this week that includes new Kramer products, a sound system installation by DAS Audio and more.
Leave a Comment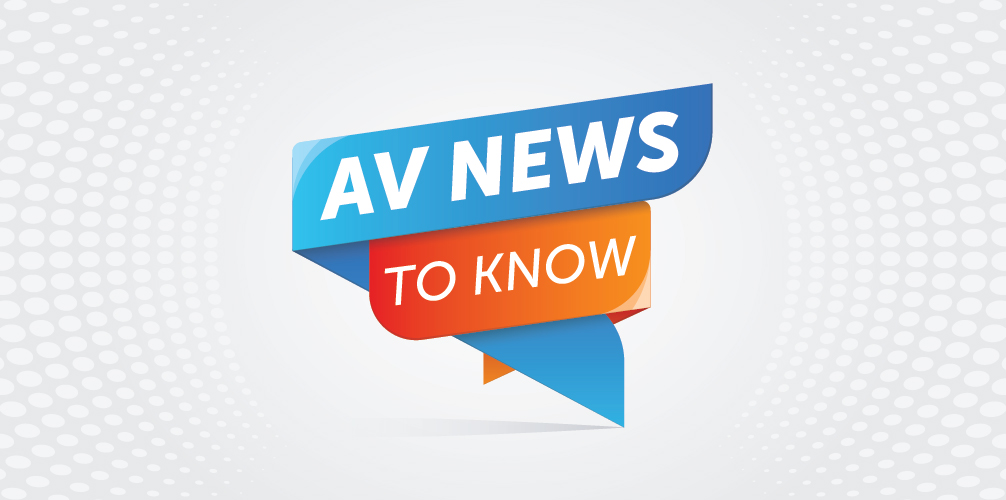 New Products
Kramer Announces New Videowall Drivers
Kramer, Israel-based audiovisual experience company, launched its VW-9 and VW-16 Videowall Drivers. The new devices are deemed as all-inclusive videowall processors. According to Kramer, the VW-9 and VW-16 drivers simplify deployment of large-scale videowalls by eliminating the need for an individual unit for each screen or a complex AV network infrastructure. This significantly reduces the total cost of ownership for large videowall deployments. Thus, it makes the drivers ideal for a wide range of applications across various markets. Some of these comprise enterprise, hospitality, transportation, entertainment, government and military sectors.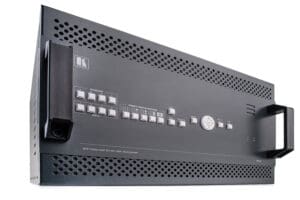 The company says it designed the VW-9 driver for 3X3 videowalls. It features 10 outputs, making it flexible and ideal for wall shapes up to 10 identical displays, such as 5X2 configurations. The VW-16, with 16 outputs, drives huge videowalls of up to 16 displays. Both drivers incorporate 4K60 4:4:4 video processing and support audio input switching and de-embedding. Integrators can install them in any square, rectangle or elongated configuration. Moreover, they are suitable for varied applications. These range from airport signage to shopping malls, command and control centers, and more.
The drivers also come with redundant power supplies for uninterrupted operation. Thus, according to Kramer, the units are exceptionally robust. What's more, they meet strict security requirements. These include mission-critical applications such as situation rooms, air and land traffic control centers, security command and control, and medical installations.
They also process video without compression, thereby ensuring high image quality with sharp, clear pixel clarity. In addition, zero (sub-millisecond) latency enables real-time video display. This makes it highly suitable for applications that are ultra-sensitive to time lags, such as live presentations and events.
Additional Features
The VW-9 and VW-16 drivers make videowall set-up and management fast and simple. They also come with a choice of Ethernet and RS-232/422/485 control interfaces, a unique, intuitive front panel on the processor unit, and varied video processing and audio options. Per a statement, the videowall processor is therefore easy for anyone to set up and manage. It also requires no training.
"As the market evolves, Kramer continues to lead in creating innovative products and solutions that meet the needs of our customers across all markets," comments Shai Yaniv, VP of products & solutions at Kramer. "Our VW-9 and VW-16 videowall drivers are designed to deliver impressive and intuitive solutions for large-scale video walls, in varying shapes and sizes, that are simple and cost-effective to set up and operate. Adding the drivers to our product portfolio completes Kramer's eco-system for video walls by offering a premium engine for large-scale installations and continues to enhance the customer's audio visual experience."
The VW-9 and VW-16 will be in stock and shipping worldwide in late Q2, says Kramer.
Audio Visual Projects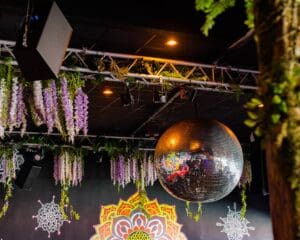 For those wanting to pick up the energy and turn up the volume, the place to be is at Rock Bar in Fort Lauderdale, Fla. It features a traditional American menu and a stunning oceanfront view. This makes it a desired destination to bring one's friends or make new ones. The venue recently underwent an extensive facility upgrade. As part of the renovation, it now boasts a sound system that uses E11EVEN Sound loudspeakers and power amplification by DAS Audio.
Deerfield Beach, Fla.-based Unify Productions is an AV integration company and consulting firm. It worked closely with Willy-Tech Services and Spain-based DAS Audio to develop a sound reinforcement setup. Together, they delivered a high energy atmosphere at Rock Bar. Charlie Cortes, the owner of Unify Productions, discusses the project.
"The E11EVEN Sound by DAS Audio system is used to create a night club dance environment with a live DJ," Cortes explains. "Formats range from EDM, House, and Mainstream music formats all the way through Top 40 Dance. The night club encompasses the main room and multiple bars. And now, the energy level is really something to be experienced." He attributes this to DAS Audio's John Fiorito and Geovanni Ortiz. Fiorito designed, managed and commissioned the new system. Meanwhile, Ortiz used Rational Acoustic's SMAART software for speaker optimization. Guillermo Rodriguez and Willy-Tech Services also served as the certified installation team, reveals Cortes.
Configuring the Sound System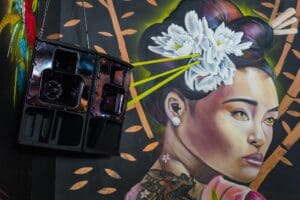 Rock Bar's main room functions as the primary dance space. Here, the new sound system comprises sixteen E11EVEN Sound by DAS Audio ES-158 3-way passive point source loudspeakers. Eight ES-221 passive subwoofers supplement them for low frequency reinforcement. Reflecting on the performance of the setup, Cortes offered the following thoughts. He states, "First and foremost, the quality and clarity of the sound system at high SPL levels — free of any distortion — is truly impressive. The coverage pattern created by the eight pairs of ES-158 loudspeakers is amazing. Each of these pairs is accompanied by an ES-221 dual 21-inch sub, that seals the deal."
For the venue's main bar area, Fiorito specified four E11EVEN Sound by DAS Audio ES-10 2-Way point source loudspeakers. Two ESBR-218 passive subwoofers accompany them. In the nearby equipment rack, power amplification and signal processing consist of two DAS Audio EP-2K4, two EP-6K4, four EP-10K4, four EP-14K2, and two EP-22K4 power amps, for a total power output of over 120,000 Watts. Additionally, signal processing for the system includes a BSS Audio BLU-100 signal processor and a BLU-BOB Break-Out Box output expander.
Impact of System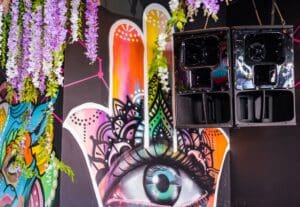 The combination of the E11EVEN Sound by DAS Audio loudspeakers and power amplifiers impressed Cortes greatly. He adds, "The E11EVEN Sound speakers and amplifiers make this system one that any global circuit DJ would want to take for a ride. The E11EVEN Sound equipment is ideal for club environments and is a perfect fit for Rock Bar."
The team installed the new sound system at Rock Bar during March 2022. Since that time, it has made a favorable impression. Cortes expands on this impact. "With the debut of the E11EVEN Sound by DAS Audio system coinciding with Spring Break 2022, this question may best be answered by the thousands of college students who are flocking to Rock Bar on both a daily and nightly basis. Owner Oshri Avidor can rest assured that his club will be known far and wide as 'the place to be' on Fort Lauderdale beach for years to come!" he exclaims.
People and Places
PPDS Appoints Valeriia Polovkova as International Project Manager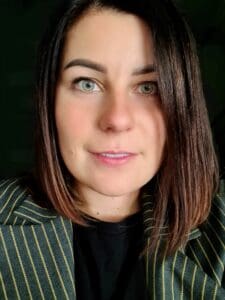 Netherlands-based PPDS appointed Valeriia Polovkova as the new dedicated international project manager for tailored installations in hospitality, corporate and retail.
Polovkova is an accomplished AV professional, states the company. She joins PPDS with more than 10 years of AV industry experience. This comprises specialist technical knowledge of Philips displays. This will further strengthen and extend PPDS' team of International Key Account Managers (IKAM) to support all major market verticals, says the company.
Launched in 2020, PPDS reveals that it created the IKAM network to help overcome challenges for businesses with multinational footprints with their AV installations. It thus brought a global consistency with local expertise. It also provided dedicated support and a single point of contact for more streamlined, time- and cost-efficient project installations.
Full Service
Polovkova is based in Amstelveen, northern Netherlands. As part of the IKAM team, she will be responsible for the coordination and successful execution of global projects within various sectors. These comprise corporate, retail and hospitality markets. Her role also encompasses strategy, pricing, contracting, pre- and post-sales of products and solutions (hardware, software, brackets, fittings), operations, country-specific taxes, certifications, services and more.
She will work alongside other founding members of the IKAM team including international key account directors, Frank Trossen and Peter Vinke. Polovkova will also report to Simone Gagliardi.
Looking Onward
Polovkova expresses her excitement on the new position. She states, "AV is my passion. [W]ith my previous roles and experiences, all the stars aligned perfectly for me, with the opportunity to work for such a progressive company as PPDS, in such a unique and exciting role."
Gagliardi acknowledges that Polovkova's experience and knowledge makes her suitable for the upcoming role. He continues, "She has already proven herself to be a hugely hands-on, and enthusiastic team player and on behalf of the IKAM team and everyone at the company, I am delighted to welcome her to the PPDS family."
Listen Technologies Partners with Livella Brand Group
Listen Technologies Corporation, Utah-based provider of advanced wireless listening solutions, partnered with Livella Brand Group. Livella is a Kansas-based manufacturer's representative organization for professional audio brands.
Livella will sell and recommend Listen Technologies' full suite of wireless communications solutions. This includes the newest additions in the Listen EVERYWHERE audio over Wi-Fi line of products. Livella's customer base comprises systems integrators, professional audio retailers, consultants, and those in Kansas, Missouri, Nebraska, Iowa, and Southern Illinois.
"We are thrilled to work with Listen Technologies, a brand renowned for innovative listening solutions and exceptional customer and partner support," says Adam Livella, president of Livella Brand Group. "Listen Technologies continues to bring highly impactful solutions to market that meet customers' unique listening needs and foster inclusion."
Livella has represented professional audio brands since 2015. It has earned a reputation for excellence because of its commitment to learning everything relevant about the brands it markets.
"Livella Brand Group has a sterling reputation and comes highly recommended, so they were an easy choice for this rapidly growing region for Listen Technologies," adds Sam Nord, vice president of global channel sales at Listen Technologies.
ClearOne Appoints Sound Marketing West as Manufacturer Rep

Utah-based ClearOne announced the appointment of Sound Marketing West as its newest manufacturer representative in California, Nevada, and Hawaii. This appointment is effective immediately, according to ClearOne president and CEO Zee Hakimoglu.
The move will thus strengthen representation of ClearOne's entire product portfolio of Pro Audio. This includes conferencing, video collaboration and AV networking solutions across a range of vertical markets.
Hakimoglu then expands on the appointment details. She remarks, "Sound Marketing West has the sales professionals, channel experience, product knowledge, training and support resources to expertly represent our entire product portfolio to all of the resellers and distributors they serve." Hakimoglu continues, "Their consultive approach to serving their customers with the right solutions for channel-specific applications will drive business growth of all our products across all target markets. We're thrilled to partner with Gary and his team for this important set of states."
Sound Marketing West president Gary Lee further emphasizes the magnitude of the appointment. "The successful manufacturer's rep understands how to apply the right product solutions to specific customer needs in each vertical market. ClearOne is unique in its ability to deliver a complete range of award-winning Pro AV, Conferencing, Video Collaboration, and AV Networking solutions for nearly every possible application, he states.
He then remarks, "We are excited to add this market leader to the companies we represent. [W]e look forward to working closely with the entire ClearOne sales team to take their product line to more customers than ever before in the states we serve."