AV News Roundup May 27: Products, Projects and People in New Places
Here's a closer look at the AV news this week which includes NEUTRIK halo product range, an L-Acoustics installation project and more.
Leave a Comment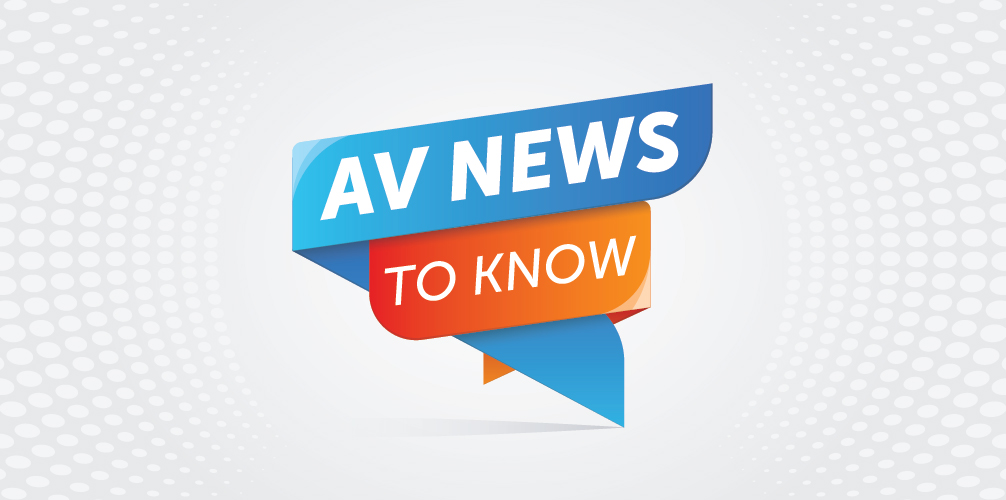 New Products
NEUTRIK Launches halo product Range
Charlotte, N.C.-based provider of professional AVL connectivity solutions, NEUTRIK, announced the new halo product range. NEUTRIK halo products integrate a new, patented light ring along with an asymmetrical, non-metallic push tab into the design of the company's A series chassis connectors.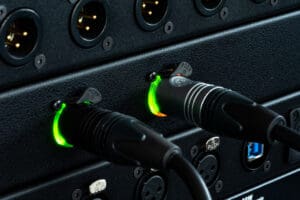 The halo product variants include the NC3FAH2-LR-DAE and NC5FAH-LR-DAE female XLR connectors, the NC3MAH-LR and NC5MAH-LR male XLR connectors, and the NE8FAH-LR-DAE etherCON connector. Users can place one or two SMD LEDs on circuit boards. With this, they can light up the connectors for useful and attractive visual feedback. Some examples comprise input detection, transmission status, connection status, phantom power, operating mode indication and other useful information.
The new NEUTRIK halo light ring delivers an innovative, forward-looking alternative to light pipes. With this standard cutout, it requires no additional holes for light pipes in the device panel. These connecters provide improved visibility compared to light pipes. Additionally, it can display different colors on the left and right sides of the connector. All of the above then results in a design element that is both visually appealing and informative.
Additional Features
The NEUTRIK halo product range incorporates an asymmetrical, compound push tab, minimizing static discharge concerns. The tab's matte, non-reflective surface minimizes light reflections. Thus, it ensures clear visual feedback. The asymmetrical placement also allows closer vertical spacing of rows of connectors compared to standard designs where the tab is located at the top center. And with a larger push area compared to a standard push tab, the halo design is easier to use.
Fred Morgenstern, VP Technology of Neutrik Americas, comments on the company's new halo product range. He remarks, "The new, patented NEUTRIK halo products provide users with numerous benefits….Their ESD-safe material ensures robust connections without having to worry about static electricity, and they provide an easy upgrade path for products using existing connectors."
Morgenstern then speaks to OEMs interested in integrating the halo light rings. He notes that the design provides the opportunity for differentiation that is both functional and beautiful.
Audiovisual Projects
L-Acoustics Elevates Acoustics Performances at Yaamava' Resort
In April, Yaamava' Resort & Casino, owned by the San Manuel Band of Mission Indians, opened its new 2,600-seat entertainment venue, the Yaamava' Theater. According to the resort, this topped off the property's four-year, $760 million expansion. Meaning "spring" in Serrano, the Band's native language, Yaamava' is located in the L.A. exurb of Highland. This area is already loaded with entertainment options. With that in mind, the Band sought to distinguish its new theater. The resort adds that it's part of one of the largest casino properties on the West Coast. It comes with eight restaurants and eight bars, plus an onsite hotel opened last December from the competition.
The resort now features an L-Acoustics K Series sound system. André Pichette, L-Acoustics senior applications engineer for installations designed the project. Additionally, the Escondido office of Sound Image handled the integration.
"Clarity, coverage, and sound quality were the keys to what the clients were looking to accomplish with the theater's sound," says Scott Coyle, business development manager for Sound Image's contracting division. "K Series components met all of those criteria, and more."
The Setup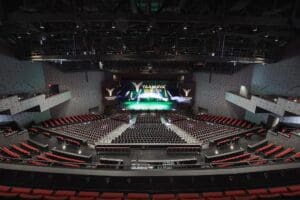 The new L-Acoustics system in the Yaamava' Theater opened with a VIP command performance by the Red Hot Chili Peppers. It is a substantial system, underscoring the venue's scale. The main PA system comprises a dozen K2 flown per side. Each is backed by four flown K1-SB subs and complemented by four stage-stacked KS28 subs per side. Nine coaxial X8 provide stage-lip front-fill, plus two more as out-fills.
Meanwhile, nine A15i enclosures — a mix of Wide and Focus models — are paired with six KS21i subs that serve as balcony delays. Nine VIP suites on the theater's second level feature their own pair of X8. On the other hand, the stage monitoring is achieved via eight X12, two X15 HiQ, and two KS21 subs. A dozen LA12X and eight LA4X amplified controllers also power and process the entire loudspeaker setup.
The new PA completes an engaging entertainment environment that also boasts three large videowalls and a broadcast-quality video control room with Panasonic cameras. It also features two large catwalks extending into the house for great lighting and video production adaptability. This will help bring fans closer to their favorite artists. "The idea was to make this a first-class, first-choice venue for touring shows," says Coyle. "K Series gives us the power and sonic quality we need, with the X8 and A15i nicely providing fill coverage in the front and balcony areas. But there's also plenty of low-frequency energy in the room, supplied by all of those flown K1-SB and stage-stacked KS28 subs. When the Peppers performed, the kick drum sounded simply awesome."
Sound Image also recently installed L-Acoustics systems in four other areas on the property. These include Rock n Brews (a Kara II/SB18/KS28 system), Tukut Lounge (Kara II/A15/SB18), Bar Bar (X8/SB15), and Aces Bar (Syva/Syva Low/KS21). Coyle reports that those sites sound no less spectacular.
Positive Feedback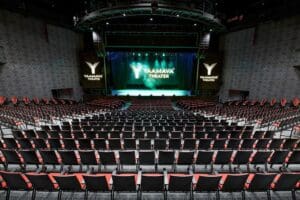 "They're little rooms, but with a lot of PA, even if it didn't take a lot of boxes to make that happen — just the right ones," he says. Coyle also notes that the Kara II in Rock n Brews are ideal for the room's steady stream of high-energy tribute and cover bands. Likewise, the SB18 subs in the Tukut Lounge are just what the EDM and Latin artists that perform there like to hear. "Everyone is excited about the sound quality across the entire site, and especially in the new theater, of course," says Coyle. "They love having a world-class, rider-ready system in there."
Carlos Morales, the audio Lead and FOH mixer for the theater, agrees that the K2-based system is a perfect match for Yaamava's main performance space. He also believes that L-Acoustics sound systems create a pleasantly consistent sonic signature for the property. "The continuity from one part of the property to the next is pretty amazing," he says.
In the theater, though, is where the nuanced sound especially shines, even at very high volumes. "I was here for the Red Hot Chili Peppers show and it was loud. But the system didn't break a sweat," he says. "There was plenty of headroom, the four double KS28 on the floor weren't being pushed hard at all, and we still had plenty of low end."
In fact, the system's and theater's actual commissioning show is a performance by hip-hop artist The Kid LAROI. Performed for the benefit of the San Manuel Tribal Youth Committee, it hit the meters at 108 dBA. "But it wasn't at all harsh, so you never would have known it," says Morales. "K2 is totally the right rig for this venue. There are going to be a lot of touring artists coming through here who will be happy to leave their gear on the trucks because this is all the sound system that they'll ever need."
People and Places
MAXHUB Appoints Matthew Parsons to Marketing Manager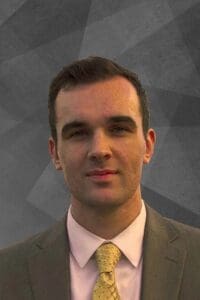 MAXHUB appointed Matthew Parsons to the newly created position of marketing manager. In the new role, Parsons will focus on the company's website, newsletters, email and social media endeavors.
He will also contribute to various initiatives with the head office in China. Additionally, he will help generate ideas and programs designed to increase company awareness at tradeshows and related events. He started with MAXHUB in April 2022 and will be based in Irvine.
According to a statement, Parsons brings a wealth of experience to MAXHUB. Most recently, he served in a variety of capacities for Ameris Bank. Here, he gathered and organized information that could be used for website content and social media initiatives. His efforts resulted in numerous successful campaigns during his time with the organization.
Prior to this, he served as IT and PR manager at Ideal Services NW. The company specializes in plumbing, electrician, and handyman services. He was also the project manager/marketing and web administrator for Maxon Paving. While in this role, he was nominated for Best Marketing Video for the 2018 FCP Award.
Looking to the Future
Reflecting on his new role with MAXHUB, Parsons offered the following thoughts, "I am excited to be a part of the MAXHUB team. I have a huge respect for the AV industry and the products that CVTE produces. The digital signage, UC line, and conference solutions that are being made have a great impact on society, and I am happy to see my marketing efforts be part of that. I see a huge growth opportunity inside of this industry as well as to sharpen my skills even further. I look forward to broadening the stroke on our social media front, and making our brand stand out to end users and clients alike. The task in front of me is big, and I know that my skills in digital illustration will be of vital importance in taking this company to the next level."
Sam Malik, director of sales and marketing for MAXHUB throughout U.S., equally enthused about Parsons joining the company's efforts. He notes, "Although he may be new to the Pro AV space, I believe Matt's work experience makes him well-positioned to evaluate market conditions, identify and seize opportunities, and help us fine-tune the company's marcom efforts. All of us on the MAXHUB team are glad to have him with us and we wish him a most sincere welcome. I have every confidence he will do well."
MAXHUB is a provider of collaborative communication and interactive class delivery solutions.