AV News Roundup: Products, Projects and People in New Places
Here's a closer look at some of the AV news this week that includes all-in-one-box conference solutions, a digital courtroom set up, an AtlasIED promotion and more.
Leave a Comment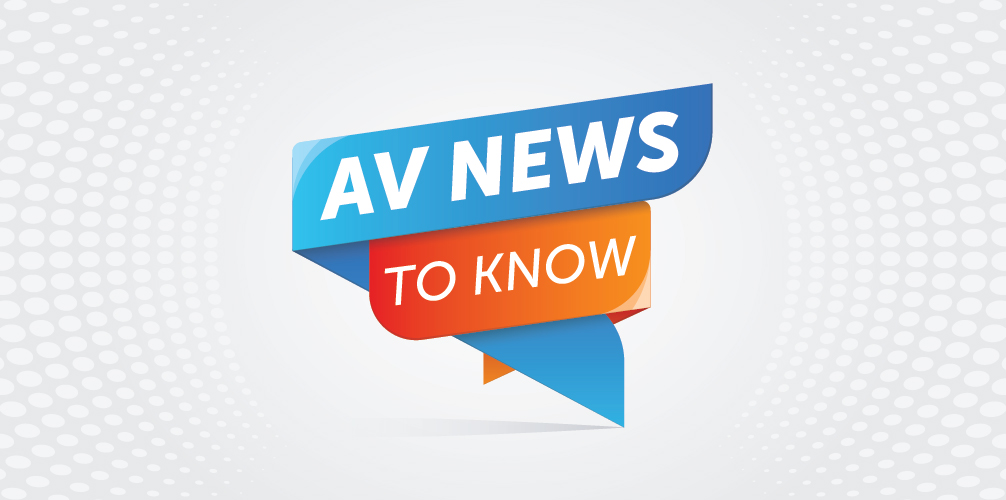 New Products
Hall Technologies Announces All-in-One-Box Solution for Modern Classroom and Conference Spaces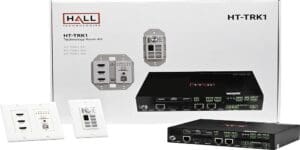 Designed with ease of use, flexibility and reliability in mind, the APOLLO Room Kit offers a complete packaged solution for workspaces and learning environments alike. It also provides HDMI video switching, system control, video extension and analog audio amplification. Thus, the Texas-based company deems it a convenient three-piece kit for classrooms and conference rooms.
Utilizing the Valens VS2010 processor, power, control, video up to 4K@60Hz and audio are transported over a single Category 6a cable between a wall plate transmitter and the receiver with a minimum transport distance of 100 feet.
Additionally, the wall plate control panel connects to the wall plate transmitter with a second Category 6a cable. It also allows remote switching of the sources and volume control from a convenient location. Users can switch among four HDMI Inputs, and also scale the HDMI inputs up to 4K@60Hz. All the power needed for the system is provided by the receiver.
What's more, the receiver features a built-in Web UI for control and analog audio de-embedding to users' choice of a built-in 20W stereo amplifier for driving low impedance speakers, a 70V amplifier for driving commercial 70V speakers or stereo analog audio outputs. The DSP is also supported allowing for output mixing of any VIDEO audio inputs, TX AUDIO IN and RX AUDIO IN.
The system includes monitoring software for easy multi-room configuration, system monitoring and control along with easy firmware updating of all devices from a central networked computer. In addition, an integrated Ethernet switch allows easy configuration with the IP Network. Finally, the system also has remote USB 2.0 connectivity.
Features
Features of the APOLLO Room Kit include:
4K Compatibility Built on Valens VS210 Processor
Versatile, All-in-One System
Control and Security
DSP Mixing Function
Built-In Audio System
Power, Video and Control over Cat6a up to 330 feet
Simple Operation with Web GUI Interface
Audio Visual Projects
Key Digital Technology Helps Keep the Wheels of Justice Running During COVID-19
The Covid-19 pandemic has disrupted virtually every aspect of life from education to business to sports. All these sectors' plights also received substantial coverage in the media. But equally disordered was the country's system of justice. Particularly its longtime hub: the courthouse, the site of adjudications ranging from speeding tickets to homicides.
The shift of court proceedings from in-person to online was perhaps the American legal system's greatest single disruption in its nearly 250-year history.
Key Digital, innovator of AVoIP solutions, says it offered courthouse AV designers a simplified and user-friendly approach to a fully online courtroom experience. At the same time, it ensured all of the necessary confidentiality and privacy.
Installing the System
The company cites the White County Courthouse in Searcy, Ark., which contacted the AV professionals at locally-based Fortress Audio Video and Surveillance. They wished to install a comprehensive custom system to bring the courthouse's functions into a virtual space.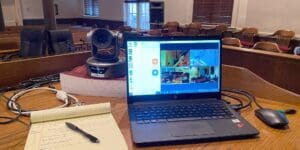 Based on the Key Digital Courtroom Communications System KD-CCS, the new setup placed AV-over-IP encoders and decoders at each participant's table. This allows every position access to the full range of digital data necessary to assure efficient proceedings.
Per a statement, the KD-CCS does not require a centralized equipment rack, unlike traditional AV systems. Thus, it was ideal for installation in existing courtrooms. According to the company, the system runs smoothly and reliably via a managed-network switch. It provides users with familiar PC interface control software to route video content and camera feeds.
With this, the White County Courthouse now has the ability to route each participant's voice along with audio and video from camera feeds. It can also route shared laptop content for local and remote activities. Additionally, the KD-CCS system is user-friendly. Here, the legislative officials, attorneys and judges are all able to use the system without any IT assistance.
Components of the System
The KD-CCS system consists of a request button for each participant. It also has KD-CAMUSB 1080p PTZ cameras, push-to-talk USB microphones, KD-IP1022ENC and KD-IP1022DEC 4K AV-over-IP encoders and decoders. Alongside this, it includes KD-RMPC mini computers and a Linksys LGS328MPC managed network switch. There is also a PC control software for the operator. This offers AV routing of each participant to a single participant or to all participants, as well as PTZ camera control.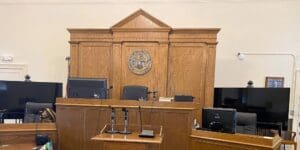 Key Digital Management Software (KDMS) also provides an intuitive GUI designed for an optimized user-friendly experience. At the heart of the installation is Key Digital's pre-configured AVoIP foundation. This includes the KD-IP1022 encoders for camera and laptop capture via HDMI and a decoder for each participant's monitor. Key Digital's KD-CAMUSB thus provides adjustable PTZ and preset control at each station. With the press of a KDMS button, participants can change from camera view to laptop share. The audio portion also provides two-way audio via USB microphones for public and private communications. Additionally, it uses the display's speaker for audio. It can also be integrated with an amplifier or assisted listening system if desired.
Positive Feedback
CGL, the world's largest and most comprehensive criminal-justice consulting firm, in a white paper on courthouse planning during the pandemic, cited transformative adaptations such as the more widespread use of video technology for conferences, depositions and court proceedings, and low-touch and no-touch audio-visual technology. CGL then went on to say, "Inside the courtroom, presentation and management of evidence through large monitors and projectors have transformed the process of justice. Digital graphics, audio and video recordings, and sensitive materials can all be made visible and accessible to jurors and the court through individual or group presentation screens, in person or virtually."
Key Digital says White County Courthouse is pleased that the KD-CCS system is more versatile and user-friendly than they had believed possible. Moreover, it has enabled the courthouse to function smoothly amid the pandemic.
People and Places
AtlasIED Appoints Brian Houser as Regional Sales Manager in Northeast
AtlasIED appointed Brian Houser as regional sales manager for its Northeast region. With this, the company says it will strengthen its presence and growth in the commercial audio and security marketplace.
In his new sales role, Houser will manage AtlasIED's rep firm FM Valenti to execute sales strategies in a region extending from Maine to New Jersey. As the lead sales manager, he will also focus on strengthening AtlasIED's support of AV and security integrators. To achieve this, he hopes to deploy commercial audio and security systems and also expand the channel through the development of new relationships with key integrators in the Northeast. The company states Houser's extensive experience will help integration partners uncover new sales opportunities in the market.
"… [The] addition of Brian to our sales management team will cultivate new opportunities to ensure our continued success as we grow sales through our dealer channels and distribution partners," says Michael Peveler, VP of Sales at AtlasIED. "Exciting new product introductions, combined with our continued commitment to building the strongest, most effective sales team possible, positions AtlasIED as a leader in the commercial A/V and security industry. Brian possesses all of the skills necessary to create even stronger relationships with our integrators, specifiers, consultants, and end-users."
Houser expresses excitement on the appointment. He adds, "From its development of new business opportunities to its introductions of innovative technology solutions, AtlasIED exudes the energy and vision that aligns perfectly with my penchant for AV and desire to discover new, profitable market opportunities."
WyreStorm Updates Participation with SDVoE Alliance
The SDVoE Alliance announced WyreStorm Technologies Corp., has upgraded its membership to a contributing member. SDVoE is a nonprofit consortium of technology providers. It collaborates to standardize the adoption of Ethernet to transport AV signals in professional AV environments.
WyreStorm is a manufacturer of AV distribution and unified communication solutions for commercial pro AV, and various global markets.
"We are excited that WyreStorm has upgraded from an adopting member to a contributing member of the SDVoE Alliance," notes Justin Kennington, president of the SDVoE Alliance. "We look forward to the continued collaboration with WyreStorm as a valued member of the SDVoE Ecosystem."
Don Seguin from WyreStorm also remarks on the new development. He adds, "As the COO of WyreStorm, I am incredibly proud of the products we offer to our customers. We are in the process of some huge changes within the organization and need to ensure we have the proper partners going into them."