AV News Roundup: Products, Projects and People in New Places
Here's a closer look at some of the AV news this week featuring a new shotgun ceiling mic, a sound mixing project for Super Bowl LVI, promotions and more.
Leave a Comment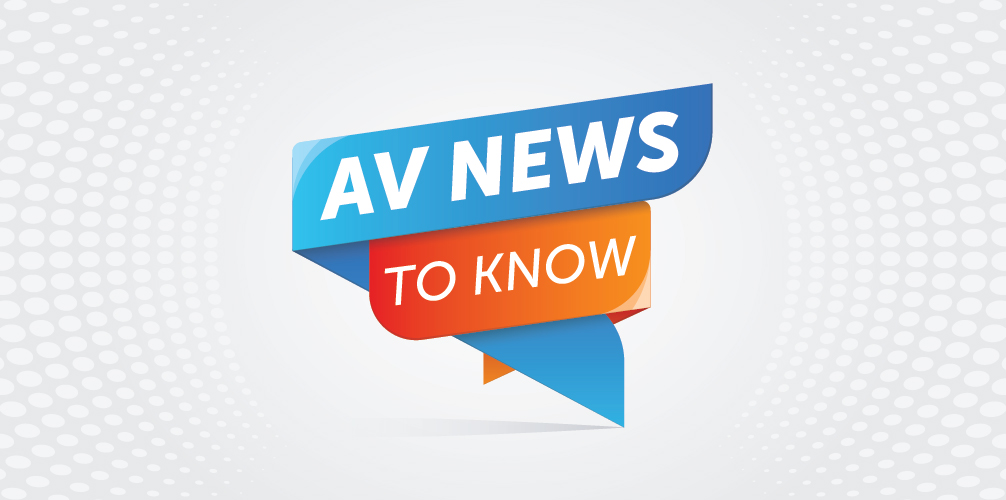 New Products
Audix Launches M45 Shortgun, an Amiable Shotgun Ceiling Mic
Audix introduced its newest installed ceiling mic, the M45 Shortgun miniaturized shotgun condenser ceiling mic. Per the Wilsonville, Ore.-based company, the new M45 microphone can cover up to 150 square feet of area with remarkable sensitivity and exceptionally audible sound. This makes it ideal for use in corporate or educational classroom style setups, boardrooms and conference rooms as well as larger lecture venues and hospitals.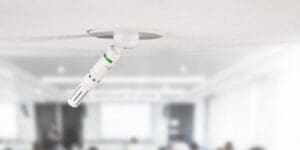 According to Audix, the M45 is highly versatile and amiable, featuring a low-profile, swivel-and-pivot base for convenient positioning. It is also optimized for vocal intelligibility and offers high sensitivity of 98 mV / Pa at 1 kHz, a maximum SPL of >124 dB, an integrated preamp and immunity from RF interference. Moreover, it is easy to install in a 1-1/2-inch hole with no additional tools required. In addition, with the M45, mic-level signal and LED control is over an RJ45 connection. An adapter is also included to convert from RJ45 to an 8-conductor pluggable terminal block.
For those using Dante networks, the optional AUDIX DN4 Enhanced Onramp for Dante | AES67 is also available for purchase. It supports up to four devices and includes LED logic control.
M45 Features
Per a statement, the features include the following:
High sensitivity and low noise
Easy to install and aim
Optimized for vocal intelligibility
Immunity from RF interference
M45 Specifications
Additionally, specifications of the M45 are:
Transducer Condenser
Frequency Response 85Hz-8kHz
Polar Pattern Supercardioid
Output Impedance 150 Ohms
Sensitivity 98 mV / Pa @ 1 kHz
Signal to Noise Ratio 72 dB
Maximum SPL >124 dB
Dynamic Range 100 dB
Operating Voltage 18-52 V
Connector RJ45
Materials/Finish Brass & Aluminum/White
Weight 195g
According to Audix, the M45 Shortgun is available now for an MSRP of $599 US.
Sharp NEC Display Solutions Expands M Series Displays Line
Sharp NEC Display Solutions announced the new M321 professional large format 32-inch display. Per the company, it is built for digital signage purposes and designed to provide customers with professional reliability and seamless integration in existing control environments. This includes transportation, healthcare and retail applications.
As the newest addition, the M321 display also offers customers high quality, rugged design equipped with an anti-reflective 24/7 panel. Furthermore, it features full external control and command support. In addition, the M321 display optimizes impact and clarity. It does so by offering a high hazel panel with commercial grade brightness and ambient light sensor.
Features of the M321
The features of the M321 are detailed in the embedded video below.
The new display's full metal chassis, carrying handles and integrated cooling fans also facilitates easy installation. This results in consistent image quality when longer runtimes are necessary. Moreover, building on the same protocol as the rest of the M series lineup, the M321 includes full LAN or RS232 external control options. Thus, it enables seamless integration into existing control environments.
Sharp NEC Display Solutions is of course, the Japan-based provider of professional and commercial visual technology and digital signage solutions.
Audio Visual Projects
Solid State Logic Mixes Musical Segments of Super Bowl LVI Pre-Game and Halftime Shows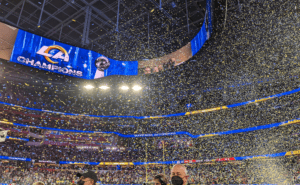 The musical segments during the pre-game and halftime shows at this year's Super Bowl were mixed on U.K.-based Solid State Logic's System T networked broadcast production console. According to the company, it installed the console at NFL's new West Coast headquarters, rather than the usual dedicated remote truck. This was in fact, a first in the history of the championship game.
Configuration of Audio Control Rooms
Tom Holmes, A1 for the broadcast music segments at Super Bowl LVI, took responsibility for mixing the Halftime Show which featured hip-hop headliners Dr. Dre, Snoop Dogg, Eminem, Mary J. Blige and Kendrick Lamar. He also mixed for country music artist Mickey Guyton's performance of the "Star Spangled Banner" and R&B artist Jhené Aiko's rendition of "America the Beautiful."
Holmes mixed the music from one of the five audio control rooms at NFL Los Angeles. The NFL Los Angeles is a new building that serves as the home for NFL Network, NFL.com, NFL RedZone, the NFL app and other departments involved in the league's media and business operations. Each of the five audio control rooms has two SSL System T surfaces, an S500 and an S300, and supports Dolby Atmos, 5.1 and other formats. The 450,000-square-foot building is also connected over fiber to SoFi Stadium. The two are located adjacent to each other at the 298-acre Hollywood Park mixed-use development in Inglewood.
Inaugural Super Bowl Appearance for System T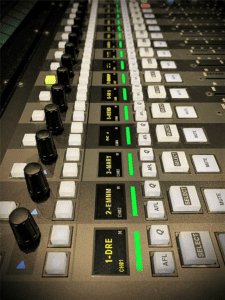 "The last time I was on an SSL has to be over 10 years ago," says Holmes, a New York-based A1 who also worked behind the broadcast production audio console for the annual Grammy Awards telecast. "It was my first time with the System T," he adds. It was also his second time working on the Super Bowl.
Holmes thus gained the opportunity to work with the System T for a week. He remarks, "I found the console sounded really good. It certainly is laid out well and has nice features built into it, like bus compression and effects. The compression was very nice and smooth. Same with the EQ — it has all the features you need out of an EQ. The parametrics can be as tight or as wide as you want. And it does seem very precise. A high-pass filter rolled off at 150 Hz does exactly what it advertises. There's no guessing that the GUI doesn't match the sonics that are coming out of it. And the response time was fast."
As for what was going on under the hood, he adds, "The file management was also pretty straight-ahead and fast. Setting up a scene and getting it to recall what you wanted — or didn't want — was all very straightforward."
Fully Networked and Redundant System
In all, Holmes had access to 256 bi-directional lines between his control room and ATK Audiotek, the event's live sound production provider, in the stadium. "There were also 192 lines back and forth between a router front end they allowed us access to for transmission and video tape records," he says. "We had a total of 16 RF microphones and 12 crowd mics. Plus, I had a 5.1 stem that we got from NBC that we got to use for our halftime show that was coming from the stadium." Holmes states that there was also a failsafe backup path. This involved taking the front-of-house feed from the stadium to the router.
In another first for the Super Bowl's high-profile music segments, Pro Tools mixer Pablo Munguia, another Grammy show veteran, was also in the audio control room with Holmes, rather than in a separate mobile unit. "We had 192 lines back and forth between me and the Pro Tools rig in the booth. The studios are nice and spacious and there was lots of room for Pablo. It was nice having him right there. I didn't have to get on the intercom, I could just turn around and ask him to play it again," Holmes says.
During the weeklong setup and rehearsal period, Holmes was called upon to generate various signals for the comms system. "The SSL has plug-in modules for downmixing, which are convenient," he states. "They could downmix from 5.1 to stereo, from stereo to mono and other formats," he says. Ideally, he would have liked more time to investigate System T's potential. He notes, "I was focused on the stuff I needed, but there was a lot of unexplored territory that looked as though it would be interesting to dig into."
People and Places
Planar Appoints Bill Stefanski as Regional Account Manager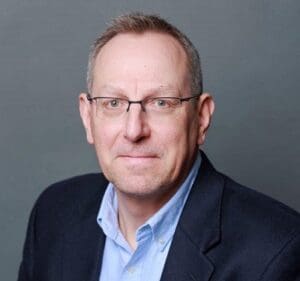 Planar welcomed Bill Stefanski as a regional account manager who will oversee Planar's sales efforts in Illinois, Missouri and Kansas. According to a statement, Stefanski comes with more than 35 years of experience in the AV and online video marketplaces. He most recently worked with end users and channel partners as a regional account manager for Sonic Foundry.
Stefanski's background also includes nearly 20 years in AV integration, working in sales and management roles with a focus on broadcast and presentation systems.
Stefanski is currently based out of the Chicago area. He reports to Neil Silber, director of central U.S. sales for Planar, and will also be supported by Heather DeBorde, inside account manager for Planar.
Planar is of course, a digital display manufacturing corporation with a facility in Hillsboro, Oregon.
CrimsonAV Hires Larry Drum as National Sales Manager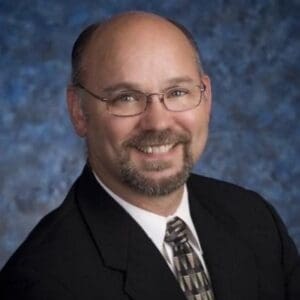 CrimsonAV, prominent in custom ProAV mounting solutions, hired long-time sales pro, Larry Drum, as its national sales manager. Per a statement, Drum will spearhead Crimson's dvLED distribution line, Desay. His experience in selling and distributing LED mounts along with fifteen-year CTS accreditation will thus expand CrimsonAV's product line and footprint.
"Bringing on Larry could not have come at a better time with the recent addition of our Desay dvLED distribution line," says William Bear, VP of sales and marketing at CrimsonAV. "Larry's well-versed in LED mounting solutions, and has established great relationships with integrators, and AV Designers. We're looking forward to working together to collaborate with project managers that are either looking to utilize seamless, high-def dvLED, or a bespoke mounting solution, kiosk, rack, or other adaptable display accessories. We're super excited to have Larry on the team."
"CrimsonAV is an established brand with a great reputation for excellent customer service. The marketplace for dvLED is competitive, but Crimson's products are built to last, and offer integrators and designers top-notch quality. Additionally, their line of mounts, kiosks, and other AV accessories complement the Desay line well, and make for a compelling all-in-one bundled opportunity," adds Drum while expressing his excitement on his appointment.
DiGiCo & d&b Partner on Immersive Audio for Soundscape Integration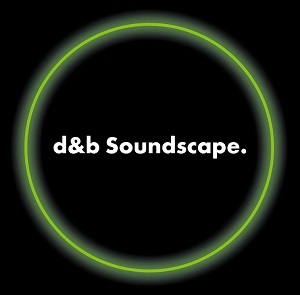 German audio technology and solution company d&b audiotechnik has partnered with DiGiCo, prominent in digital mixing solutions. According to a statement, this partnership will advance the accessibility and ease of use of Soundscape, the immersive audio system platform.
With this partnership, there will now be a dedicated Soundscape User Interface fully integrated into the surface of all DiGiCo SD and Quantum consoles. This will allow front-of-house engineers to control Soundscape object parameters on the DS100 on the consoles.
"By partnering with DiGiCo, we are ensuring that Soundscape is accessible to FoH engineers in their preferred mixing and automation environment," says Georg Stummer, product manager, d&b audiotechnik. "This integration will allow Soundscape to become an intuitive part of their creative workflow and design repertoire." Stummer also touches on the importance of providing object-based capabilities of the immersive toolkit as close as possible to creatives and existing production environment.
Benefits of Partnership
The partnership enables the replacement of the generic OSC control for the DS100 on DiGiCo consoles with an intuitive Soundscape control interface. It also integrates new features like free assignment of DS100 sound objects and different mapping areas for each channel strip of the console. With the console Snapshot memory, users can store and recall all parameters and assignments of Soundscape User Interface. This integration can also expand for bi-directional communication between the console and DS100, via the d&b software bridge (Remote Protocol Bridge). A the same time, it can support setup with two DS100s. By controlling two DS100s in sync within a redundancy setup or up to 128 sound objects on two different DS100 from one console.
"At DiGiCo we recognise that immersive sound technology is gaining rapid industry acceptance and represents an exciting future for our industry," comments Austin Freshwater, MD at DiGiCo. Amnon Harman, CEO d&b Group then emphasizes Soundscape's impact in the industry. He adds, "d&b is deeply committed to furthering our market leadership with this technology. This partnership with DiGiCo is an exciting next step in ensuring that our mutual customers can work seamlessly with our systems to realize their creative visions."