AV News to Know July 15: Products, Projects and People in New Places
Here's a closer look at some of the AV news this week that include new Vanco PulseAudio products, a Renkus-Heinz Hollywood project, promotions and more.
Leave a Comment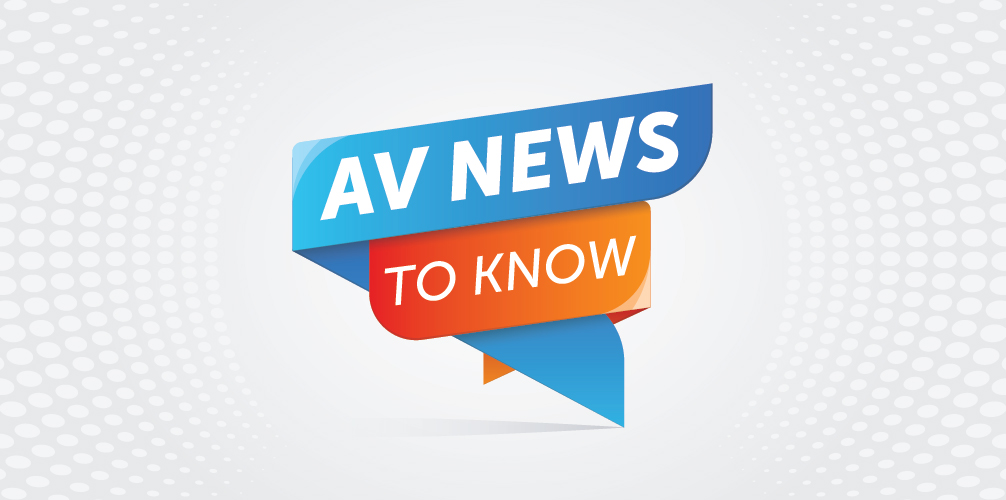 New Products
Vanco Unveils Expandable Microphone and Audio Extension Solution
Vanco International LLC, Batavia, Ill.-based provider of AV distribution and electronic accessory products, announced additions to the PulseAudio line. These new products will allow audio technicians to extend multiple audio sources up to 984 feet over a single Cat 5e/6 cable. According to Vanco, they are suitable for either installed or live applications. Additionally, they enable simple and affordable analog audio capture and transmission.
PA-EXMIX Mixing Microphone and Analog Audio Extender
The PA-EXMIX extends analog audio signals up to 984 feet. It comprises two units: a transmitter and receiver. The transmitter captures up to two audio inputs (XLR and AUX) and carries them over a single Cat5e/6 cable. Meanwhile, the receiver converts the signal to balanced XLR and 3.5mm stereo audio outputs. A single power supply on the receiver end using Power over Cable (PoC) powers both units.
The PA-EXMIX supports both dynamic and condenser mics. Users can thus easily mix between the XLR and stereo audio inputs using a built-in dial on the transmitter unit.
PA-TXMIX Digital/Analog Audio Transmitter
The PS-TXMIX is a digital/analog audio transmitter used to expand a PA-EXMIX system. Integrators can thus create PA-EXMIX solutions with more than two audio sources by adding PT-TXMIX transmitters and cascading them over a single Cat5e/6 cable. Furthermore, each transmitter unit features both XLR and AUX inputs, a built-in dial for mixing sources and PoC drawn from the receiver.
"Our new PulseAudio Extender and Transmitter can dramatically simplify the cable infrastructure for live events requiring a combination of voice reinforcement and program audio – no more giant cable snake tripping hazards." says Randy Blanchard, director of audio products for Vanco. "These boxes are a skeleton key for faster, easier, safer setup."
Audiovisual Projects
Renkus-Heinz Helps Salvation Army Reimagine Hollywood Golden Age Classic Theater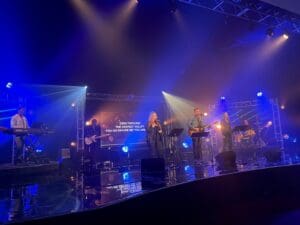 When the Hawaii theater opened its curtains in the heart of Hollywood in 1940, it offered an experience like no other. The theater had seating for over 1,100, a large lobby and lounge, retail shops, a children's nursery and more. The Hawaii theater was also famous for its "erupting" volcanos of light on each side of the screen signaling the start of a movie. For more than 20 years, the theater personified the Golden Age of Hollywood. Recently, the Salvation Army Hollywood — with the help of California-based company Renkus-Heinz — brought a new vision for the theater to life.
The Hollywood Corps of the Salvation Army Hollywood purchased the Hawaii theater in 1963. They then converted it into a multi-use community center. The organization also looked for new ways to generate more resources and provide hope within the neighborhood. Local performer, music composer and Emmy-nominated TV show creator Sammy Oriti visited the Salvation Army's Hollywood center and had an inspiration.
"The bones of the building have excellent potential for concerts, musicals and other live performances," says Oriti. "Working with the team at Salvation Army Hollywood we finalized a vision for the space and knew that Renkus-Heinz would bring the sound solution it needed. I called Renkus-Heinz, told them of the plan, and there was no hesitation to come aboard."
Coming Together

Garrison Parkin, western regional sales manager for Renkus-Heinz, worked with Oriti and the team. Together, they specified a sound system with the quality, flexibility and control needed to produce almost any presentation/performance in the newly renovated theater. The stage also needed to accommodate everything from spoken word ministering to full musical productions. This included multiple singers, full bands and a wide range of instrumentation.
"It's a great looking stage and theater so the producers didn't want to hang big, bulky arrays that would spoil the ambiance and intimacy of the space," explains Parkin. "But at the same time, the space is wide with a curved ceiling, and they needed good coverage and fidelity for every seat, and for that, the ICLX is the perfect fit."
Renkus-Heinz acoustically evaluated the space and considered the supporting equipment in use. The company then recommended a set of eight ICLive X loudspeaker modules for creating two beam-steering tower arrays. This would be supported by a matching set of eight ICLX-118S subwoofers. It also deployed a set of eight P2-10 floor monitors for on-stage use.
The ICLive X series is a complete system, says Renkus-Heinz. It designed the system from the ground up, consisting of three freely combinable, steerable-array modules. This includes the ICLX, ICLXL, ICLLX and a matching subwoofer, the ICLX-118S. ICLive X is highly versatile, the company adds. Thus, it provides system designers the horsepower, steerability and directivity for consistent coverage and clarity for big shows in the most challenging spaces.
The Transformation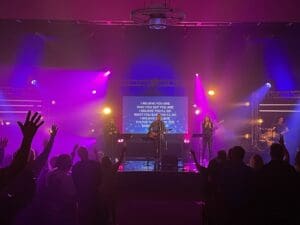 "The first thing I noticed with this system is that we have plenty of power. Sometimes small column arrays don't cut it, but these have plenty of headroom — more than we will need for the 350 seats — which is fantastic," states Sean Massey, AV integrator for Able Productions in Los Angeles. Massey worked with Oriti to deliver exceptional AV to the theater renovation. He further notes, "After white and pink noising the room, we worked with Garrison to set the beams and dial in all the specifics. It sounds amazing. It's a warm, full-range sound with a lot of dynamics and fidelity, and the coverage is perfect. Every seat in the house is set to have an excellent experience!"
The Salvation Army Hollywood will begin selling tickets for a range of concerts and shows. The proceeds from the tickets will go directly to helping the Hollywood neighborhood. Currently, the Salvation Army Hollywood serves 200 hot meals a night to those on the street. Nearly 1,000 families visit the Hollywood facility three days a week to pick up boxed foods.
"I've been a big Renkus-Heinz fan since the 1980s; their systems are always super reliable and sound amazing," Oriti proclaims. "I'm proud of this project, and I'm so happy to be working with Renkus-Heinz — the company's people and products are great to work with, and together we're building something very special here. I hope we can replicate this in more cities and help touch even more lives."
People and Places
Datapath Appoints Brian Tulley as Strategic Procurement Manager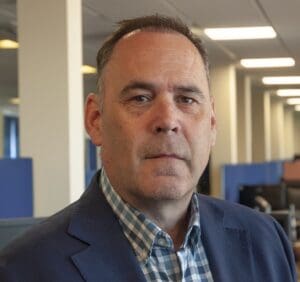 Datapath,  U.K.-based engineers of visual solutions, has appointed Brian Tulley as strategic procurement manager. In his role, Tulley will work with internal and external partners to secure the long-term availability of key, strategic electronic components required to support the business objectives.
Tulley has extensive experience in technology procurement, the company states. He previously held senior roles at blue chip organizations including General Electric and Rolls Royce.
Tony Jones, director and co-founder of Datapath, welcomes Tulley to his team. He notes, "As part of our ongoing global growth, we'd like to welcome Brian to the Datapath family. Brian has an impressive track record in global procurement and, during a period of considerable pressure on supply lines, we are delighted to add his skillset to the team."
Tulley's role includes collaboration with Datapath's tier one manufacturer partners. Here, he will monitor material demand fluctuation and supplier lead times to minimize impact on the manufacturing and customer service levels. His responsibilities will also include strategic procurement for a variety of key electronic commodities. This includes FPGAs, memory chips and circuit boards.
Tulley also enthuses on his new appointment. He adds, "Throughout the pro AV industry, [Datapath is] known as the market leaders in video processing and content management. Procurement of technology components has become a very hot topic throughout the AV industry in the past 18 months or so — along with many other business sectors — and I am looking forward to applying my experience at Datapath to ensure our customers continue to experience the high levels of service and minimal lead times for which we are known."
Atlona Adds Sound Marketing West as Manufacturer's Rep for California and Nevada Markets

San Jose, Calif.-based Atlona, a Panduit company, has added Sound Marketing West as a manufacturer's representative for California and Nevada. The firm will work closely with integrators and resellers to promote and support Atlona's comprehensive portfolio of AV innovations. This includes its conference room solutions and OmniStream AV-over-IP product line. The firm will operate out of Los Angeles, the company adds.
Established in Chicago in 1980, Sound Marketing now has three offices supporting three distinct U.S. territories. About 17 years ago, it opened Sound Marketing West in California to support one of its biggest customers. Along the way, it has added a number of professional lighting, audio and video brands to its portfolio.
Emphasizing Relationships
"When we came out to Southern California, we expanded on our relationship with our existing major customer and developed deep relationships with additional integrators," recalls Gary Lee, president of Sound Marketing West. "We've also been part of many large and impactful growth spurts over the last 17 years in Las Vegas, which gave us a real stronghold. We know everybody there, and we've dealt with everyone for a long, long period of time. And that's really what Sound Marketing is about: the relationship."
In addition to building relationships, the company is known for building complete AV solutions. Lee notes his draw to Atlona because of the company's AV-over-IP solutions.
"Everything used to be on an analog cable and analog got expensive. We all know the advantage of IP and being on a network," he explains. "Now you have multiple people that can do multiple things from multiple areas. When we or an integrator walk into a meeting and ask the customer what they're trying to accomplish, more often than not, there will be an Atlona product or a combination of Atlona products that can help that customer solve those issues. Atlona is focused on the right things and allows all our brands to work together."
"We are very excited to be working with Sound Marketing West," adds Adam Griffin, director of sales and business Development, North America, Atlona. "Gary and his team are very particular about the companies they represent, because they are focused on creating solutions, not just selling products. Plus, they have built solid relationships throughout Los Angeles and Las Vegas, which are two very important territories for our continued growth."
If you enjoyed this article and want to receive more valuable industry content like this, click here to sign up for our digital newsletters!