AV News to Know: Products, Projects and People in New Places
Here's a closer look at some of the AV news this week that include new Crestron products, a Renkus-Heinz installation project, promotions and more.
Leave a Comment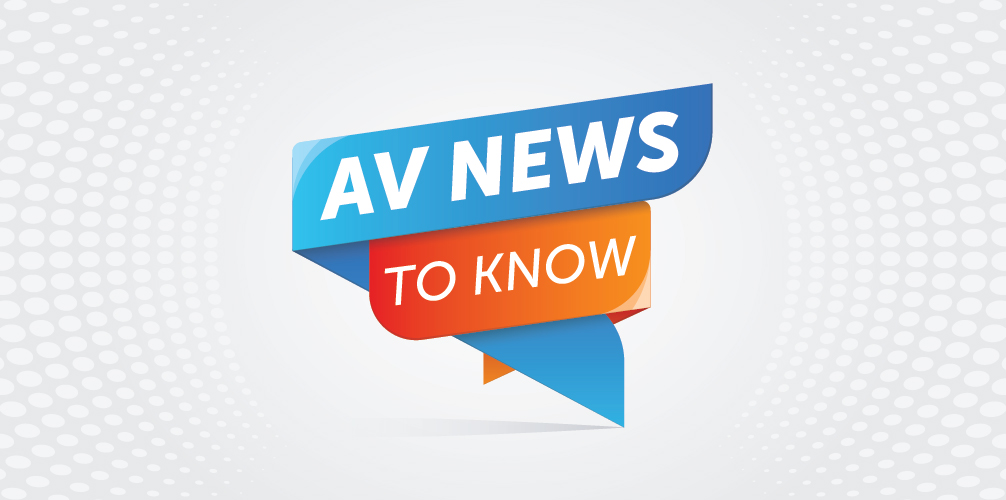 New Products
Crestron Debuts Secure, BYOD Connectivity in DM Lite Transmitters and Receivers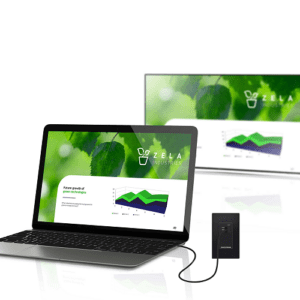 Crestron Electronics announced the expansion of the DigitalMedia Content Distribution Platform to include new DM Lite transmitters and receivers. According to the Rockleigh, N.J.-based company, the product line extends peripherals. This includes cameras and speakers, in applications of all sizes. It also streamlines content sharing in bring-your-own-device (BYOD) environments with simplified plug-and-display action that can expand for increased functionality in larger or more complex applications. This introduction ushers connectivity, signal and control solutions to support the most common connections including USB-C and HDMI. They are also fully compatible with the Crestron DMPS Lite and DM Lite ecosystem.
BYOD content sharing has become prevalent in hybrid-enabled meeting rooms and higher education environments, Crestron says. DM Lite transmitters and receivers enable BYOD sharing by eliminating the need for adapters, dongles or converters. At the same time, it removes points of failure and poor signal integrity. DM Lite transmitters and receivers thus support peripheral extensions while maintaining the clearest, sharpest video resolutions up to 4K40 4:4:4. Additionally, DM Lite supports enterprise-grade security protocols and the latest security standard in enterprise content protection, HDCP 2.3. Per Crestron, this is not available in adapters and dongles.
Because USB-C is a prominent connection point in personal devices, Crestron recognizes the need to support this connectivity and address its 10-feet distance limitation. Now part of the DM Lite series, the transmitters with USB-C connectivity enable customers to display and convert content in clear, crisp quality across distances up to 230 feet. As a result, it enables content display in larger meeting rooms, auditoriums and conference spaces.
Other Advantages
Beyond this, the new DM Lite series offerings provide HDMI integration and device charging. The solutions require no custom programming and run right out of the box. Thus, Crestron states that they offer low complexity to install.
"Today's hybrid workplaces demand more versatile and seamless content sharing and distribution solutions that prioritize signal integrity and security over longer distances than before," remarks Aalap Patel, group product manager of DigitalMedia at Crestron. "Crestron's new DM Lite transmitters and receivers uniquely support enterprise-grade security standards, scalability, and control, making content sharing and distribution painless for as many people and places as possible."
Organizations can take advantage of expanded deployment options, applications and functionality when paired with Crestron HD Presentation Switchers. These switchers enable web-based setup of endpoints and automatic power to reduce system wear and tear. The DM Lite line is also interoperable within the broader Crestron workplace solution ecosystem. IT managers can leverage the Crestron XiO Cloud Technology Operations Management Platform for seamless, scalable, stress-free deployments and system upgrades.
Additional available features include audio embedding and de-embedding, control extension, and an audio return channel. With twenty-five available models, organizations can select the form factor, function and price point that best meets their needs. According to Crestron, DM Lite transmitters and receivers will ship in late August 2022.
Audiovisual Projects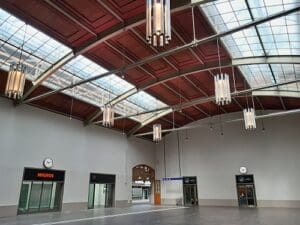 Located at the intersection of France, Germany and Switzerland, the Basel Train Station (Basel SBB) in Basel, Switzerland is a primary hub for travel throughout Europe. It is also one of Europe's busiest international train stations. With high background and travel noise compounded with highly reflective ceiling and walls, announcements were hard to understand. This resulted in traveler confusion, missed trains and unnecessary congestion throughout the station. To combat the acoustic challenges, Foothill Ranch, Calif.-based Renkus-Heinz provided its Iconyx Compact loudspeakers to aid in delivering intelligible announcements for passengers and staff.
Unintelligible Audio
Travelers are inundated with a wide range of sights and sounds as they pass through any busy transportation hub: arrival, boarding and departure announcements, safety and security information, marketing and services messaging, and the droning murmur of fellow travelers moving from point A to point B. Renkus-Heinz notes it's a flood of input for the senses at every step. Transportation managers are also challenged with the need to cut through clutter, capture attention and deliver actionable and critical safety information to a widespread, quickly moving public. For Basel SBB, the initial sound system and loudspeakers installed were not up to the acoustic challenges of the space.
Chris Steiger, CEO of Zurich-based pro audio distribution firm promedias AG, teamed up with Basel SBB managers to upgrade the sound quality of one of the station's larger halls. The hall houses two large waiting areas, a cafe, a few small convenience and service stands, Steiger explains.
"Station managers needed to drastically improve the coverage and quality of sound for announcements within the train station," he adds. "The hall is so busy, noisy and acoustically alive that it was difficult for passengers to hear and understand announcements. Further, managers were worried that the audio would be inadequate when critical safety or evacuation announcements needed to be made."
Building the Solution
After modeling the hall's acoustics with software, it became apparent that the new sound system would need to generate a high-enough SPL level to be heard over the background noise. The audio would also need tight control with beam steering technology to move the sound away from the reflective surfaces and direct it toward the travelers.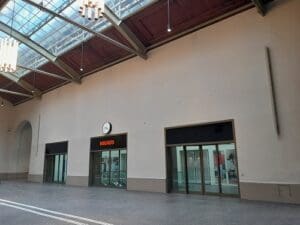 Ultimately the promedias AG team specified a set of four Iconyx Compact Series beam steering arrays from Renkus-Heinz; two ICC36/3-RN and two ICC48/3-RN arrays with custom color finishing to blend into the décor of the hall. The Iconyx Compact series significantly reduced the reflections by keeping the audio focused on the travelers. In doing so, it delivered the audio coverage, clarity and intelligibility station managers could rely on.
The compact footprint and custom paint match of the Iconyx Compact also played a  major role in the installation. This is because many areas of the station are designated national heritage sites. With the Iconyx Compact's small footprint, the new sound solution doesn't disrupt the aesthetics of the space. At the same time, it still provides high intelligibility.
Delivering Clear Audio
"Basel SBB was a challenging project requiring excellent sound quality and installation flexibility to be successful; the Iconyx Compact Series arrays offer the power, specifications, and the small footprint needed to fit the unique installation requirements," remarks Michal Poplawski, European technical sales manager, Renkus-Heinz.
Steiger reveals that the Renkus-Heinz system seamlessly integrated with the station's existing, automated safety and evacuation system. Additionally, the compact arrays have delivered the sound quality and intelligibility SBB management needed.
"Renkus-Heinz provides excellent, state-of-the-art systems; they are a great partner and easy to work with. The team was very helpful in creating the custom color finish for us and in helping with specifying an appropriately sized system for the hall," adds Steiger. "The sound performance of the arrays has been flawless. We're now working with management to bring Renkus-Heinz sound solutions into other halls and waiting areas within the station."
People in New Places
Kinly Reappoints Vel Johnson as Managing Director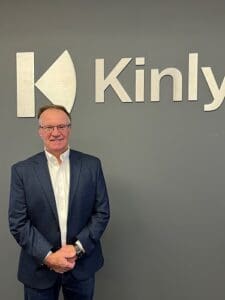 Netherlands-based Kinly has reappointed Vel Johnson as its managing director for the U.S. The company is a systems integrator and remote collaboration service provider.
According to Kinly, Johnson has a career spanning more than 40-plus years. Previously, he held senior leadership positions in some of the world's leading multi-billion-dollar technology companies. Johnson now returns to Kinly, having originally relinquished the position in December 2021 as part of his semi-retirement plans, after three years.
Johnson will be based in Kinly's Cedar Knolls (N.J.) corporate office. This is one of four on the east coast (Fort Lauderdale, Washington, New York). Kinly states that Johnson returned after positive discussions with newly appointed CEO, Tom Martin, who revealed his ambitious growth and expansion plans for the company in the U.S. market.
Per the company, Johnson's colleagues nicknamed him as 'The Coach'. Leading a strong U.S. team, he will now develop and execute a more business and culturally aligned go-to-market strategy. This strategy will mirror those deployed in Kinly's other global markets. This includes Europe, where it now holds a commanding market leadership position. Per the company, this is an achievement both Johnson and Tom have long-term ambitions to replicate.
Deeper Relationships, Heightened Value
According to Kinly, the new strategy's design is to help seize new business opportunities and also enhance its quality-led market proposition. Thus, it will see the company significantly strengthen and deepen its strategic relationships with existing leading AV/IT vendors in the U.S. Additionally, it will introduce new ones that have potential value. This will allow Kinly to deliver more choice, plus enhanced value and expertise to both new and existing clients to support all their AV and UCC installation and workspace transformation needs.
Tom Martin, CEO at Kinly, comments, "With over 20 years of experience and supporting more than 2,500 clients, Kinly is a recognized and trusted global provider of fully tailored AV and video collaboration services and support. We have identified opportunities in the US market and under Vel's leadership, I have no doubt those opportunities and our ambitions as a company can be fulfilled. I'm delighted to welcome Vel back to the Kinly family."
Johnson also expresses his excitement on his return. He notes, "I am delighted to return to Kinly and be entrusted by Tom to help guide this already burgeoning business on a new more deeply aligned journey to achieve even bigger and greater things in the U.S. market. I was enjoying my retirement but after the call from Tom, the opportunity to be part of something so special, was simply too good to turn down. I feel determined and excited by what the future holds for my team and the company as whole."
MSE Audio Expands European Experience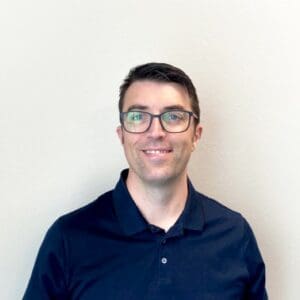 Kansas-based MSE Audio, parent company of seven commercial and residential loudspeaker brands, announced the extension of its existing distribution with Apex-Tech. The new territories covered by Apex-Tech International are Spain, Portugal, and France. Apex-Tech UK will remain for U.K. and Ireland, the company adds. Apex-Tech supplies integrators with outstanding home cinema and audio solutions that feature MSE Audio's products. These include its dARTS, PhaseTech and SolidDrive invisible speakers.
"Having represented the MSE Audio brands in the U.K. for some years, Apex-Tech is very excited to extend this cooperation into new European territories. The extremely high performance and value are key beliefs shared by both Apex-Tech and MSE Audio. and we believe that the real secret is that MSE Audio delivers an extremely repeatable level of performance which is ideally suited to integrators delivering a whole package to their customers," says Neil Davidson, managing director of Apex-Tech U.K.
He further proclaims that the performance guarantee frees the integrator to focus on the rest of the client experience. Moreover, they have assurance that the audio system will deliver a high satisfactory performance each time.
Ken Hecht, vice president of MSE Audio also enthuses on the new partnership. He proclaims, "The integrators they work with appreciate the value of the curated audio bundles we offer. Home cinema demand is strong in Europe, and we believe they are the right partner to help integrators easily fulfill their clients' entertainment dream with the precision acoustic entertainment delivered by a dARTS digital theater and PhaseTech's award winning on-wall, in-wall and box solutions."
Oliver Dedek, sales manager for Apex-Tech International, will manage the expanded European territory. It will focus on making it simple for integrators to purchase a complete cinema for their clients, the company concludes.
If you enjoyed this article and want to receive more valuable industry content like this, click here to sign up for our digital newsletters!