AV News to Know June 25, 2021: New Products, Cool Projects and People in New Places
In this week's edition: new testing tools, conference room displays, voice amplification, National Park Service AV upgrades, and more
Leave a Comment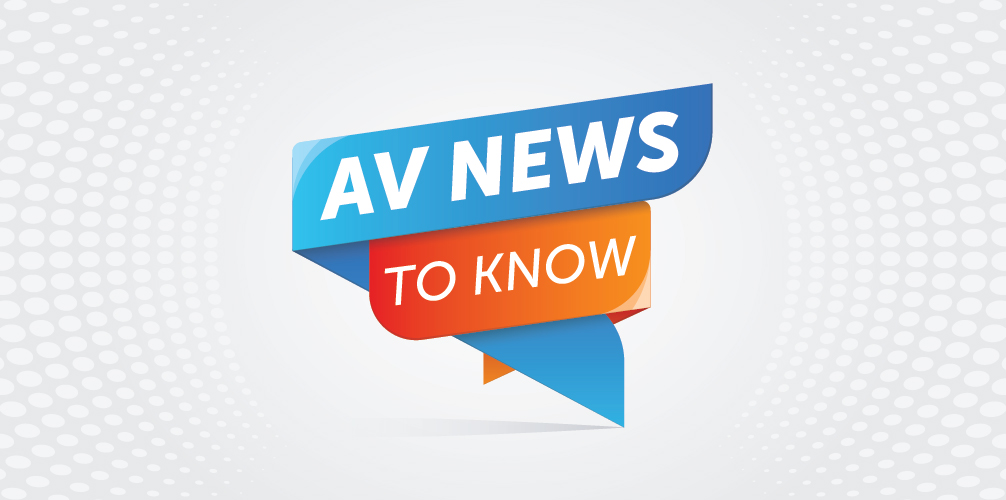 Here's a closer look at some of the AV news, products and projects you might have missed this week. We call it AV News to Know:
New AV Products
Platinum Tools® Launches NetXpert XG2 10G Network Tester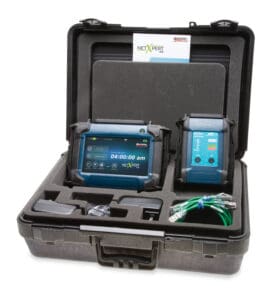 Platinum Tools, a solutions provider for the preparation, installation, hand termination, and testing of wire and cable, announced the launch of its new NetXpert XG2, providing 10G speed certification over copper and fiber, and complete network testing over copper, fiber, and Wi-Fi systems. Now shipping, the NetXpert XG2 has an MSRP of $7,135 for copper and $11,545 for fiber.
"The NetXpert XG2 sets a new standard in versatility and value for cable and network testing," said Sean Rothermel, Platinum Tools product manager in a statement. "With Cat6A rapidly gaining dominance, a tester capable of certifying networks to 10G speeds has become more of a necessity. With the NetXpert XG2, we have a single device that performs 10G speed certification, as well as all the network tests you need on copper, fiber, and Wi-Fi systems, even PoE testing up to the PoE type 4 standard. This eliminates the need to buy or carry multiple testers for various jobs."
A key feature is the XG2's future upgradeability, with new firmware able to be loaded by the end-user via USB or Wi-Fi. "This capability makes the XG2 even more valuable as the investment in this product does not end when future technologies would render most other units obsolete," Rothermel added. "Upgrading new firmware will allow the XG2 to be used for years while keeping up with current technological necessities."
Features and specifications include:
Speed certification to 10G over copper and fiber
Cable qualification to IEEE standards
Active network testing over copper, fiber and wi-fi
PoE testing up to 90W (PoE type 4)
Complete reporting in multiple formats
Full color seven-inch touchscreen
Convenient form factor with comfortable hand straps and built-in kickstand
Rechargeable, upgradeable lithium battery pack
Field-replaceable RJ45 port, dual SFP+ ports, USB port
Easy software updates for future feature expansion
Dimensions: 9.75in. x 7in. x 3in.
Weight: 2.65 lbs.
For additional information on Platinum Tools and its complete product line, please visit www.platinumtools.com, call (800) 749-5783.
Mimo Monitors announces The Mimo Myst Family, Three Elegant 10.1" displays to maximize convenience & flexibility in conference rooms
Mimo Monitors experts in small touchscreen displays, has announce the launch of its new Mimo Myst portfolio of products. Each member of the family of displays ia specifically designed to elevate conference rooms by providing ultimate convenience, high-end visual appeal, ease-of-use and installation, and an accessible price point.
Included in the Mimo Myst Family are the Mimo Myst Link, Mimo Myst for Android ™, and Mimo Myst Capture, all 10.1" displays that will empower any conference room, no matter the size or scale. The Mimo Myst family includes a USB, Android, and groundbreaking AV-over-IP solution.
The Mimo Myst Link:The first AV over-IP display with HDMI capture features easy to use Ethernet connectivity (CAT5e), eliminating the hassle of extraneous cords, complicated installation, or needing power at the table. This allows for long distance installations, up to 100 meters from the PC, without the need for complex installation or costly extenders. Sleek and sophisticated, this groundbreaking display is recognized by the PC as a regular display and maximizes conference room flexibility by allowing for moveable furniture configurations or long-distance installations.
The Mimo Myst for Android™:Specifically designed to be on the table and offered for installations where the touch display should support an operating system, such as the preferred architecture of Zoom rooms, this display provides seamless connectivity. With only one cable required for installation and power never required at the table, this display provides simple installation with the added convenience of running Android™.
The Mimo Myst Capture:Offered as an elegant, feature-rich, and high-end update to the award winning Mimo Vue Capture, the Myst Capture brings powerful new capabilities and connects over USB. Ideal for huddle rooms and other smaller spaces, this display provides an ideal conference room interface at a truly affordable price.
To continue reading click here.
Nureva adds Voice Amplification Mode to audio systems for classroom, training and meeting spaces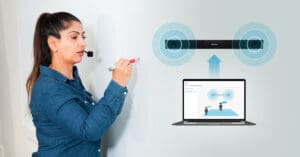 Nureva Inc., an innovator in audio conferencing solutions, has added Voice Amplification Mode to its HDL300 and Dual HDL300 audio conferencing systems. With this addition, which is currently available in public beta, the HDL300 systems solve the difficult audio problem of supporting in-room amplification of the instructor or presenter's voice, while simultaneously providing full-room microphone pickup of in-room voices so that everyone can be heard by remote participants.
This unique capability is made possible by Nureva's patented Microphone Mist™ technology, which fills a room with thousands of virtual microphones.
The public beta for Voice Amplification Mode is available to all HDL300 and Dual HDL300 customers through Nureva Console. Customers can access this no-charge feature by updating their firmware and selecting enable voice amplification in Nureva Console Cloud.
Once enabled, instructors or presenters use their personal wireless headset microphone to amplify their voice through the HDL300 speakers so that in-room students or meeting participants can clearly hear.
At the same time, their voice is picked up for remote participants via their UC&C client, like Microsoft® Teams, for which the HDL300 system is certified. V
oice Amplification Mode is designed to work in typical classrooms and meeting spaces using the HDL300 system. For larger spaces, the feature can be enabled on a Dual HDL300 system, which amplifies the instructor or presenter's voice through both microphone and speaker bars in rooms up to 30′ x 50′ (9.1 x 15.2 m).
There is a clear need for a multifunction solution that can deliver a combination of full-room microphone pickup and in-room voice amplification. Unlike other audio products, Nureva delivers all of this in a single system that is installed in under an hour without any special technical expertise, automatically adjusts to changes in room configurations and is easily managed from anywhere using Nureva Console.
"Voice amplification is required in many classrooms, training and meeting scenarios, but in today's world of hybrid working and learning it needs to be flexible enough to involve remote participants," said Nancy Knowlton, Nureva's CEO. "The addition of this feature to Nureva audio systems will give customers the multifunction solution they've been looking for.
Pricing and availability
The Voice Amplification Mode public beta is available to all HDL300 and Dual HDL300 customers at no additional cost. The feature works with most brands of wireless headsets (to be supplied by the customer or their reseller). To enable Voice Amplification Mode through Nureva Console Cloud, customers will need to update the firmware to version 2.4.61. General availability of Voice Amplification Mode will be in early fall 2021.
Audio Visual Projects
Key Digital Creates User Friendly Space For National Park's Service Education & Training Center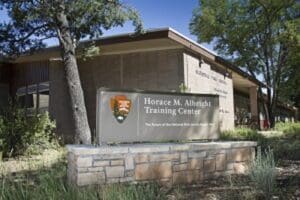 Every year The National Park Service hosts up to 305 million visitors with 5 million touring the Grand Canyon alone. At the Grand Canyon National Park in the Albright Training Center, the primary learning and development training facility for employees of both the Grand Canyon National Park and the National Park Service, the 500-person outdoor McKee Amphitheater, and the Shrine of the Ages multipurpose auditorium all required new and modernized AV upgrades.
All three of the spaces needed new control systems that would not interfere with the integrity of the space. Neither of the historical structures could be physically altered in any manner.
Atmosphere Audio Video, a Denver region-based integrator committed to providing a one-stop-shop for all audio video consultation, design, sales, and installation needs since 1997, sought out the video and control system manufacturer Key Digital to deliver a reliable and reputable hardware and software ecosystem based on the company's robust hardware and software lineup.
To circumvent the limitations on building alterations, the rack was built in-house at Atmosphere Audio Video in Denver. In-house staging allowed optimized consolidation of rack space and allowances for the special structural considerations.
The rack equipment underwent rigorous testing to ensure perfection from the dual Key Digital 8×8 HDMI matrix switchers providing digital video routing and also acting as control expansion devices for the Compass Control Pro system.
Compass Control Pro, Key Digital's fully integrated control system built from the ground up to use iOS devices to replace traditional control interfaces, allowed the structure to remain as-is with no alterations necessary.
Presented with the option for either modular programming or building a custom GUI, the Albright Training Center opted for a user-friendly custom-built GUI designed to fit within the National Parks Service's branding.
In the McKee Amphitheater, Compass Control Pro controls the audio system via an iOS interface that can be made stationary or moved at any point during use allowing the engineer the flexibility to work from anywhere including the guest seating areas to perfect the levels.
The Shrine of the Ages multipurpose auditorium also offers control mobility for ease-of-use. Both spaces boast a user-friendly GUI designed to satisfy the regular room engineers and assorted operators when the locations are privately rented.
Since the upgrades including Key Digital's HDMI matrix switchers and the implementation of Compass Control Pro, the facility reports an improved user experience.
The system delivers an approachability for the various operators, and the mobile iOS devices provide constant access to the necessary control and information from anywhere within the respective spaces.
People and Places
AVIXA Announces Frank Padikkala as Chairperson of the AVIXA Diversity Council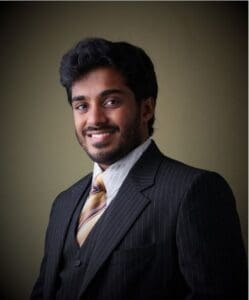 The Audiovisual and Integrated Experience Association (AVIXA), announced that the association's Leadership Search Committee (LSC) has appointed Frank Padikkala, CTS-D, CEH, CHFI, Kairos Solution Architect at Panasonic, to serve as Chairperson of the AVIXA Diversity Council.
Padikkala is an AV/IT Engineer and tech enthusiast who places both innovation and inclusion at the heart of his design philosophy. As an AV and IT expert, he hopes to bridge the knowledge gap between the two industries which have already begun to overlap in a wide array of market segments. A firm advocate of both training and certification, Padikkala holds a master's degree in cybersecurity in addition to more than 10 AV and IT certifications.
"The growth of the AVIXA Diversity Council in the last three years under Charmaine Torruella's leadership has been meteoric and we will continue to honor her legacy," said Sarah Joyce, Chief Global Officer of AVIXA. "Frank's focus on outreach and the addition of both local and regional events will raise the sense of community and belonging that we champion at AVIXA."
"The advancement of diversity within our AV community is so much more than training sessions and webinars," said Frank Padikkala, Chairperson, AVIXA Diversity Council. "My biggest goal is to bring the community together for personal learning journeys through the creation of safe spaces where we can each learn from one another, learn about ourselves, and learn about the value and power of our own diversity. Everyone's diversity journey is different, and inclusion is achieved through the shared and mutual acceptance of your identity and brand. The hope, with the focus on outreach efforts both locally and internationally, is that it will help to broaden our perspective and bring positive change within the global AV community."
If you enjoyed this article and want to receive more valuable industry content like this, click here to sign up for our digital newsletters!