Barco Announces ClickShare Conference CX-50 Second-Gen Model
The second generation of Barco's CX-50, the ClickShare Conference model makes meetings more inclusive with its dual-screen support.
Leave a Comment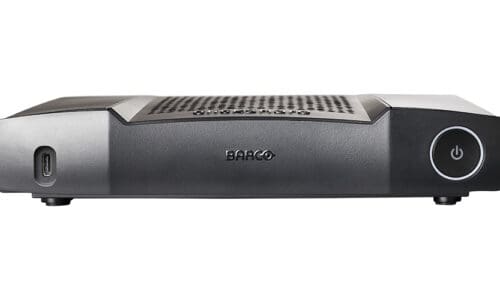 Belgium-based Barco, prominent in meeting-room technology, announced the second generation of its CX-50, the premium ClickShare Conference model. Per the company, the renewed model brings more flexibility for the IT manager and offers an inclusive meeting experience for end-users in high-impact meeting spaces.
"In a hybrid environment, technology is crucial in giving all meeting participants an equal voice and making collaboration truly successful," Stijn Henderickx, EVP, meeting and learning experience, says. "ClickShare Conference helps increase engagement and connection between participants in hybrid meetings."
Empowering Hybrid-Meeting Inclusion
ClickShare CX-50 second generation brings dual screen support, says Barco. It thus allows content on two room displays side by side. During video meetings, one of the screens is dedicated to the remote participants. Here, they remain visible at all time thanks to the smart-meeting flows of the ClickShare App. This thus ensures a more equitable experience for all meeting attendees, no matter if they join remotely or in-room.
Just like the entire ClickShare Conference range, the new CX-50 second generation works with any device and videoconferencing platform. It also works with any peripheral and in any type of meeting room.
Flexible Integration and Management
The ClickShare CX-50 second generation adds native interoperability to fixed-room system setups. It does so by enabling automatic switching between Room mode and Bring-Your-Own-Meeting mode. This allows users to easily switch between the fixed-room system setup and other videoconferencing solutions. It also features simplified connectivity options. Here, a single USB-C cable between the Base Unit and room display can power the device and send video output to the display. IT managers are also able to meet strict internal-security policies with both a wireless and wired alternative.
Also Read: Barco on Immersive Experiences
According to Barco, the new model features a combination of easy management via the XMS Cloud platform, SmartCare coverage and its agnostic nature. This, the company says, makes the CX-50 second generation the smartest investment in the workplace of the future.
Creating a Carbon-neutral Collaboration Solution
Sustainability in product design is fundamental to Barco. All ClickShare devices thus have the A++ ecolabel in Barco's transparent scoring. The smart eco-design of second-generation products reflects its ecological design choices, higher energy efficiency and better material use. The company also fabricates housing from recycled, non-paint plastics.
In addition, Barco ClickShare aspires to introduce the CX-50 second generation as one of the first carbon-neutral wireless conferencing solutions on the market. The company notes that this is a natural extension of its corporate values and leads its ambitious sustainability strategy.
"By investing in people and planet with a well-balanced carbon footprint, ClickShare is committed to bringing customers the most sustainable, compliant and flexible solution in the workplace. With one of the first carbon-neutral solutions in the industry, ClickShare is proving its position as an innovator in the collaboration and conferencing market,"  Henderickx concludes.