Barco Displays Enhanced XMS Cloud Platform at InfoComm '23
Barco's updated XMS Cloud Platform features a brand-new interface that makes managing, monitoring and optimizing meetings easier and better.
Leave a Comment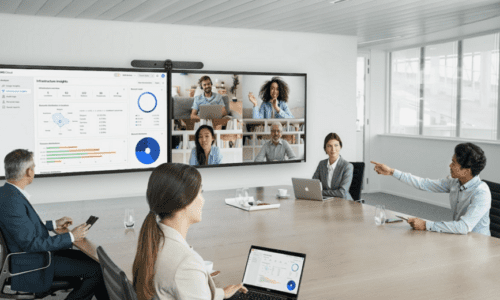 Barco, prominent in meeting-room technology, showcased its newly enhanced XMS Cloud Platform at InfoComm 2023. Per the company, the platform helps transform the way IT professionals manage the meeting-room experience.
The updated product boasts a brand-new interface that makes managing, monitoring and optimizing meetings easier and better. Thus, it transforms the platform from a tool to a strategic asset for IT departments. The platform also maximizes the ClickShare fleet by enabling complete device control, proactive intervention and maximum function time. With this, it ensures that workers can seamlessly and easily engage in more meaningful interactions.
Enhanced User Experience
The one-stop-shop management platform is simpler and easier to use than ever before, says Barco. It offers administrators a complete overview of how the ClickShare install base functions at any moment. This includes the status of system health, firmware distribution, overview of connected client buttons or apps, overdue actions, location usage and much more. Moreover, IT administrators can easily find the information and data they need, thanks to the bright and easily accessible visuals.
Automatic Notifications for Prompt Intervention
With automatic notifications shared via email, IT professionals will now receive notice of any tech issues or overdue actions so they can intervene immediately. This will allow them to shift from reactive management to proactive monitoring. Furthermore, it ensures that meeting rooms are always ready to use and run at their best capacity.
Improving Meeting Experiences
The updated XMS Cloud platform provides data that allows IT professionals to better understand employee meeting behavior, optimizing workspaces and meeting experiences to increase device ROI. From insights on if, when and how workers are embracing meeting technology, to insights on hybrid meeting and face-to-face meeting preferences; IT administrators have a better idea on how to act as a strategic partner to the business by optimizing tech efficiency and employee satisfaction.
Future-Proof Platform
The new XMS Cloud is a completely future-proofed system thanks to the embedded marketplace where IT professionals can find helpful tools, integrations and plug-ins. These can be tailored to needs and preferences and managed from a central location.
"IT departments have become key players in taking business-critical decisions on tools and applications for their workspaces and the upgraded XMS Cloud system helps make this a seamless process," says Lars Duziak, product manager, XMS Cloud Platform, Barco.
Duziak continues, "Not only does it allow users to simplify daily tasks and be more efficient with their time; but it also empowers them to become a strategic partner to their businesses with meaningful data and insights. It's the best way to harness the power of the ClickShare fleet and encourage your workforce to love meeting again."
Barco presented live demos of the enhanced XMS Cloud platform at booth #2529 at during InfoComm 2023. It also demonstrated other products from Barco's portfolio. This included the ClickShare Conference CX-50 2nd generation, the agnostic meeting room solution for high-impact meeting rooms. Per the company, it recently became one of the first carbon-neutral products in the video-conferencing industry.
If you enjoyed this article and want to receive more valuable industry content like this, click here to sign up for our digital newsletters!