Bosch, Dynacord, Electro-Voice and RTS join AV-iQ
With Bosch, Dynacord, Electro-Voice and RTS all joining the AV-iQ platform, each of them now has an AV-iQ showroom.
Leave a Comment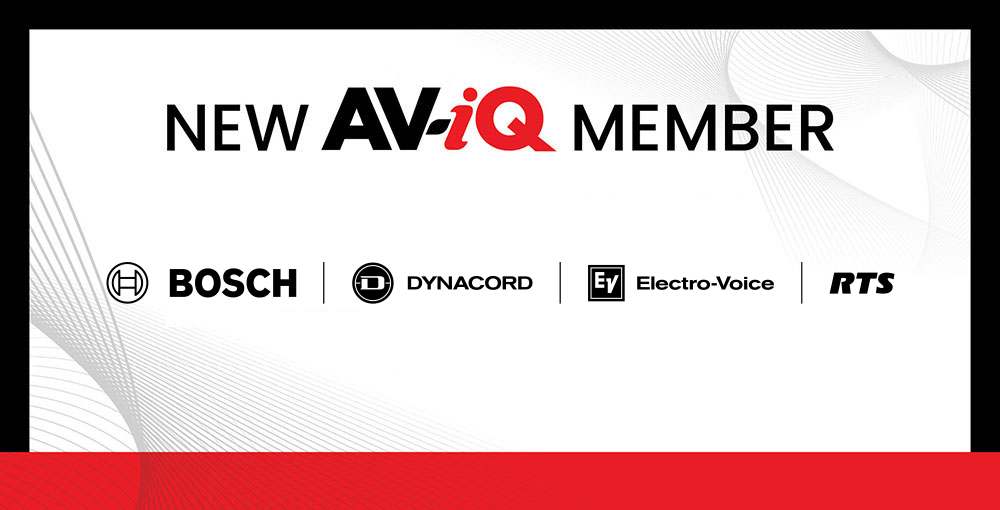 Bosch (conferencing and public address systems), Dynacord (audio electronics and software), Electro-Voice (loudspeakers and microphones) and RTS (intercom systems) have all joined the AV-iQ platform. Therefore, each of them now has an AV-iQ showroom.
The Brands

Bosch has more than 90 years of experience designing and developing communication products. Indeed, the company has established unrivaled leadership in the field of public-address and voice-alarm systems. The company has provided systems and components for major transportation terminals, houses of worship, public buildings, office buildings, schools and shopping malls. What's more, those deployments are all around the world.
Building on world-class expertise, Bosch boasts a 65-plus-year history of leading the conference market. That reputation stems from addressing customer needs with outstanding products that cover all requirements. What's more, the company makes the promise of continuing to do so for many years to come. As a strong business partner for secure conferencing, Bosch solutions are known for their quality, flexibility and reliability.

Dynacord is a 70-plus-year leader in designing and engineering professional audio electronics. These products, of course, offer unparalleled performance and premium quality. Thus, they deliver the perfect balance of power and precision. Industrial design combines finely tuned form with feature-rich functionality across every detail. In short, clean lines and clean sound. Dynacord's dedication to durability is demonstrated in the industry's most rigorous product-testing program.

Electro-Voice is a 90-plus-year leader in designing and engineering leading-edge sound-reinforcement solutions. These products empower the performer, exceed the expectations of the audio professional and elevate the audience experience. Generations of hands-on professional knowledge come together to produce a portfolio of best-in-class speakers and microphones that combine performance, reliability and value.

RTS has been at the forefront of broadcast and production intercom innovation for more than 40 years. Thus, it is an industry standard with professional communications products that combine forward-thinking features, functionality and proven reliability. RTS is a leader in networked IP-based intercom system solutions, scalable for applications of all sizes.
The Bosch Division Building Technologies
The Bosch division Building Technologies is a leading global supplier of security, safety, and communications products and systems. In selected countries, Bosch offers solutions and services for building security, energy efficiency and building automation. Protecting lives, buildings and assets is the major aim. Thus, the product portfolio includes video-security, intrusion-detection, fire-detection and voice-evacuation systems. Moreover, it includes access-control and -management systems. Finally, professional audio and conference systems for communication of voice, sound and music complete the range. Building Technologies develops and manufactures in its own plants in Europe, the Americas and Asia. Additional information is available online at BoschBuildingTechnologies.com.
The AV-iQ Comprehensive Database
AV-iQ is the most comprehensive database of commercial AV, production and video products. AV-iQ.com targets industry professional end users. Thus, it provides tools so that those users can research, compare and stay current on the latest information. Users can sign up for free at AV-iQ.com/myiq. Manufacturers interested in having their own showroom in AV-iQ database can contact sales@av-iq.com.
View Bosch Public Address and Conferencing Systems' AV-iQ showroom at
AV-iQ.com/avcat/ctl1642/index.cfm?manufacturer=bosch-conferencing-public-address-systems.
Check out Dynacord's AV-iQ showroom at
AV-iQ.com/avcat/ctl1642/index.cfm?manufacturer=dynacord.
View Electro-Voice's AV-iQ showroom at
AV-iQ.com/avcat/ctl1642/index.cfm?manufacturer=electro-voice.
Check out RTS' AV-iQ showroom at
AV-iQ.com/avcat/ctl1642/index.cfm?manufacturer=rts.
For previous coverage of AV-iQ, check out our website archives.