C2G Enhances Streaming With HDMI-over-IP 4K System
C2G's new HDMI-over-IP 4K extender system includes the 4K 30Hz encoder, 60Hz decoder and Network Controller for better scalability and flexibility.
Leave a Comment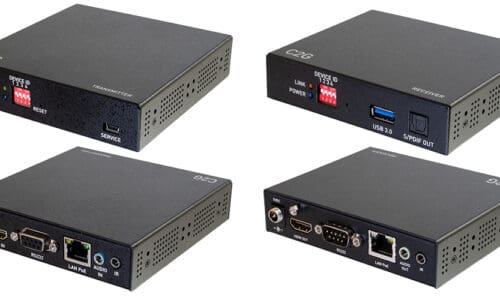 C2G announced it now offers HDMI-over-IP in 4K resolution to stream outstanding video quality over the network using a new extender system featuring a decoder, encoder and network controller. The extender system provides integrators with multiple HDMI-over-network configurations. This ensures the flexibility to support a digital signage system, a videowall and point-to-point extension, including multiview capabilities. Thus, the Ohio-based company deems it suitable for retail, corporate, security and education environments.
"No matter the application today, the AV system infrastructure demands unquestionable high-resolution support over IP, along with scalability, flexibility, and of course, cost-effectiveness," says Robert Mays, associate product marketing manager, C2G, a brand of Legrand. "Our 4K HDMI-over-IP solutions pack all these benefits, backed by the same C2G quality that integrators have always trusted and relied upon for decades."
Improved Streaming
C2G's HDMI-over-IP encoder and decoder allow HDMI audio/video signals to extend at up to 4K resolution via a Cat-6 or Cat-6a cable. With this, they support multiple configurations. Moreover, they have the ability to provide scalable audio/video matrix switching to over 600 devices.
The exceptionally low bandwidth requirements of this device combination also allows streaming of audio/video content over a local network for distributed installations.
The encoder accepts 4K video @ 30Hz and streams the content to any H.264/H.265 decoder for display on a 4K monitor. The encoder may also send H.264/H.265 video streams to other H.264/H.265 compatible decoder devices.
Also Read: Jennifer Crotinger on Signal Extenders, HDBaseT Applications
The C2G HDMI-over-IP decoder can upscale lower resolution video signals up to 4K @ 60Hz for display on a 4K monitor. The decoder also accepts H.264/H.265 video streams from other transmitting devices of up to 4K @ 60Hz. According to C2G, both devices support PoE. A PoE Ethernet switch can also power both devices.
Ease of Control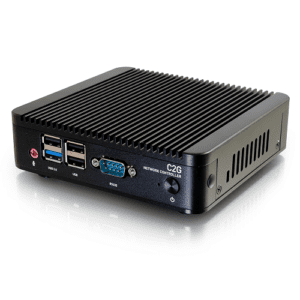 The C2G Network Controller for HDMI-over-IP is a Linux-based PC that allows users to control HDMI-over-IP products. As a result, it supports videowall and multiview connectivity. Users can also manage via a web interface or the C2G AVoIP control smartphone and tablet app.
When installed on a local area network (LAN), it scans the LAN for connected C2G HDMI-over IP-products. This allows the user to auto-discover, configure, manage connectivity and support firmware upgrades for the AV-over-IP devices through the web interface. An Application Program Interface (API) is also available for supporting several third-party partner control applications running on smartphones and tablets.