ClearOne University Announces Fall Training Courses
ClearOne University's full schedule of October webinars will help integrators get a jump start on fall sales.
Leave a Comment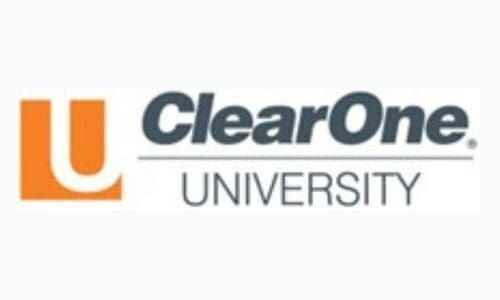 With fall in full swing, Salt Lake City, Utah-based ClearOne announced that integrators can hone in on their skills and knowledge of all product lines with ClearOne University's full schedule of October webinars. Per a statement, conferencing, collaboration and network streaming solutions, and five certifications for AVIXA RUs are covered in the comprehensive course schedule for which registration is now live.
There is an increased interest in professional-grade technology as businesses and classrooms return from the summer. According to ClearOne, it is therefore of paramount importance that integrators have a full understanding of all products and their services.
In its continued dedication to partners worldwide, ClearOne University thus supports integrators in their learning with a variety of course offerings and professional development opportunities.
Fall Courses
Those interested in participating can sign up for a wide range of courses that cover the latest technological developments at ClearOne. This is in addition to industry-favorite solutions. These include the CONVERGENCE AV Manager Certification, UNITE 200 Pro Camera Training, AV Conferencing Certification, Advanced Pro Audio Conferencing Certification as well as the Design Library Training, CONSOLE AI Software Configuration Certification, and Pro Audio Conferencing Certification.
Also Read: ClearOne Adds New Features to CONVERGENCE AV Manager Platform
Course Schedule
According to ClearOne, the schedule of topics and times for the courses is as follows:
CONVERGENCE AV Manager Certification
October 11th from 11:00 AM to 12:30 PM EDT
October 12th from 11:00 AM to 12:30 PM EDT
October 25th from 9:00 AM to 10:30 AM EDT
October 26th from 9:00 AM to 10:30 AM EDT
UNITE 200 Pro Training
October 5th from 1:00 PM to 1:30 PM EDT
October 18th from 10:00 AM to 10:30 AM EDT
AV Conferencing Certification
October 10th from 10:00 AM to 12:00 PM EDT
October 11th from 10:00 AM to 12:00 PM EDT
October 25th from 10:00 AM to 12:00 PM EDT
October 26th from 10:00 AM to 12:00 PM EDT
Advanced Pro Audio Conferencing Certification
October 13th from 9:00 AM to 11:00 AM EDT
October 27th from 8:00 AM to 10:00 AM EDT
Design Library Training
October 4th from 10:00 AM to 10:45 AM EDT
October 19th from 9:00 AM to 9:45 AM EDT
CONSOLE AI Software Configuration Certification
October 3rd from 10:00 AM to 11:00 AM EDT
October 17th from 9:00 AM to 10:00 AM EDT
Pro Audio Conferencing Certification
October 4th from 8:00 AM to 10:00 AM EDT
October 5th from 8:00 AM to 10:00 AM EDT
October 6th from 8:00 AM to 10:00 AM EDT
October 18th from 10:00 AM to 12:00 PM EDT
October 19th from 10:00 AM to 12:00 PM EDT
October 20th from 10:00 AM to 12:00 PM EDT