Summer Classes Now Open for Registration at ClearOne University
Registration for ClearOne University's summer instructor-led classes and live webinar trainings are now open.
Leave a Comment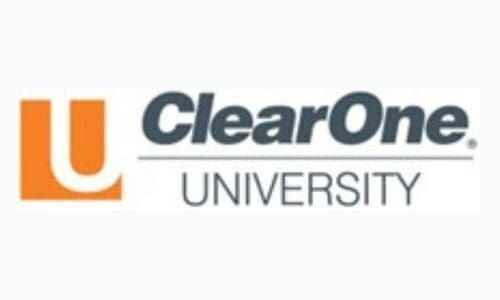 The calendar may say it's summer but classes are still in session at ClearOne, the Salt Lake City, Utah-based provider of conferencing, collaboration and network streaming solutions. The company unveiled its schedule of July 2022 ClearOne University online instructor-led training and live webinar sessions. Sessions are now open for registration here.
Instructor-led and live webinar training are core parts of ClearOne's commitment to provide its global network of integration partners with the highest quality of educational support. ClearOne believes that there is simply no substitute for direct human interaction on technical subjects. It leads to a much better understanding of how to realize the full benefits of the company's professional audio, video, streaming and collaboration solutions for customers.
The ClearOne University July schedule includes dedicated classes on CONVERGENCE AV Manager Certification, AV Conferencing Certification, Pro Audio Conferencing Certification, Advanced Pro Audio Conferencing Certification, UNITE 180 Camera Training, Design Library Training, DIALOG 10 USB Microphone Training, CONSOLE AI Software Configuration Certification, and Versa Mediabar Training.
The schedule of topics and times is as follows:
CONVERGENCE AV MANAGER CERTIFICATION
July 19 from 8:00 to 9:30 AM EDT
July 20 from 8:00 to 9:30 AM EDT
UNITE 180 TRAINING
July 18 from 10:00 to 10:45 AM EDT
AV CONFERENCING CERTIFICATION
July 19 from 9:00 to 11:00 AM EDT
July 20 from 9:00 to 11:00 AM EDT
ADVANCED PRO AUDIO CONFERENCING CERTIFICATION
July 21 from 10:00 AM to 12:00 PM EDT
DESIGN LIBRARY TRAINING
July 14 from 11:00 to 11:45 AM EDT
July 21 from 10:00 to 10:45 AM EDT
July 28 from 8:00 to 8:45 AM EDT
CONSOLE AI SOFTWARE CONFIGURATION CERTIFICATION
July 11 from 9:00 to 10:00 AM EDT
July 25 from 10:00 to 11:00 AM EDT
VERSA MEDIABAR TRAINING
July 12 from 10:00 to 10:30 AM EDT
July 26 from 8:00 to 8:30 AM EDT
PRO AUDIO CONFERENCING CERTIFICATION
July 12 from 11:00 AM to 1:00 PM EDT
July 13 from 11:00AM to 1:00PM EDT
July 14 from 11:00 AM to 1:00 PM EDT
July 26 from 9:00 to 11:00 AM EDT
July 27 from 9:00AM to 11:00AM EDT
July 28 from 9:00 to 11:00 AM EDT
DIALOG 10 TRAINING
July 21 from 9:00 to 9:30 AM EDT