Commercial Integrator Expo and IMCCA Ink Partnership
Commercial Integrator Expo and IMCCA announce a strategic partnership to provide unified communications and hybrid office programming.
Leave a Comment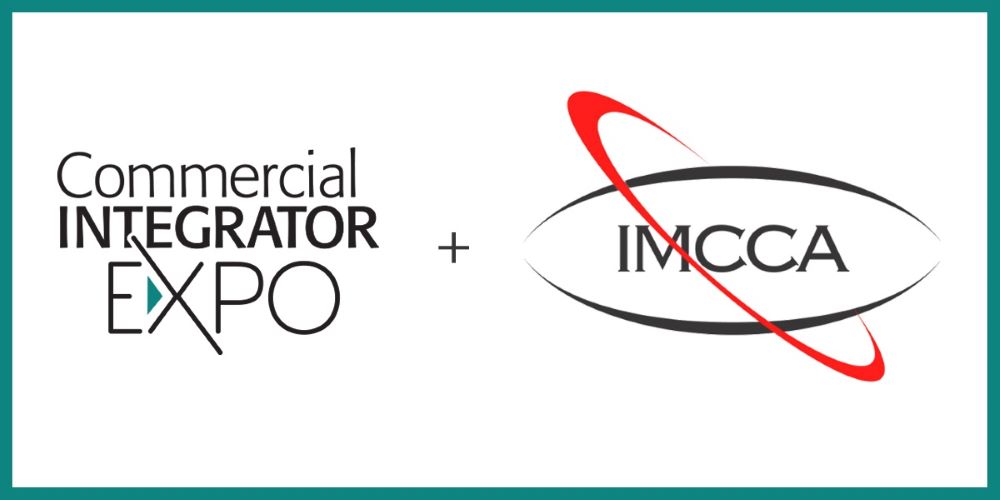 Commercial Integrator Expo just announced a partnership with the Interactive Multimedia & Collaborative Communications Alliance (IMCCA). IMCCA will be a supporting organization for the show, which Emerald, of course, owns and produces. The new exposition and conference for the commercial audiovisual integration channel and technology managers is co-located with CEDIA Expo.
Sessions Sponsored by IMCCA
Attendees can look forward to the return of IMCCA-sponsored work from home (WFH) and hybrid office technology application sessions on the Smart Stage and the Innovation Hub stage at CEDIA Expo. However, IMCCA will also organize a comprehensive track of education sessions within the all-new Commercial Integrator Expo conference program. Those will focus on unified communications and collaboration (UC&C) technologies, applications, trends and case studies. IMCCA is, of course, the preeminent voice of the UC&C industry. The organization's excited to bring insights, subject matter experts and interactive demonstrations to Commercial Integrator Expo and CEDIA Expo.
UC&C technologies have become essential tools to connect residential, office and learning spaces. Indeed, this has only grown truer with business professionals and students still using home offices and flexible workspaces post-pandemic. Enterprises and universities now must connect their facilities and networks with remote workers and students. All of this relies on a convergence of the latest technologies, design, data, and network and security products. During Commercial Integrator Expo and CEDIA Expo, IMCCA will showcase WFH setups in home-office demos on the show floor. Moreover, the organization will bring together leading industry experts for UC conference track sessions. There, they'll discuss the latest trends and opportunities for systems integrators' and technology managers' businesses.
Communication and Collaboration Solutions
"Communication and collaboration solutions are key parts of business, education and home environments today," Jason McGraw, CTS, group vice president, Emerald, says. Indeed, modern hybrid work, learning and entertainment spaces have transformed, with rising demand for new collaboration solutions. "Unified communications technology provides the connectivity solutions for hybrid and remote work by providing reliable and seamless communication and collaboration," he adds. Recognizing that, McGraw continues, "Commercial Integrator Expo, CEDIA Expo and IMCCA have built a strategic partnership to provide education, insights and opportunities for systems integrators, designers, distributors, architects, developers and technology managers to meet the industry's continued demand for robust hybrid and remote-work solutions."
Carol Zelkin, executive director of the IMCCA, says the criticality of UC&C and hybrid working is clear. "We are excited to work with Commercial Integrator Expo and CEDIA Expo," she declares. According to Zelkin, the goal is to deliver detailed, agnostic education from industry experts and end users.
'State of the Collaboration Industry'
IMCCA will present a "State of the Collaboration Industry" session on the Smart Stage. Naturally, that will highlight trends for the future of remote and hybrid workplace technologies. Moreover, IMCCA will stage a Home Office Demo presentation. That, of course, will showcase best-practice setups to achieve ideal professional home offices. Additionally, IMCCA will host a slate of UC&C application discussions on the Innovation Hub stage. Commercial Integrator Expo conference programming will therefore feature educational content on best practices, trends and solutions for commercial AV project design and systems installation, vertical-market case studies and peer networking.
Commercial Integrator Expo 2023 will be co-located with CEDIA Expo. It will take place September 6 to 9 in Denver, Colo. To learn more about Commercial Integrator Expo and CEDIA Expo, visit https://expo.commercialintegrator.com and cediaexpo.com.
If you enjoyed this article and want to receive more valuable industry content like this, click here to sign up for our digital newsletters!