Commercial Integrator Expo Conference Will Feature 50+ Sessions
The newly introduced Commercial Integrator Expo Conference will include more than 50 sessions designed to inspire industry professionals.
Leave a Comment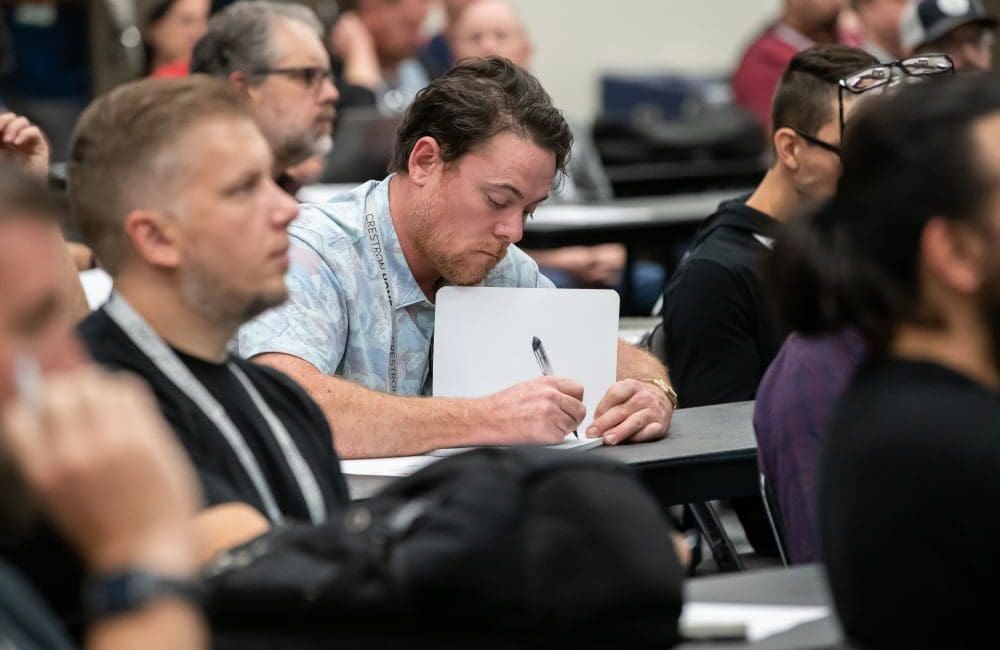 The organizers of Commercial Integrator Expo (CIX) today launched more than 50 educational programming sessions for Commercial Integrator Expo 2023. Each education session will inspire industry professionals to think more broadly about how they approach their business, introduce them to new lines of revenue and business opportunities, and equip them with the resources to formulate meaningful conversations on the show floor in Denver. Commercial Integrator Expo is, of course, the new exposition and conference for the commercial audiovisual integration channel, as well as for technology managers. Commercial Integrator's corporate parent, Emerald, owns and produces the show.
Excitement About Commercial Integrator Expo Conference
Jason McGraw, CTS, group vice president for CEDIA Expo, Commercial Integrator Expo and KBIS, Emerald, channels all the excitement about the conference program. "Commercial Integrator Expo Conference encompasses connection and education through thought leadership, professional development and insightful speakers on emerging trends," he explains. McGraw adds, "We have collaborated with the DSF, IMCCA and NSCA to provide timely and relevant content sessions for integrators to expand their industry knowledge and discover new opportunities to help accelerate their businesses forward." He closes by noting that this year's conference will feature events for everyone.
As noted, Commercial Integrator Expo Conference is curated by Commercial Integrator Expo, the Digital Signage Federation (DSF), the Interactive Multimedia & Collaboration Communications Alliance (IMCCA) and the National Systems Contractor Association (NSCA). It will feature all-new sessions, many of which emphasize project management and business development. The conference includes diverse formats, including thought-provoking seminars, case studies and engaging panels.
Commercial Integrator Expo Conference Highlights
What follows are just a few highlights of the conference.
Dimensional Innovations' Chris Riebschlager and Chad Hutson will present a compelling course called "Above the Clouds: Integrating Machine Learning, Virtual Reality and Immersive Technologies into the Amelia Earhart Hangar Museum." The session will examine the proper considerations for integrating technology into cultural centers or museum spaces to achieve learning objectives. It will also discuss rethinking museum exhibits through the lens of design and technology to drastically alter museumgoers' experiences.
Aaron Kipfer, chief technology officer for Neoti, will present on the unique challenges in constructing a 92-foot expandable DVLED videowall in Charlotte, N.C. Kipfer will unpack issues like these: primary considerations in the mounting system and load capacities, the customer's unique use case and how that impacted the choices, and the specifics of the highly customizable control platform.
David J. Danto, director of emerging technology for IMCCA, as well as director of UC strategy and research for HP/Poly, will host an engaging presentation on designing workspaces to be magnets, rather than environments people are mandated to go to. Danto's presentation, entitled "Magnet Not Mandate – Designing Workspaces for the Office," will share insights on creating collaboration centers of excellence and equipping them to support the mission at hand.
More Key Learnings at Commercial Integrator Expo Conference
Attendees will have an opportunity to gather knowledge to maintain high margins in the face of commoditization in digital signage. This session, "Understanding Profitability in Digital Signage," presented by the DSF, will uncover insights on increasing value and the opportunity of selling through understanding, collaboration and problem-solving.
Finally, NSCA will host a hands-on workshop that will enable attendees to dive into each segment of the project lifecycle — from the first recognition of the project straight through to project completion and closeout documentation. Attendees will walk away with a better handle on how to make a project-management impact in every project stage, while improving the chance of profitability.
A Host of Emerging Technologies
At Commercial Integrator Expo Conference, attendees can expect to learn about a host of emerging technologies. These include artificial intelligence, augmented reality and resimercial, just to name a few. Attendees looking for business advice will find courses on everything from incorporating new products into their sales pitches to growing profits from the products they're selling. Finally, the conference will forge new connections between peers and manufacturers, while fostering opportunities and new ideas, as well as offering the industry training on embracing new markets and emerging technology.
Commercial Integrator Expo 2023 will be co-located with CEDIA Expo 2023. Scheduled for September 6 to 9, 2023, it will emanate from Denver. Individuals interested in attending can register online. Industry association members receive discounted registration fees for show floor and Commercial Integrator Expo Conference sessions.
To learn more about Commercial Integrator Expo, visit expo.CommercialIntegrator.com. To learn more about CEDIA Expo, please visit CEDIAexpo.com.
If you enjoyed this article and want to receive more valuable industry content like this, click here to sign up for our digital newsletters!