Commercial Integrator's 40 Influencers Under 40: The Class of 2022
A cross section of the commercial AV industry's brightest young talent, who are not only transforming their organizations but also elevating our trade and practice.
Leave a Comment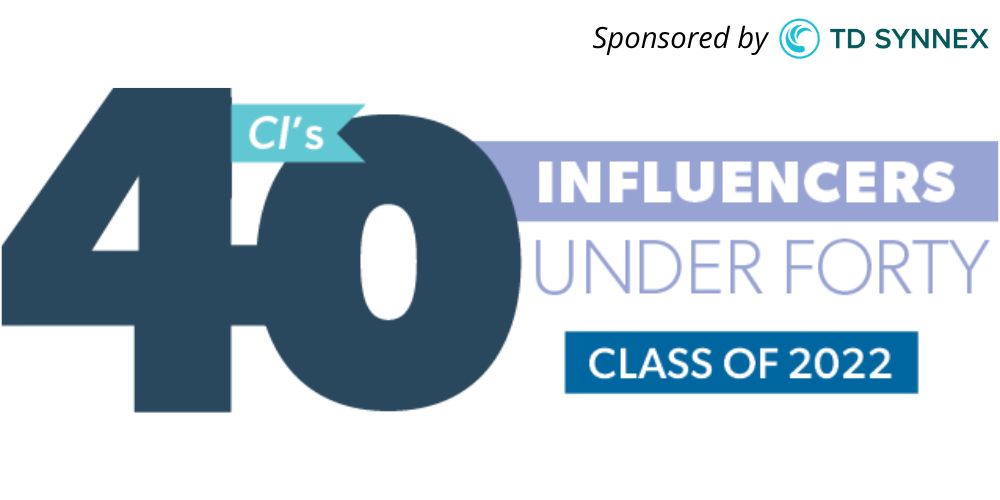 Welcome to the 9th annual edition of Commercial Integrator's 40 Influencers Under 40. This year's list will look a bit different from any prior year, and I'll start by explaining how. 
From its inception, the CI 40 Under 40 has focused solely on integrators, consultants, programmers, and others outside of the vendor and distributor sphere. This year, our editorial team made an intentional decision to eliminate that restriction, opening up nominations to manufacturers and distributors. 
Why did we do that? As you'll see when you review the list we present below, the talents and accomplishments of women and men in those corners of our industry simply cannot be denied. And a list of young influencers must consider all who are exerting influence and driving commercial AV forward. 
I'm gratified and pleased to see considerable diversity among this year's group — not only racial and gender diversity but also wide variation in career paths and personal passions. Every one of the 40 Under 40 stands alone as a singular inspiration for a girl or boy who's sitting in school or at home, volunteering in a worship center or tinkering in a garage, dreaming of being a technology professional one day. 
We proudly present Commercial Integrator's 40 Influencers Under 40: The Class of 2022, sponsored by TD SYNNEX. Hats off to these incredible women and men!
Click on any photo on the interactive graphic above to learn more about each professional highlighted:
Andrew Gross, 32, VP of Sales, Xyte
Alli Gritt, 33, UCC Practice Program Coordinator, AVI-SPL
Xzavia Killikelly, 33, Audiovisual Design Consultant, Conference Technologies, Inc. (CTI)
Katelyn Kazanowski, 31, Director of Sales, PTG
Marc LaPierre, 33, Executive Project Manager, McCann Systems
Jenny Hicks, 35, Group Head of Technology, Midwich Group PLC
David Pequeno, 28, Regional Account Manager, Sony
Samantha Potter, 29, Manager of Commercial and Install Audio, Allen & Heath USA
Chanan Averbuch, 38, EVP of the Americas, Primeview Displays
Brittany DiCesare, 33, Client Success Manager, Control Concepts, Inc.
Frank Padikkala, 38,Technical Sales Engineer, Audinate
Kaylie Shaffer, 25, Senior Manager of Public Relations, Crestron Electronics
Eric Jingst, 39, Enterprise Architect, AVI Systems
Anna Wrice, 32, Sr. Partner Business Manager of Collaboration, TD SYNNEX
Joe Dunbar, 35, Visual Sales Specialist, Starin
Jenn Steinhardt, 34, AV Design Consultant, Shen Milsom & Wilke (SM&W)
Steffan Ramage, 37, Vice President Sales and Marketing, Pro-Tech Management
Adrienne Knick, 37, Senior Director of Certification, AVIXA
Cory Allen, 35, Director of Services, Exertis Almo
Shannon Shamoon, 37, Global PR Lead, Poly
Mike Slamer, 36, Executive AV Engineer, Warner Bros. Discovery
Rachael Hinds, 30, Senior Marketing Manager, Peerless-AV
Graham Kelly, 32, Sr. Manager, North American Field Sales, TD SYNNEX
Gladys Marroquin, 28, Audiovisual Consultant, Newcomb & Boyd
Joe Dolce, 38, Senior Territory Account Manager, Panasonic Connect
Will DeWitt, 38, Learning Environments Manager, The University of Southern California
Cassie Wells, 32, Corporate Sales Manager, CCS Presentation Systems
Shane Springer, 33, Senior Technical Sales Architect, Zoom
David Phelps, 39, Head of Product Marketing, Display Division, Samsung Electronics America
Kate Adkins, 35, UX Engineering Manager, Root Integrated Systems
Steven Mason, 34, Global Account Manager, AVI-SPL
Jennifer Goodyer, 33, Sales Manager, RTSales, Inc.
Britton Gates, 35, Associate Partner and Audiovisual Consultant, Newcomb & Boyd
Taylor Lampar, 25, Marketing Coordinator, EDGE (formerly USAV)
Anthony Magarelli, 39, Director of Engineering – AudioVisual, USIS AudioVisual Systems
Monique Rezaei, 38, Director of NA Channels, Teams Rooms, Microsoft
Alex Fortin, 39, President, NDS Integration
Annie Foster, 37, Associate Director of Classroom Technologies, Washington and Lee University
Thomas Hauser, 33, Software Engineer, AVI-SPL
Jeffrey Franck, 35, Systems Design Engineer, Conference Technologies, Inc. (CTI) 
If you enjoyed this article and want to receive more valuable industry content like this, click here to sign up for our digital newsletters!