Crestron Announces Plans for Modern Work Summit 2023
Crestron's Modern Work Summit 2023 will bring together thought leaders, latest research and engaging discussions for a more dynamic digital workspace.
Leave a Comment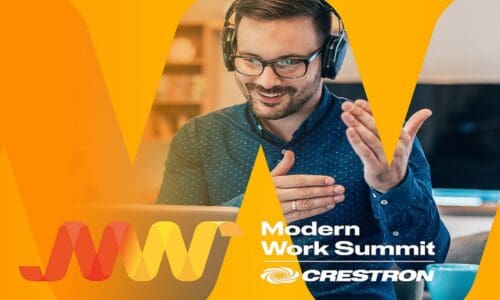 Crestron Electronics, prominent in workplace-collaboration technology, announced it is taking the Modern Work Summit to Madrid following the success of the inaugural event in Orlando last year. Modern Work Summit 2023 is a two-day, in-person event centered around companies' journeys toward a dynamic, digital workplace.
According to the N.J.-based company, the summit aims to inspire digital-workplace specialists, IT managers, facilities representatives and HR leaders to proactively rethink the modern workplace. It will also cover the cultural shifts and realignments of today's organizational climate. Notable speakers will thus highlight how the physical workspace is being repurposed and redesigned, and reveal the technological factors pivotal in transforming how we work.
Crestron adds that recent research from its latest report, Tackling the Modern Workplace by the Numbers, shows that 84% of employees regularly have at least one remote participant in their meetings. The dynamic of a meeting changes as it becomes hybrid, and trends like these are accelerating the need for decisive strategies that foster productivity and collaboration.
"As technology innovators, collaboration and purpose-built solutions that foster productivity have always been top of mind for the AV/IT industry. The shift to hybrid and its growing popularity as a mainstay in today's workforce has expanded that perspective to include every aspect of a workspace beyond just the digital tools," says Brad Hintze, EVP of marketing at Crestron.
Hintze continues, "The Modern Work Summit is a unique opportunity for leaders from various factions of a business to come together, hear from experts in the field, and equip themselves with the strategies needed to set their employees up for success in the workplace."
Keynote Speakers
Crestron notes Keynote speakers, author Andreas Ekstrom and futurist Philip Ross, will kick off the discussions. Additionally, representatives from Microsoft, Intel, Gensler, Jabra, Accenture, and Wainhouse Research will also present their latest findings and learnings. During his session, Ross will outline a manifesto for 'unworking.' Here, he will expand on unlearning old habits and rituals established for an outdated office and creating new ones fit for an age of digital technology, design innovation and diverse workforces.
Ekstrom is a Swedish journalist and author with unequivocal and compelling ideas on how to organize changes for the future of the workplace, Crestron notes. His keynote will discuss the balance between liberty and control, independence, and detailed coaching.
Also Read: Crestron Report: 84% of Employees' Meetings Have Remote Participants
"How do we make decisions in the digital workplace? How are we inventing a new idea of collective work while not being together in the same room? These are the most difficult challenges for the digital decade and the Modern Work Summit will be a fantastic forum for our presenters and attendees to think forward on how to address these challenges," says Ekstrom. "During the Modern Work Summit, I'll challenge the attendees to think, analyze, and reconfigure the skills they already have."
Crestron acknowledges organizing The Modern Work Summit 2023 with the support of industry partners New Wave Workspace, Steelcase, Sony and Sennheiser. The event will take place in Madrid, Spain, on May 23 and 24, 2023 at the Madrid Marriot Auditorium Hotel & Conference Center. It will also be held in parallel with Crestron Masters.
If you enjoyed this article and want to receive more valuable industry content like this, click here to sign up for our digital newsletters!