D-Tools Kicks Off 25th Anniversary, Showcase New Features at ISE 2023
D-Tools' will demonstrate its latest improvements to its on-premise System Integrator (SI) Software and Cloud platform at ISE 2023.
Leave a Comment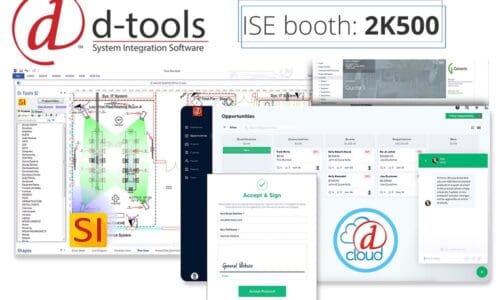 Concord, Calif.-based D-Tools, Inc., provider of business management software solutions, is continuing to cater to the needs of the systems integration market to improve and refine its suite of solutions for better business operations and productivity across all departments within an organization. D-Tools' latest version of its flagship on-premise System Integrator (SI) Software and Cloud platform will be demonstrated to ISE at the collaborative Technology Integration Partners exhibit, stand #2K500. The availability of both on-premise and cloud-based software affords integrators a choice for every application.
D-Tools Cloud-Based Business Management Software Features
D-Tools is extending its Cloud-based software to include a complete service management suite. This then enables residential-systems integrators to create, sell and manage service plans with ease and efficiency. Service plans generate recurring revenue opportunities for integrators while improving the client experience.
As part of the service offering, service plans can be designed in advance or configured on-the-fly and presented as an option on a project proposal or sold as a separate contract. Whether issued against a service agreement or as a one-off service call, service orders offer users various applications. These include the ability to schedule resources, document the problem found and work performed, track their time, invoice and collect payment right on-site all from a mobile device.
Available to integrators in the U.K., the web-based multi-OS solution facilitates communication and collaboration across an integrator's entire workforce. A recent addition to the software that makes communication within a company even more efficient is the support of chat. Members of an integration team can now communicate and collaborate in real-time. This means no more waiting for answers to questions that can delay projects, says D-Tools.
Additionally, D-Tools Cloud expedites the generation and throughput of proposals. This enables integrators to close deals faster and move on to the next project, says the company. The platform's facilitation of dynamic, engaging multimedia proposals and browser-based visual quoting enables closer collaboration with clients. This then leads to prompt e-sign approval, deposits and close rates.
D-Tools Cloud's post-sales capabilities, including scheduling, project planning, task management and time tracking also help integrators finish jobs on time and within budget.
D-Tools Showcases Newest Generation of D-Tools System Integrator (SI), Version 20
At ISE 2023, D-Tools will also demonstrate System Integrator (SI) version 20. Per the company, this provides a suite of new sales, project- and field-service capabilities to improve operating efficiency for systems-integration businesses. SI v20 supports integration with Azure Active Directory (AAS). This provides Single Sign-On and enhanced security. Also implemented to help systems integrators drive productivity and boost bottom-line results are improvements to Pricing and Labor, including the ability to add multiple vendors and labor types to products; Purchasing and Field Service management; and the performance of features including projects, tasks, checklists, workflow rules and more.
Check out D-Tools' businesses software solutions on our sister-site AV-iQ.
If you enjoyed this article and want to receive more valuable industry content like this, click here to sign up for our digital newsletters!