Exertis Almo Brings DEI Panel Back to Fall E4 Experience
Exertis Almo's Fall E4 Experience in New Jersey on September 20 will focus on bringing AV technology into the DEI discussion.
Leave a Comment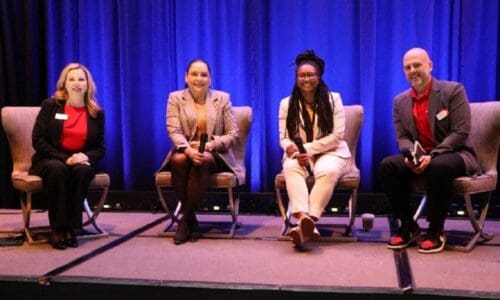 Exertis Almo, the Philadelphia, Penn.-based value-added North American AV distributor, announced that its popular Diversity, Equity and Inclusion (DEI) panel, taking place at the E4 Experience, will focus on the importance of bringing AV technology into the DEI discussion. The E4 Experience is heading to New Jersey on September 20 and, for the first time, Phoenix on October 18.
Named a 2023 Commercial Integrator BEST winner, the E4 Experience is well-known throughout the AV industry as the most valuable one-day education/training and product showcase. It features a "crown jewel" showroom packed with the newest AV gear in use — making it a perfect place for integrators and resellers to bring their end users — along with a stacked lineup of AVIXA CTS-certified business, technical and trend sessions.
"We are looking forward to more lively, interactive discussions about DEI at the fall E4 Experiences — it's interesting to see the differences in the types of questions we receive based on the regions we visit," says Melody Craigmyle, vice president of marketing and communications for Almo Corporation. "There are so many ways for integrators to take action in support of DEI programs. But one of the greatest opportunities is with AV technology. From simple lighting to ADA-compliant listening devices, integrators have the tools their customers need to help level the playing field and allow employees to do and be their best, whether it's in an office, school, church, hospital, quick-serve restaurant or anywhere — and everywhere — technology is used."
Craigmyle adds that integrators have the unique ability to lead this effort and play a key role in enabling their customers to use AV products that not only create experiences, but also design a work environment that is diverse, equitable and inclusive.
According to Rob Voorhees, business development manager for Exertis Almo, "As a parent of a teenager on the Autism spectrum, I have seen firsthand how meeting equity and technology allow a neurodivergent person to truly flourish. Rather than implementing a 'one size fits all' model, companies should be examining what technological tools a person might need in order to put their best effort forward."
He continues, "Something as trivial as a USB microphone or noise-cancelling headphones could prove the difference between an introverted employee or a top performer. It's amazing to witness the talents of those who feel comfortable in their surroundings."
Additional points of interest during the panel discussion include the financial and cultural consequences of ignoring DEI, some of the initiatives at Exertis including company surveys and a DEI annual report, neurodiversity and the benefits of technology, DEI at the product development level, meeting equity, and ways for integrators to bring the topic of DEI into a sale.
Fall E4 Experience DEI Panelists
The fall E4 DEI panel consists of the following professionals:
If you enjoyed this article and want to receive more valuable industry content like this, click here to sign up for our digital newsletters!