HDBaseT Alliance Booth to Feature C2G and Vaddio at InfoComm
C2G and Vaddio will feature extender kits and camera configurations suitable for HDBaseT installations.
Leave a Comment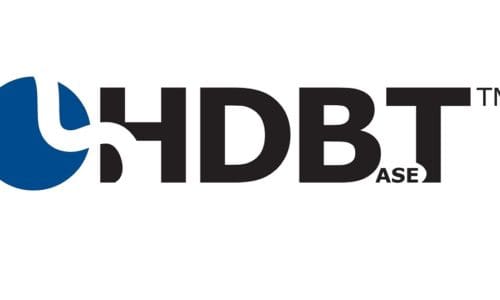 In addition to the Legrand | AV booth, C2G and Vaddio will be part of the HDBaseT Alliance Booth 3043 at InfoComm 2023 in Orlando, Florida. There, integrators will get the opportunity to see two new kits from C2G. The new HDMI HDBaseT + USB-B to A + RS232 Over Cat Extender Box Transmitter to Box Receiver will also be on display at the HDBaseT Alliance PowerWall station.
The Dual 4K HDMI HDBaseT + USB-C, 3.5mm, and USB-B to A over Cat Extender Wall Plate Transmitter to Audio De-Embedding Box Receiver will be set up to extend the video signal from Vaddio's RoboSHOT 12E PTZ Camera and IntelliSHOT Auto-tracking camera at the Legrand | AV station inside the booth.
Added Configurations
"C2G and Vaddio have worked together to create a demonstration for the HDBaseT Alliance booth that addresses the latest conferencing and connectivity trends and highlights the performance, convergence, simplicity, and interoperability behind these solutions — all hallmarks of the HDBaseT specification," said Robert Mays, associate product marketing manager, C2G, a brand of Legrand. "The C2G kits and Vaddio camera configurations are an extension of all that can be seen in the Legrand | AV booth."
Notable Features
The C2G HDMI HDBaseT + USB-B to A and RS-232 Over Cat Extender (18Gbps). This allows for the extension of a 4K HDMI source up to 328 feet to a 4K display. Moreover, it does so without signal loss using a single Cat 6a Ethernet cable. This HDMI HDBaseT 3.0 kit supports 5Play features, including the combined delivery of uncompressed, ultra-high-definition digital video and audio; Ethernet; control signals; USB 2.0; and up to 100W of power through a single, 100m/328-foot Cat 6a LAN cable.
The uncompressed digital video fully supports 4K 60Hz (4:4:4) HDMI signals and all audio formats in the HDMI 2.0 specification. The Ethernet pass-through transmits 1GB of data. The featured dip switch allows for RS-232 pass-through and the added convenience of field firmware updating. USB 2.0 supports streaming cameras, connected peripherals and storage devices. With one-way power over HDBaseT (PoH) support, one power adapter connected to the receiver powers both the transmitter and receiver. In doing so, it eliminates the need for an additional power adapter. Thus it allows for greater flexibility in installations.
Additional Receiver Kits
The Dual 4K HDMI HDBaseT + USB-C, 3.5mm, and USB-B to A Over Cat Extender Wall Plate Transmitter to Audio De-Embedding Box Receiver – 4K 60Hz allows HDMI or USB-C audio/video sources to be extended up to 130 feet to a 4K display using a single Cat 6a Ethernet cable. Additionally, this HDMI HDBaseT receiver is HDCP 2.2-compliant. Thus, it ensures that a secure connection between the source and display.
The receiver also supports automatic switching thus connecting to the last active source. Additional analog audio output pass through allows for audio distribution. HDBaseT also supports high-speed USB 2.0 pass through up to 230 feet for KVM control of devices. These include USB cameras, keyboards, mice and other peripherals. It also features PoH support for greater installation flexibility. Advanced users can control the transmitter via the RS-232 port on the receiver.
Both kits thus present an ideal solution where it extends USB alongside HDMI video and audio to interactive whiteboards and displays in different installations. The list comprises conference rooms, classrooms, lecture halls and many other installations far beyond the length limitations of standard HDMI cabling.
Presenting at InfoComm
Vaddio will showcase the latest from its RoboSHOT and IntelliSHOT professional camera family. The RoboSHOT 12E HDMI PTZ camera offers exceptional video quality, a wide field of view, and value-added customization settings. It offers advanced PTZ capabilities. Thus, it is suitable for rooms with multiple focus points, while the IntelliSHOT includes hands-free motion tracking. IntelliSHOT ensures easy and effortless video collaboration and streaming.
Equipped with advanced IntelliFrameTM technology, the IntelliSHOT ePTZ camera is the only auto-framing device that can be adjusted based on the room conditions and user's preferences. It is an HD ePTZ camera with 30x zoom and up to a 70.2-degree field of view. It also features simultaneous USB 3.0, HDMI, and H.264 IP Streaming (RTSP or RTMP); two integrated beamforming microphones with built-in AEC; and balanced audio line in and out. Both Vaddio cameras will also be available in additional configurations at the Legrand | AV booth at InfoComm.
If you enjoyed this article and want to receive more valuable industry content like this, click here to sign up for our digital newsletters!