Humly to Debut At InfoComm 2023
Humly will launch two premium interactive hardware solutions in North America at its first InfoComm in Orlando, Fla.
Leave a Comment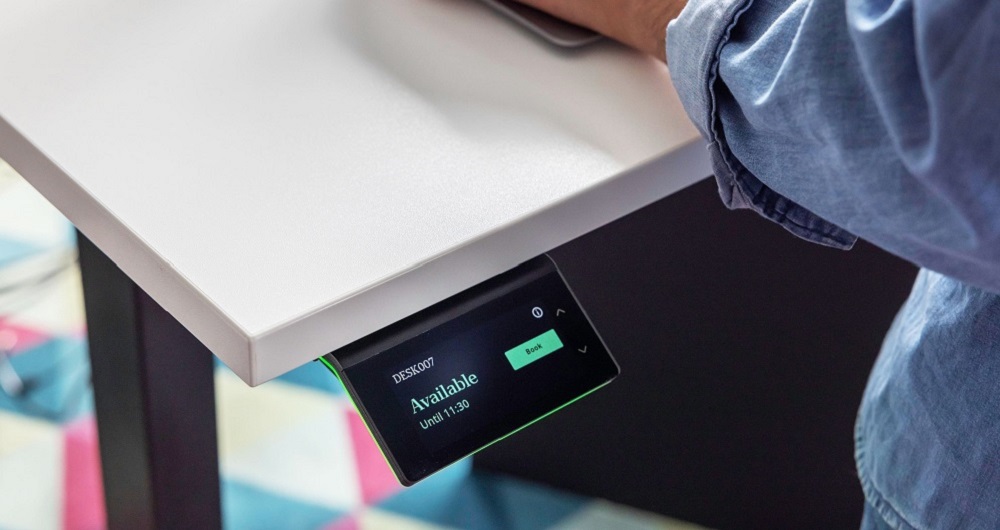 Humly, the Sweden-based workplace experience company, will launch its two premium interactive hardware solutions in North America at the upcoming InfoComm show in Orlando. Per a statement, the company will exhibit at the trade show for the first time. The announcement follows news that Humly has expanded its North American presence through reseller partnerships with A.Visual, Dekom, and other strategic partners. Together, they will support Humly's hardware and software demonstrations at booth #3988.
"The hybrid workspace remains a hot topic that companies of all sizes are still learning to navigate, and we anticipate that the thirst for these solutions at InfoComm will be quite strong," says Anders Karlsson, CEO, Humly. "AV suppliers have accelerated their development cycles to equip offices and corporate campuses with technology that help managers and workers be more effective. Humly's hardware and software solutions help companies reduce friction in hybrid workplaces by helping people clearly and quickly identify places to work and meet."
Humly will introduce its Humly Booking Device and Humly Room Display to North American audiences. Per the company, both help people find places to work and collaborate without distraction. Humly introduced Humly Booking Device, a slim, small, and infinitely flexible device, at ISE 2023 in February. Introduced in 2020, the six-time award-winning Humly Room Display helps simplify meeting room reservations. It most recently received certification for Google Workplace and is widely deployed in Europe and Asia.
Versatile Space Booking
The new Humly Booking Device, now shipping, addresses the evolving challenges of the hybrid workplace. Here, it provides staff and visitors with a versatile capacitive touchscreen solution to view and reserve available bookable spaces on campus. Its slim form factor houses a small, high-resolution LCD display (3.46 inches). It also comes with flexible mounting and positioning options on and underneath various surfaces. Some examples include walls, shelves, desks and private phone booths. Offices with shared desks and flexible workplace modules can also install the device at the precise locations where people work. Moreover, the Humly Booking device comes with versatile tabletop, shelf, and under-surface mounting options.
New for InfoComm, Humly will introduce new firmware that includes several new improvements across system management and the employee experience. Customers can now use the Humly Control Panel through a WiFi connection. With this, they can easily manage and monitor events. They will also have the ability to book, extend or conclude meetings through the management portal. Users can also perform that same functions directly on the device, which shows all inventory available to book.
New Demo Mode
A new "Demo Mode" introduces the freedom to flip screens for different orientations, allowing installers to find the best stylistic match for the architectural background prior to mounting. Integrators can test options and then efficiently mount the device horizontally or vertically on any material. These include glass, textile, metal and wood. Humly has also expanded language support from 26 to 28, adding Hebrew and Welsh.
Humly notes that its thoughtful engineering added several advanced features that further enhance the employee experience. For example, the Humly Booking Device integrates control functionality for adjustable desks, with automatic adjustments to each worker's preferred height. Additionally, Humly's open API makes it easy for integrators or onsite technology managers to connect a sensor. This then allows managers and employees to booth meeting spaces and private phone booths upon entrance.
Meeting-Room Management
Humly says it introduced its first hardware solution, Humly Room Display, at a time when most office buildings were closed yet were beginning to consider return-to-work strategies under uncertain conditions. Humly Room Display was developed to help people find collaboration spaces they have booked through reservation software. It also helps guide people to currently available spaces. Display content includes details on who has booked the room and for how long. With this, it ensures that meetings proceed without disturbance. Additionally, its look matches any modern office aesthetic, with a sleek and energy-efficient design, Humly states.
Humly Room Display is scalable to fit the needs of large corporations, with enterprise-class security that prevents outside intrusions. Administrators can use the Humly Control Panel to monitor and manage an entire fleet of displays from a single location. This can be on premises or remotely via Humly Cloud. Same as Humly Booking Device, its open API makes it easy for developers to create seamless integrations with complementary solutions, including smart-office and collaboration technologies.
Humly will position both devices around its InfoComm booth in various configurations to demonstrate each product's flexibility where visitors get to interact with each device and explore their user-friendly feature sets. As part of Humly's long-term sustainability efforts both devices use purpose-built hardware, with each component carefully selected to ensure consistent operation during long business hours without failure. The PoE-powered devices are built to operate reliably for a minimum of five years. Additionally, the new Humly Booking Device's green design traits include recycled plastic.
If you enjoyed this article and want to receive more valuable industry content like this, click here to sign up for our digital newsletters!