John Greene Remembered for His Infectious Enthusiasm for All Things AV
Colleagues and industry friends remember John Greene's laughter, smile and earnest desire to learn more about everyone and everything.
Leave a Comment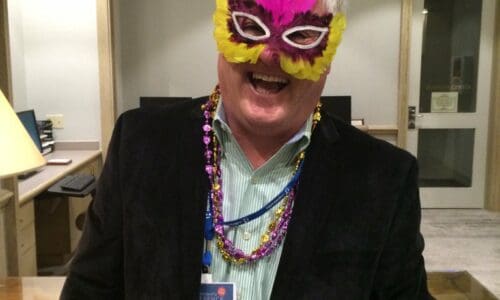 One of the AV industry's most enthusiastic supporters died Thursday, May 13, when New Era Technology Middle Atlantic regional sales director John Greene lost his lengthy battle with cancer at age 63.
And, in the same way Greene was always quick to support his fellow AVTweeps, his co-workers and AV industry friends shared their fondest memories of the man who always had the broadest smile and loudest laugh at any trade show, conference and meeting.
"John Greene was sincere, kind and authentic," says Cory Schaeffer, QSC director of alliances and market development. "I felt a special connection to him and I will always be grateful for that.  I remember being at the NSCA BLC one year and during a break right after John O'Leary spoke, he and I just embraced with tears in our eyes.
"No words were needed, we were both touched by O'Leary's powerful message about love.  This was a business conference…yet John O'Leary's message touched us in a very personal way. I loved Greene and I feel blessed to have known him.
"Even in the most difficult times, over the past year, he stayed positive. He always asked me how I was doing, always. He had such a difficult year and he continued to check in on me to see how I was doing. I want to live like Greene lived.  He showed me and all of us, how to live a life well lived," says Schaeffer.
"Every time I hear Adele sing, I think of Greene. I will miss his text messages and photos of his dogs. The world lost an amazing man and many of us lost a dear friend," she says.
More About John Greene
Greene joined Advanced AV in 2006 and New Era acquired the Pennsylvania-based AV integrator in 2013. He also spent about 10 years as VP of sales for Total Video Products from 1996 to 2006 and the previous six years as regional account manager for JVC.
"The New Era Technology family is deeply saddened to share the news of John Greene's passing," his company's Twitter account said on Friday. "His life continues to inspire those who knew him, and we will miss his contagious personality. #InMemoryofJohnGreene"
Greene's paid career, though, pales in comparison to his volunteer work, which was highlighted by his five years as an ambassador for the NSCA Ignite workforce development program and also included almost five years as a volunteer and co-captain for Special Olympics Pennsylvania and Alex's Lemonade Stand Foundation and 28 years as announcer, treasurer and timer for the Drexel Swim Club.
The New Era Technology family is deeply saddened to share the news of John Greene's passing. His life continues to inspire those who knew him, and we will miss his contagious personality. #InMemoryofJohnGreene pic.twitter.com/myFDJP898w

— New Era Technology (@NewEraTech_US) May 14, 2021
"I first met John at a Business and Leadership Conference years ago while covering the event for Commercial Integrator," says NSCA director of industry outreach and media channels Tom LeBlanc. "For lunch one day, NSCA matched up attendees to sit together. I was lucky to be aligned with John. This was either before or at the very beginning of his Twitter days, so I had no preconceived notions.
"The person I met was kind and engaging. His eyes lit up when he was talked about his kids. Over the years I got to know him better and experience his great sense of humor. But when I heard about John's passing, I could only think of that light in his eyes when he talked about his family," he says.
"A man like John is never gone," says Gina Sansivero, VP of marketing and corporate communications for AtlasIED. "He lives in every single person he touched. From his laughs, smiles, wit, honesty, and even his ability to have hard conversations with strength and compassion, John has taught us so much.
"He loved his AV people, his family, his pitties. And his impact on my personal life and professional career cannot be overstated. I'll miss him. We'll all miss him," she says.
Chris Neto, market development manager for engagement and experience at Starin Marketing, calls Greene "one of the kindest, most supportive people in our industry.
"His over-the-top laugh and positivity will always remain a wonderful memory," says Neto.
NSCA executive director Chuck Wilson considers Greene "a great friend.
"Over the past couple years, we would have very in-depth discussions about health, family and living with purpose," he says. "Regardless if we spoke of living life or facing death, he could make you feel better about either. I'll always remember him as one who put others before himself."
AV Nation founder Tim Albright says Greene "always brought life and light to the room he was in, whether virtual, social or in person. He embodied the philosophy of passing on tribal knowledge and preparing the next generation. John was an exhaustive force in the industry and a great friend."


AV Industry Friends React to Greene's Death
AVIXA Women's Council chairwoman Brandy Alvarado summed up Greene for those who never met him.
"When you hear the name 'John Greene,' you ALWAYS hear people comment, 'he's the nicest man!' To me he was a mentor and one of my biggest cheerleaders, always one to congratulate my successes on the AVIXA Women's Council and in my AV career," she says.
"He was someone that I could always chat with to help navigate through difficult situations. John, there are no words to say how much you will be missed. AV has lost a great one.
NSCA director of business resources Mike Abernathy says Greene was jokingly considered "the world's oldest Millennial.
"He was always the leader on the BLC app and Twitter during BLC and P2P," referring to Greene's love of using social media to share news about industry events. In fact, he was the most prolific tweeter at several Business & Leadership Conferences and the award was named in his honor in its final year.
"He was always willing to connect others," says Abernathy. "He was helpful when we connected for possible business resources that we could share with the industry and other members."
Related: Tributes Pour in for Michael Shinn After His Death at Age 38
Brock McGinnis, VP of sales and operations, Nationwide Audio Visual, says Greene "made me feel important—not that I'm anyone special. John made everyone feel important. It's why he was so well liked.
"How could you not want to be around a man who made you feel good about yourself? It was one of his secret weapons. All John wanted from a relationship was everything you knew. He didn't need to be important, but he was passionate about remaining relevant and informed," he says.
Greene always wanted "to stay on the leading edge of societal trends and business thinking, to seek out and understand the perspectives of those who lived and thought differently," says McGinnis. "It was another secret weapon.
"John and I were conference buddies, and BLC sessions will never be the same without him," he says. "He had that 'class clown' gift of breaking the ice, getting everyone laughing together, forming a 'team,' and then fading into the background to watch the mayhem.
"Bringing people together was probably John's best secret weapon. I always looked up to John—the good man I hoped to become. And now, sadly, I'll have to look up a lot further. I can only imagine the laughter he and Mike Shinn are sharing while they wait for the rest of us," says McGinnis.
NSCA director of operations Teresa Solorio calls Greene "an inspiration to all of us for not only the friendly and welcoming person he was, but his industry knowledge and his exceptional tweeting ability. He had a passion for his family and loved to share photos of his pets.
"He was the one that always started the 'Pets of NSCA' tweeting at our events that everyone loved. He was the kind of guy that could talk to you about anything and truly cared to hear your side of the story. When he was at an event, he made the rounds and chatted with as many as time would allow," she says.
Greene was "a true advocate for NSCA and our events as well as a promotor of all things in our industry," says Solorio. "I chatted with him often through his illness and even though he was not always feeling the best, he was always checking in to see how others that we knew in common who were in similar situations were doing, always wishing them his best. He was always thinking of others.
"I missed seeing him at our last event and had hoped to see him at the next. I will miss his smiling face that stood out in a crowd. Most definitely a loss for our industry," she says.
Click here to read John Greene's full obituary.
If you enjoyed this article and want to receive more valuable industry content like this, click here to sign up for our digital newsletters!