Jupiter Systems Launches Zavus XP
Jupiter's Zavus Xtreme Pixel (XP) Flip Chip COB MicroLED is the latest addition to the company's 21:9 ultra-wide display offerings.
Leave a Comment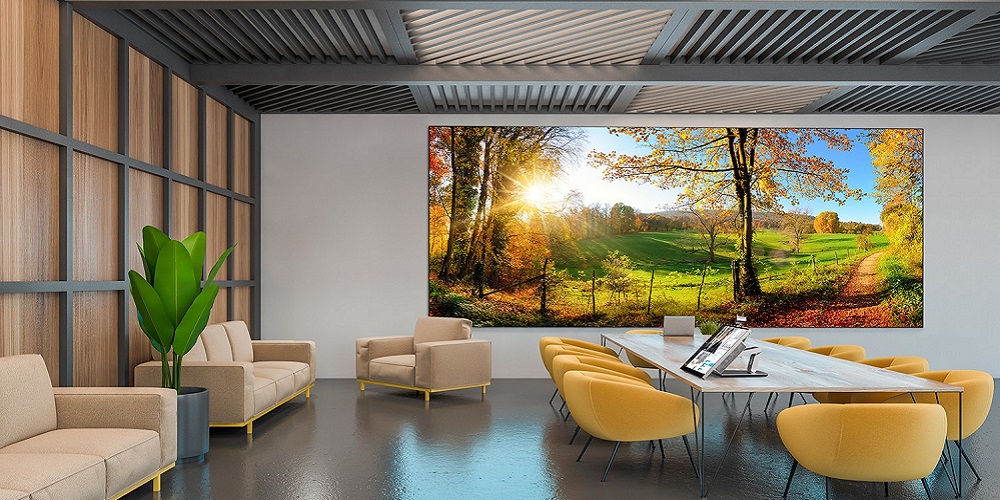 Jupiter Systems, global manufacturer of 21:9 ultra-wide display solutions, has launched Zavus Xtreme Pixel (XP) Flip Chip COB MicroLED. This customizable, large and seamless display solution is the latest addition to the Hayward, Calif.-based company's 21:9 ultra-wide display offerings. According to Jupiter, Zavus XP will meet the demands of enterprise and industrial companies that require visualization technology as a centerpiece.
The Zavus XP offers a customizable range of seamless displays. Here, the 21:9 form factor starts at 165 inches in 0.7mm ultra-fine pitch and continuing up to 281 inches diagonal. Moreover, all are available in 5K resolution. This makes it ideal for large-scale deployments. It also comes with 1,000,000:1 contrast ratio and 16-bit per color internal processing. The Zavus XP thus delivers superior image quality, says Jupiter.
Main Highlights
Per a statement, one of the Zavus XP highlights is its Flip Chip Common Cathode COB technology. This encapsulated pixel area with a smooth black resin coating provides a touch-sensitive surface. The surface then delivers 30% improved energy efficiency over standard common cathode COB.
Zavus XP also features DCI-P3 color gamut, up to 16-bit color depth; perfect black levels, up to 1,000 nits sustained luminance; and a camera-friendly 3,840 Hz scan rate. With this, it provides the ideal canvas for any content display under any indoor lighting conditions. Surface mount and thin profile, it can handle all typical deployments. This includes executive offices, MTR/Signature Room collaboration spaces, training facilities, signage and NOCs/SOCs.
In partnership with MegapixelVR, Jupiter says it spent over a year developing a solution embedded with the high-end processor. The reason being to ensure that they can control each LDM and provide control over the cabinet electronics.
Also Read: Jupiter on Enticing Employees to Come Back to the Office
White point, color rendering and seam correction down to each individual LED module are thus available to control from a simple UI interface. Furthermore, the interface is web-hosted and accessible from a desktop or mobile endpoints, with ultra-high bit-depth performance. Health monitoring is similarly easily accessible from a web-hosted interface encompassing multiple LED wall locations for an entire building or campus. The Helios platform can be also customized with the desired combination of modular inputs per project requirements.
"We are excited to introduce the Zavus Xtreme Pixel to our customers," says Justin Shong, VP of sales and marketing for Jupiter. "This sensational product represents the pinnacle of Jupiter's display engineering; and we are confident that it will meet the needs of our enterprise and industrial customers, providing them with the most advanced visualization technology available."
If you enjoyed this article and want to receive more valuable industry content like this, click here to sign up for our digital newsletters!