Key Digital Compass Control Now Supports Inogeni Toggle & QSC's MP-M
Inogeni Toggle USB 3.0 Pro AV Switcher and QSC's MP-M multizone music/paging mixers integrate into Compass Control Pro iOS control system.
Leave a Comment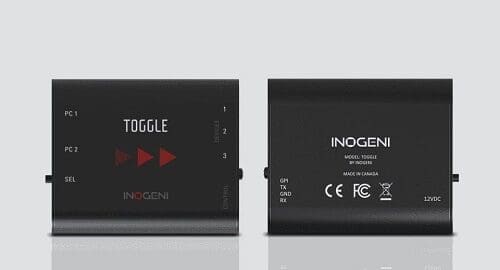 Key Digital, the Mount Vernon, N.Y.-based, developer and manufacturer of digital video processing and video signal distribution solutions, has announced extensions to its Compass Control Pro fully-integrated iOS control system with IP-based control modules for the Inogeni Toggle USB switcher and the QSC MP-M Audio Router series.
Inogeni's Toggle USB 3.0 Pro AV Switcher is a 3×2 USB device with RS-232 control that allows users to switch three USB sources such as conference audio, webcams, and camera switchers to destinations such as a conference room podium PC, conference table laptop, or dedicated conference-room host computer. A tap on the Compass Control GUI initiates an RS-232 command via an IP-based compatible master controller such as the Key Digital KD-MC1000 or the KD-CX800 IR / RS-232 over IP Control Interface.
Key Digital's Compass Control Integration with QSC's MP-M 
QSC's MP-M series music and paging mixers are fixed architecture mixers/processors intended for retail and hospitality applications in which high-quality audio from various sources is routed to multiple zones. Live mixing functions are also supported for applications requiring sound reinforcement of entertainment, presentations, or conferences. End users can now utilize the Compass Control MP-M module for GUI control of router/matrix switching, zone volume control/muting, and scene control.
The Compass Control Pro system integrates a host of third-party gear for plug-and-play control with the Compass Control Pro host software facilitating management of an entire media and related device infrastructure spanning AVoIP, signage, lighting, automated window shades, HVAC, security and power.
"These new modules expand the reach of unified control to two popular devices in wide use," says Jonathon Ferry, Key Digital VP of product education and experience. "We're delighted to add Inogeni and QSC to the growing family of Compass Control Alliance Partners – now more than 120 partners strong."
The free Compass Control iOS Demo App, complete with functional market demos, is available for download on the Apple App Store.
If you enjoyed this article and want to receive more valuable industry content like this, click here to sign up for our digital newsletters!