Korbyt Anywhere Now on Zoom App Marketplace
The integration with Zoom's ecosystem expands the Korbyt Anywhere platform beyond traditional digital signage.
Leave a Comment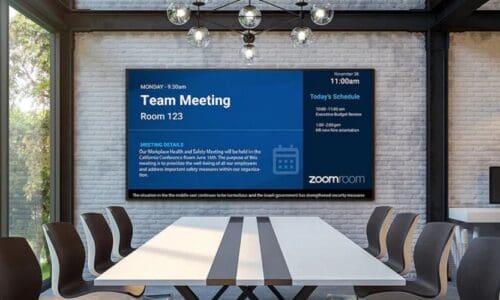 Addison, Texas-based Korbyt announced that its Korbyt Anywhere is available on the Zoom App Marketplace. Korbyt users now have the ability to easily distribute content via the Zoom workflow, greatly expanding the reach of Korbyt Anywhere to virtually any meeting room with a network-connected screen.
"Business communication is evolving at a rapid pace as the line that once separated video conferencing from traditional internal communications begins to disappear," Mitch Ricks, global leader, ISV Partners at Zoom, says. "Streamlining how Korbyt's platform connects with the Zoom platform is an important development that makes it much easier for our customers to enjoy frictionless communications across their businesses."
Integration with Zoom Ecosystem
Per a statement, Korbyt's integration with the Zoom ecosystem is the first major product milestone since the company received a significant growth investment from Clearhaven Partners. That is a Boston-based private-equity firm. The investment aims to accelerate Korbyt's growth trajectory. It will do so by expanding partnerships, facilitating customer-support growth and catalyzing further innovation of Korbyt's cloud-native SaaS platform, Korbyt Anywhere.
According to the company, Korbyt Anywhere is a cloud-based CMS with capabilities to engage employees via a wide range of channels. This includes digital signage, desktop, web, email and mobile devices. Adding native support for Zoom has the potential to easily double or even triple the number of endpoints, says the company. It does so by expanding the Korbyt ecosystem to hundreds of thousands of conference rooms.
Enabling Seamless Communication
This native app integration thus creates a direct path into the Zoom ecosystem. As a result, conference-room screens — even those not connected to media players — now have powerful management capabilities. With this, it is possible to seamlessly share employee communications content throughout the organization.
"A primary strength of Korbyt Anywhere is the ability to reach employees on their terms, wherever they may be," Andrew Gildin, vice president, channel sales and revenue operations at Korbyt, says. "Integrating more tightly with the Zoom platform builds on that strength by bringing countless new conference room endpoints within reach to make it easier than ever to manage content seamlessly across any corporate setting."
The company adds that users do not require any new hardware to display content on conference room screens. They simply have to download and install the Korbyt app from the Zoom App Marketplace. Users can then broadcast content to any network-connected screen via Zoom.
The solution thus delivers a seamless experience and takes full advantage of AV equipment already in place. As a result, it provides businesses a hassle-free internal-communications solution at no additional cost.
If you enjoyed this article and want to receive more valuable industry content like this, click here to sign up for our digital newsletters!