LG Launches Patient Engagement Boards for Improved Healthcare
LG's new Patient Engagement Boards — featuring PoE, integrated speakers and webOS 6.0 software — provide enhanced capabilities and simplicity for hospital rooms.
Leave a Comment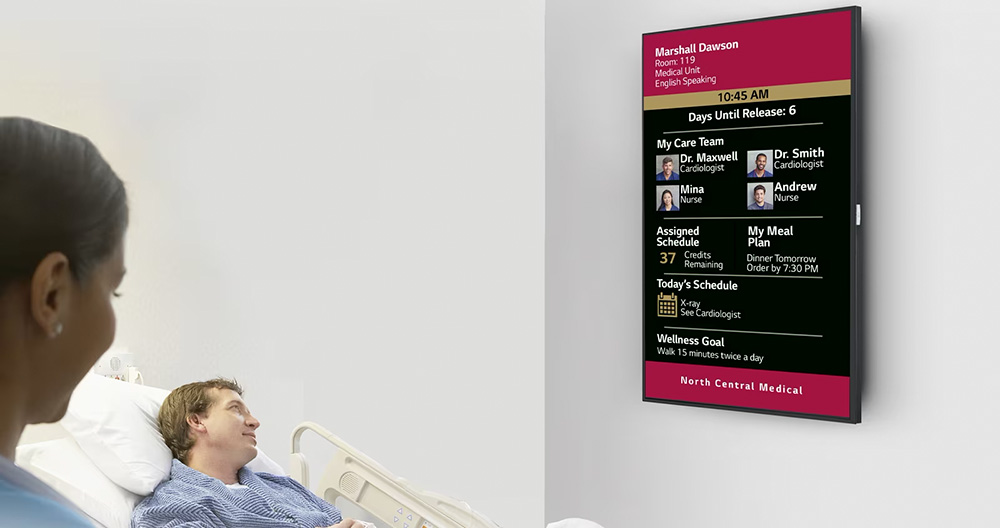 LG Business Solutions USA has launched a new line of "Patient Engagement Boards" that empower hospitals to outfit patient rooms with crisp high-definition screens for displaying patient information. This includes their name, schedule, a list of caregivers, native language and more.
Available now, the 43-inch UHD model and 32-inch FHD model are UL-listed for healthcare. They also feature Power over Ethernet (PoE) capability; thus offering optimized solutions and simplified installation for diverse patient room needs.
Enhancing the Healthcare Experience
"As hospitals continue to digitize more and more of their operations; in-room displays provide patients and caregivers with greater legibility and infinitely more flexibility than analog white boards," says Tom Mottlau, healthcare director, LG Business Solutions USA. "Our patient engagement development partners have utilized the powerful LG webOS 6.0 platform to develop intuitive applications that can allow hospitals to eliminate handwritten notes and the difficulties that can arise from illegible writing or unclear instructions. These enhancements can improve communications and patient trust, resulting in better overall experiences."
Per a statement, the LG Patient Engagement Boards (ML5K-B Series) help improve experiences for patients and caregivers. At the same time, they simplify operations for administrators and IT staff. Staff can deploy the 32-inch model rapidly by utilizing POE without the exhaustive approval process commonly associated with modifying a room's electrical components. Each display's automatic brightness sensor further enhances convenience. Here, it ensures viewing comfort by matching ambient light levels throughout the day.
Additional Features
Users can wall-mount both models vertically or horizontally using 200×200 VESA mounts. According to LG, both displays feature LG IPS panels and offer up to 50,000 hours of life. Thus, they are suitable for 24/7 use. Integrated stereo speakers further simplify deployment and provide flexibility to host a variety of content.
The 43-inch 43ML5K-B offers a typical brightness of 500 nits and has a 25 percent haze treatment that reduces glare. Meanwhile, the 32-inch 32ML5K-B provides 400 nits through standard power, and 200 nits through PoE.
"From diagnostic displays and ultra-secure thin client computing solutions to these new Patient Engagement Boards; LG is dedicated to leveraging the latest display technologies to help hospitals and medical providers create enhanced spaces and deliver 21st century care," Mottlau adds. "As institutions look to design and build their hospital rooms of the future, LG will continue to innovate to meet their changing needs."
If you enjoyed this article and want to receive more valuable industry content like this, click here to sign up for our digital newsletters!