Meyer Sound Has Strong Showing at InfoComm
Meyer Sound showcased several products at its InfoComm booth including the PANTHER loudspeaker and the IntelligentDC technology.
Leave a Comment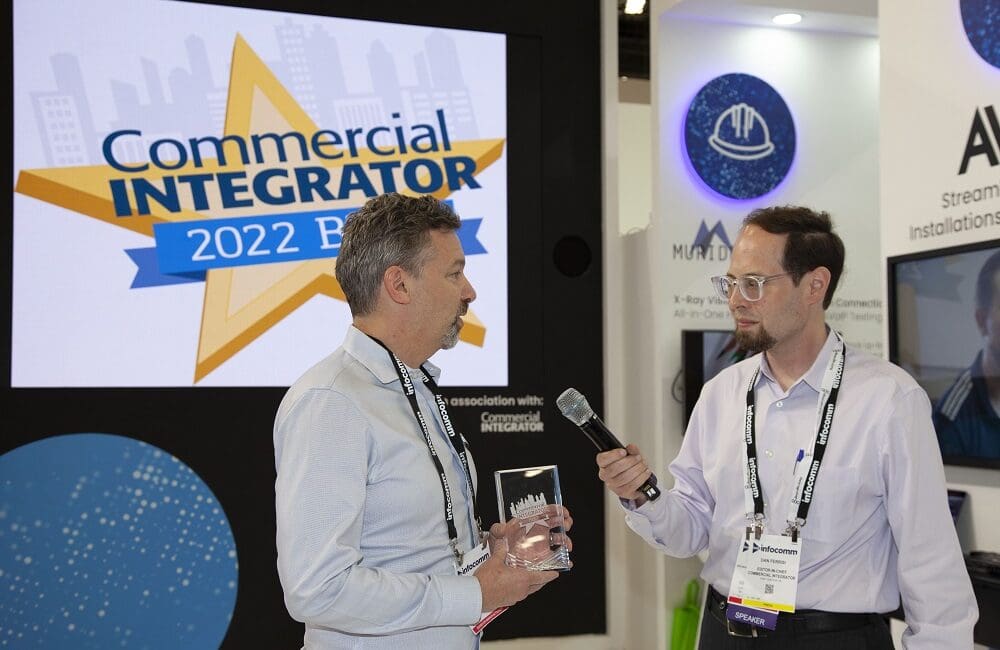 According to Meyer Sound, its booth at InfoComm in Las Vegas pulled steady crowds throughout the show. The booth saw audio consultants and system integrators examining and discussing the company's line of installation loudspeakers, system processors and associated software platforms.
"This was our first major trade show presence since early 2020 and it was a great feeling to welcome back all the dealers, customers, and associates we've known over the years," says director of global marketing Tim Boot. "When the live event industry suffered setbacks during COVID, the installation market remained surprisingly strong for us, and we were happy to show our appreciation with hospitality through the show."
Berkeley, Calif.-based Meyer Sound adds that the new PANTHER large-format linear line array loudspeaker made its debut at InfoComm. The company reveals that a single PANTHER cabinet on display in the booth was unattached. This allowed attendees in pairs to pick it up and confirm that the system, though producing more than 150 dB peak SPL, indeed weighs in at less than 150 lbs.
The company also highlighted another major product, the IntelligentDC technology at InfoComm. This technology combines the installation advantages of low voltage distributed systems with a level of performance possible with self-powered loudspeakers.
"IntelligentDC remains the only viable solution for higher-power loudspeaker systems that require neither long loudspeaker cable runs nor access to AC power," says Boot. "IntelligentDC systems can sustain peaks up to 860 watts, which is far more than you can get with Power-over-Ethernet solutions. More than two-thirds of the loudspeakers in the line are true bi-amplified loudspeakers with active crossovers."
Advantages of IntelligentDC
IntelligentDC systems utilize a multi-channel rack-mount power supply and signal distribution unit, says Meyer Sound. With this, it delivers 48V DC power and balanced audio over a single 5-core cable through eight outputs to as many as 24 loudspeakers, depending on system configuration. Each unit can send the same signal to all loudspeakers or switch to route different signals in any combination. Building codes in most jurisdictions worldwide allow installation without conduit.
The company offers a total of 17 loudspeaker models with the technology. These include 12 bi-amplified systems and two subwoofers. In addition to standard surface-mount models, the IntelligentDC line also includes two ceiling loudspeakers and four cinema surrounds.
"We are continually upgrading and expanding IntelligentDC to incorporate our newest loudspeaker technologies," continues Boot. "The latest addition is the ULTRA-X20 series, which offers three horn configurations — all field rotatable — to tailor coverage and cabinet orientation to any situation. It's an extraordinarily versatile solution for hospitality installations as well as for fill and delay systems in performance venues."
IntelligentDC systems are the backbone of Meyer Sound's Constellation acoustic system. It offers the combination of impeccable audio performance and cost-effective placement of the many lateral and overhead loudspeakers required for realizing natural-sounding acoustical ambience.
Also Read: Meyer Sound Dazzles at Ed Sheeran World Tour with PANTHER Loudspeakers
Aside from Constellation, other installations utilizing IntelligentDC exclusively or primarily include systems in various venues. These comprise hotels, restaurants, nightclubs, casinos, high-end retail establishments and sound art installations. Performing arts centers, theaters and theme parks also employ IntelligentDC, says the company. They usually use it in combination with larger Meyer Sound systems with direct AC powering.
Other Products at InfoComm
At InfoComm, Meyer Sound also previewed a forthcoming power supply and signal distribution unit. Per a statement, it will offer upgraded system monitoring and computer integration features as well as new front panel aesthetics. The company expects to ship it later this year.
PANTHER recently won the Parnelli Award victory for "Indispensable Technology — Audio" at the 2022 NAMM Show. Moreover, it received Commercial Integrator's BEST Award in the "Venue/Line Array Loudspeakers" category as well as the Mix Best of Show Award at InfoComm.
Other highlights drawing attention at the Meyer Sound booth included the recent ULTRA-X20 compact point source loudspeaker, USW-112P compact subwoofer and GALAXY Network Platform. The company also showcased Spacemap Go spatial sound design and live mixing tool, and a soon-to-be-announced software platform.