MultiDyne Launches New NIA9205 Encoder and Decoder
The new series provides high-performance solutions for encoding and decoding of HD and UHD 4K video, and audio signals for Internet streaming and broadcast transport.
Leave a Comment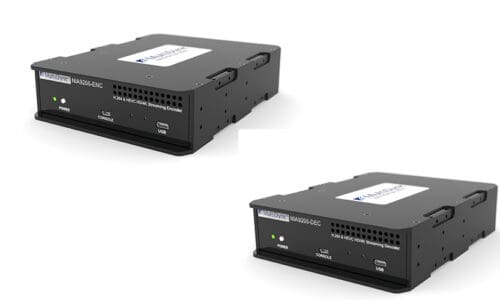 Hauppauge, N.Y.-based MultiDyne Video & Fiber Optic Solutions announced the new format-flexible NIA9205 Series for broadcast and streaming media workflows. The MultiDyne NIA9205 is the first new product series resulting from MultiDyne's acquisition of Niagara Video in the fall of 2022. Per a statement, the new product thus combines the technical strength and innovative spirits of both companies.
Features of NIA9205 Series
The NIA9205 Series is MultiDyne's next-generation professional line of advanced video encoders and decoders. The compact, powerful and cost-effective products are suitable for real-time streaming, broadcast transport and related applications. MultiDyne has adapted Niagara's advanced video transport codecs and broadcast and networking standards with state-of-the art error correction. With this, it has taken advantage of the inherent flexibility of IP and the internet.
Also Read: MultiDyne Acquires Niagara Video Corp.
HEVC and AVC 4:2:0 10-bit encoding, coupled with SRT, Zixi, & RIST video transport and error correction help  maintain professional broadcast quality transport with interoperability over almost any IP network, as well as wireless internet. OTT protocols such as RTMP and HLS bolster the product in other workflows and applications.
Additional Benefits
"The new series is built using proven MultiDyne VB Series configurable product designs for signal transport; [and represents] a convergence of MultiDyne and Niagara Video technology innovations for streaming and IP transport," says Michael Galli, Vice President of Streaming Products, MultiDyne. "The NIA9205 Series brings MultiDyne into new areas like streaming, IP transport, OTT and video compression. The platform offers benefits of hardware and software technology which gives it some unique advantages in a variety of market applications."
The NIA 9205-ENC encoder offers both H.264 (AVC or MPEG-4) and H.265 (HEVC) compression. This means customers can start with AVC H.264 and migrate to HEVC H.265 when needed.
The NIA9205-DEC provides HEVC and MPEG4-AVC video decompression up to 2160p50/60 10-bit 4:2:0. It also comes with support for up to eight audio channels, multicasting and multi-unicasting for cost-effective audio/video broadcast solutions. The NIA9205 also provides two Gigabit Ethernet LAN ports. There is one for media transport, and one for control and monitoring.
Extending Production Points
"COVID-19 accelerated the move toward at-home production models that require a minimum of equipment and crew in the field, with most technicians in the studio focused on production," says Jesse Foster, vice president of products and western U.S. sales. "That requires moving content over private and public internet links with maximum efficiency. [This] usually requires convergence with fiber and copper. The NIA9205 codec extends the production point, the studio and the control room, over the internet via highly secure connections using DTLS encryption. This makes the codec valuable for time sensitive IP-based contribution applications that involve critical news, sports and studio links."
Studios and remote production teams can also use the NIA9205 to reliably receive and decode content originating from third-party devices. This ensures that studios can accept content from field-based production partners even with other encoders.
The NIA9205 encoder and decoder will be on display at NAB Show 2023, says MultiDyne. It will also begin shipping in Q2.