NETGEAR Launches PR460X 10G/Multi-Gigabit Dual WAN Pro Router
NETGEAR will display its PR460X, a 10G/Multi-Gigabit Dual WAN Pro Router with Insight Remote Cloud Management, at CEDIA Expo.
Leave a Comment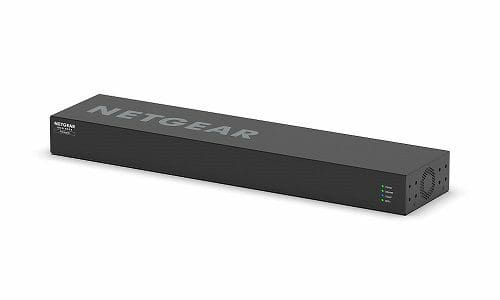 NETGEAR is launching the PR460X, a 10G/Multi-Gigabit Dual WAN Pro Router with Insight Remote Cloud Management. It is the newest addition to complete the company's Total Network Solution Ecosystem for integrators.
According to NETGEAR, the PR460X router was designed exclusively for the pro integration industry, specifically for residential and commercial projects. Moreover, it is designed to be bundled with NETGEAR's Pro WiFi access points and select smart switches.
NETGEAR says the PR460X's high-performance hardware, including 10G/multi-gig throughput and multiple Ethernet ports and an SFP+ port, enable fast data transfers and can accommodate multiple connected devices The router can support multiple connected devices, including smart TVs, PoE speaker systems, at-home conferencing and home security systems and other smart home devices, without compromising speed.
The PR460X also features dual-WAN failover protection to keep homes connected during critical comments, as the router automatically switches to the backup in the event of a primary connection failure, according to NETGEAR.
NETGEAR PR460X is Thin and Rack-Mountable
NETGEAR's new router is thin and rack-mountable with rear-facing ports. Integrators can mount the PR460X with the ports facing the front.
According to the company, the PR460X's integration with its pro WiFi access points and select smart switches through the Insight Cloud Management platform ensures optimal coverage and performance while helping to simplify setup and network management for integrators and homeowners.
The router also includes a four-year Insight subscription, giving residential integrators real-time control over their clients' networks from anywhere.
The close integration with access points and smart switches is designed to simplify setup and enhance overall network management, empowering users with plug-and-play setup and both cloud and local management capabilities.
The PR460X also features eight VLANs for network segmentation, eight DHCP servers and IPSec for up to 30 VPN tunnels.
The PR460X will be on display at CEDIA Expo 2023 at NETGEAR's booth, #3547.
Another version of this article originally appeared on our sister-site CE Pro on August 24, 2023. It has since been updated for Commercial Integrator's audience.
If you enjoyed this article and want to receive more valuable industry content like this, click here to sign up for our digital newsletters!