Should Pro AV Trade Shows Stay Completely Virtual?
Someone with five decades of AV trade show experience opines on what he thinks will happen at your favorite shows in the near & distant future.
Leave a Comment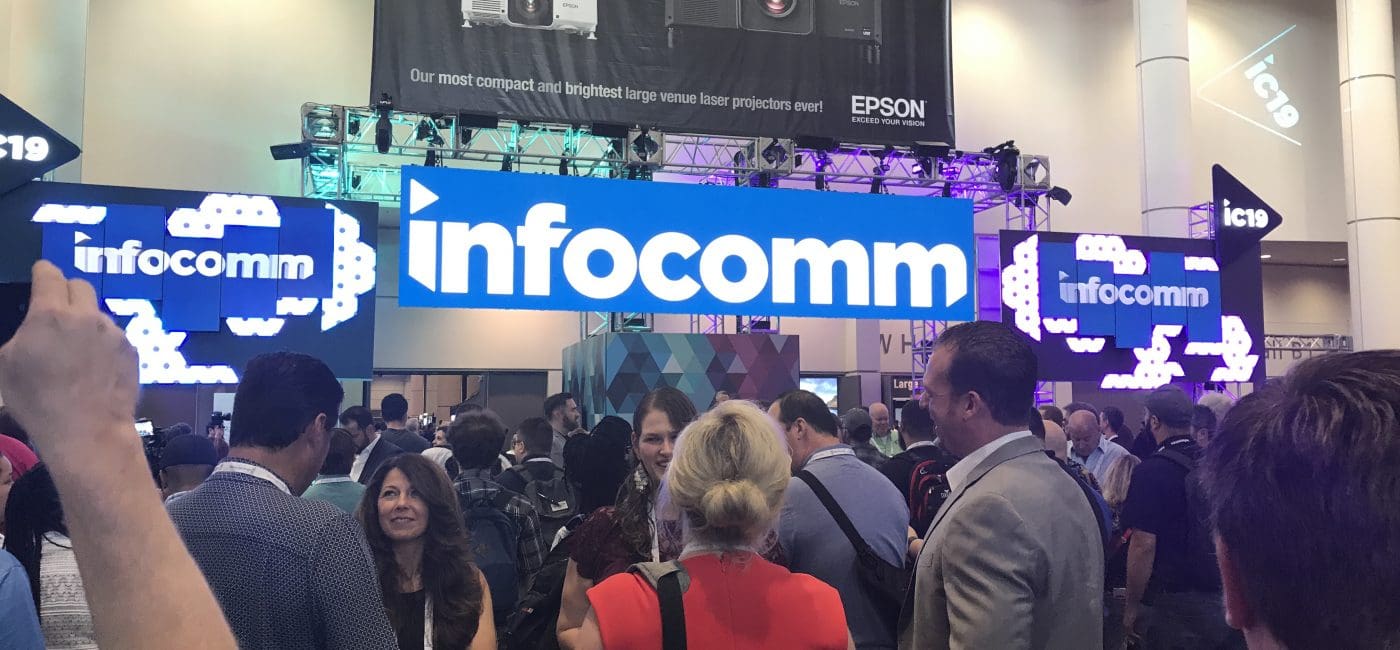 With some degree of trepidation, I approach the topic of audiovisual trade shows. It is simply a topic that I feel I must address… Perhaps the genesis of my concerns are opinions rendered after nearly 5 decades of attending (and exhibiting) at AV trade shows, and also driven by the existential questions around survival of these events with the current pandemic.
The burning question is not whether there will be trade events in the future, but whether they will return to the "normalcy" of being live… or morph into the virtual space.
I will attempt to provide some context and present both sides of live versus virtual. At the conclusion, I will share what I think will ultimately take place. No matter your position, my goal is to promote a discussion.
Related: Lessons from InfoComm 2020 Connected Virtual Trade Show
Let us begin our discussion by understanding that live events are big business (yes, really big!). In 2019, the events industry contributed $396 billion in direct spending to the economy, with 6.6 million jobs dependent on live events.
As one insider opined, "The business events industry comprises an interconnected ecosystem of organizations including exhibitors, show and event organizers, suppliers, venues and destinations. Together, the industry's contributions to local economies across this country are multifaceted, with many direct and indirect impacts."
The point is that this is an industry that is embedded into the very fabric of many other industries.
With the emergence of the 2020 COVID pandemic, the proverbial switch was flipped, and the industry suddenly turned off.
To many participants this has had catastrophic effects. These ill effects transferred over to attendees as well. The need and desire for these sorts of events (in some form) is still there…but how do we approach it, and in what format?
At this point, the traditional tradeshow industry is in a state of limbo. Historically the relationship between vendors and the larger tradeshow organizers has been very cordial.
There was value promised by the organizers and (for the most part) value received by exhibiting at these events. As long as there were funds available, companies tended to support events…even if they complained about doing so.
Trade events are not without their critics. One trade event pundit noted, "When discussing the value of trade shows with vendors, over the years, it has been a mixed bag of opinions. Some say they are worth the expense, but just as many say they are not (and the discussion has swung this way more in the last decade). The most poignant line that I recall a vendor telling me was that it is not about your presence at trade shows, but your absence. In other words, attendees will not find an exhibitor's attendance noteworthy. They will, however, find their absence significant."
While anecdotal in nature, I can attest to having this same conversation with many exhibitors…and increasingly so over the years.
The evolution of this critical thinking is not to ignore all trade events but to spend company tradeshow dollars more selectively and effectively.
There are some irrefutable benefits to live AV trade shows.
First of all, if produced properly, they can be exciting. There is a "buzz" or a "vibe" to a live event. It is common to hear about the "feel of the event".
This translates into what might be called good tension and that translates into building relationships and creating sales opportunities.
Also, live events are personal. There is a sense of immediacy, intimacy (from face to face interaction) and accomplishing something on a personal level of give and take at live events.
There can be that critical one-on-one conversation, and in many cases across a variety of people in a given tradeshow booth. This might be a salesperson or a technical expert.
Networking is another key reason for most who attend trade events, and this is where live events can also excel. For sponsors at live events, the impact can be much greater than just putting your logo on a virtual banner.
One longtime exhibitor spoke about ROI and pointed out that "Cost-per-contact over the course of a 3- to 4- day show is much lower than if I would have had to travel to each of those 42 states and 34 countries. Costs — in terms of time and money — are significantly lower at shows.".
To be sure, there are benefits to live events but there are also (possibly) equal benefits to virtual events.
First of all, they can be easier to manage. By design they have lower marketing and operating costs for exhibitors and are much less expensive to attend than live events.
Virtual events can also give you greater audience reach and access… simply put, more people can attend. If done with creativity, virtual events can even improve and enhance your brand strategy.
One tangible benefit that I truly appreciate is that they can expand on the number of areas (booths, training, etc.) that an attendee can take advantage of.
Yet another factor is data collection. We have all experienced live events and exhibitors trying to scan your badges. Only so much can be done in this manner.
Virtual events can collect fast (even in real-time), accurate, and valuable data from whoever attends and apply this to whatever comes next.
Of course, one of the biggest benefits is that virtual events can "live on" after the main event has concluded.
There are challenges with virtual events as well.
Part of their nature is that there is a built-in detachment. Virtual events often lack a perception of enthusiasm and excitement by the attendees. The presenter may be excited and passionate about a topic, but this can be tough to convey and then receive a like response from the attendees.
With virtual events there also tends to be no sense of urgency.
One other challenge is the tendency for there to be less immediate impact for sponsors of event segments. It ends up being simply a banner ad that is often ignored or overlooked.
Now, for the biggest set of obstacles.
I lump this under "production values" and technical issues.
One trade event subject matter expert said it best: "Virtual tradeshows open the door for a number of complications.
"You might have trouble connecting at the time of the show; your virtual booth might utilize technologies that require attendees to download plug-ins (which, trust me, they will NOT want to do); and, the layout of your virtual booth could become utterly chaotic on different devices.
"You can work to protect against these things by using fluid design and providing documents in stable formats, but there are few certainties."
To be candid, there is no way to fully replicate the live and in-person experience online/virtually…but if properly produced and executed, you can come within striking distance.
Listen: What Did We Think of the 1st Virtual InfoComm? Episode 110 of AV+
The question to ponder is whether this comes down to a binary choice of one over the other? My experiences in both live and virtual events tell me it will not be either/or.
Because of all the inherent benefits in face to face interaction, live events will come back strong once the pandemic is over…but not to the exclusion, but rather the inclusion of virtual.
Virtual events will get better, especially in production values and become even more common where personal interaction is not necessary.
Even in big live AV trade shows like CES, InfoComm, NAB, and ISA, their events will include virtual segments for remote access and data mining.
Events will become a hybrid of live and virtual and this will become the new audiovisual trade show reality. In the end I call this progress.
If you enjoyed this article and want to receive more valuable industry content like this, click here to sign up for our digital newsletters!