PSA Security Network to Host Town Hall with Outgoing and Incoming CEOs
PSA Security Network/USAV Group town hall on Wednesday, February 3 will give integrator partners to ask incoming & outgoing CEOs questions.
Leave a Comment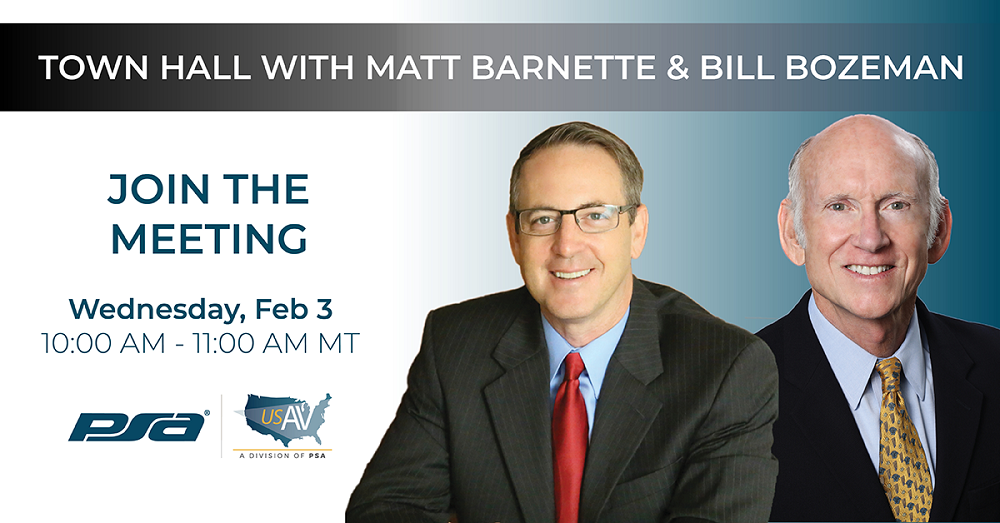 Earlier this year, the PSA Security Network announced access control executive Matt Barnette will become CEO pending Bill Bozeman's retirement. Now, the incoming and outgoing CEOs will host a joint town hall to answer integrator partner questions.
Barnette most recently served as VP of physical access control solutions for the North America business unit for HID Global and previously held the role of president at Mercury Security.
Bozeman plans to leave the organization in 2021 after more than 20 years at the helm.
The meeting will detail what is in store at PSA and USAV in 2021 as well as how integrators can "harness the power of the entire PSA Network this year and beyond," their announcement says.
CEO Transition and PSA/USAV 2021
Date: Wednesday, February 3
Time: 10:00 AM – 11:00 AM MT
Barnette has more than 30 years of experience in management and executive roles in the physical security industry. He joined Mercury Security in June 2016.
After the sale of Mercury to HID Global in October 2017, Barnette maintained the operational responsibility for Mercury worldwide, in addition to leading the HID Government Solutions Business (PIV) and the HID Global Accounts organization.
"I've had the privilege of knowing Matt for many years and believe PSA is in very capable hands," said Bozeman. "I am proud of all we have accomplished at PSA; the organization is in exceptional health and will continue to grow and prosper with Matt at the helm."
Those interested in the PSA/USAV town hall can register at this link.