Q-SYS Technology Partner Program Launches
The Q-SYS Technology Partner Program grows the ecosystem of technology partners and endorsed integrations accelerating the Q-SYS Platform.
Leave a Comment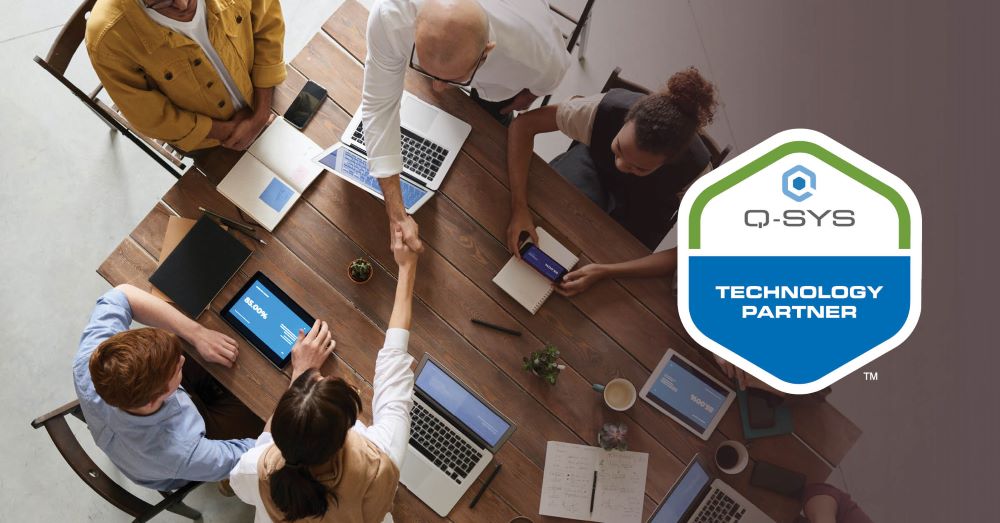 Q-SYS launches its Technology Partner Program with integration partners representing a growing list of Q-SYS plugins. As part of the program, plugins will receive endorsement badges. These, of course, will indicate they have been verified or certified and offer seamless integration with the Q-SYS Platform.
These partners now have access to the Q-SYS Technology Partner Hub. Of course, this centralized portal offers relevant, up-to-date resources for training, solution development and marketing. These resources make it easier to collaborate with Q-SYS, get support and accelerate go-to-market reach. In early 2023, Q-SYS will expand its Ecosystem to include Developer Partners with proven expertise to develop plugins on behalf of Technology Partners.
Q-SYS Technology Partner Program is Essential
"Q-SYS Technology Partners are essential for the growth of the Q-SYS Platform," Geno Zaharie, principal, alliances & ecosystems, Q-SYS, declares. "And we are thrilled to collaborate with a diverse set of partners to help accelerate the development of their Q-SYS plugins."
What's more, Zaharie emphasizes, with this new program, mutual customers can easily identify and collaborate with partners that represent a wide range of the most popular AV solutions on the market. Thus, he adds, "allowing them to deliver unmatched experiences using next-level automation and control."
Current partners that have joined the program include some of the most prominent names in our industry. Indeed, the list includes Activaire, Activu, Alcorn McBride, Atlona, Audioscience, Audio-Technica, AVPro Global Holdings, BirdDog, Bluesound Professional, Blustream, Clockaudio, Datapath, Fusion Research, GUDE Systems, INOGENI, Key Digital, LG Electronics, L-Acoustics, Lightware, LynTec, Mersive, MuxLab, Perfect Octave, PixelFLEX, Planar, Redfish Technologies, SKAARHOJ, SurgeX (AMETEK), Televic, Visionary Solutions, Wolfvision, WyreStorm and ZeeVee.
For more information on the Technology Partner Program, visit qsys.com/partners. What's more, the site offers a full list of integrations available for the Q-SYS Platform.
To read previous Commercial Integrator coverage of Q-SYS, check out our website archives.
If you enjoyed this article and want to receive more valuable industry content like this, click here to sign up for our digital newsletters!