Renkus-Heinz to Feature The Sound Solution at ISE 2023
At booth #7F680, Renkus-Heinz will exhibit various systems including the UBX Series and Iconyx Compact Series to ISE 2023 attendees.
Leave a Comment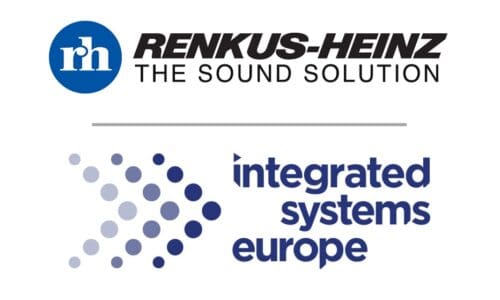 Loudspeaker manufacturer Renkus-Heinz announced it will make its return to Integrated Systems Europe (ISE) 2023. The event will take place from January 31 through February 3 at the Fira Barcelona Gran Via venue in Barcelona, Spain.
ISE 2023 attendees will thus have the opportunity to experience Renkus-Heinz's The Sound Solution in person at booth #7F680. This is where the Foothill Ranch, Calif.-based company will exhibit various systems. Some of these include the UBX Series of passive-column loudspeakers and Iconyx Compact Series digitally steerable arrays. Members of the global Renkus-Heinz team including president Monika Smetona, CTO Ralph Heinz and many more will also meet with attendees. Per the company, they will answer any questions about the latest projects and developments.
"ISE is a great opportunity for Renkus-Heinz to exhibit the progress we have made in the past year as well as strengthen the relationships we've made previously," says Smetona. "We're bringing our best and most exciting lineup of products to the show this year; and we look forward to sharing our past year's achievements with our partners and new connections."
"We are excited to showcase how our award-winning UBX Series and Iconyx Compact Series solve acoustic challenges in many applications," adds Karl Brunvoll, VP of international sales. According to Brunvoll, these range from transportation hubs and conference rooms to houses of worship, hospitality venues and more.
UBX Series
The UBX Series brings Renkus-Heinz's sound quality and coverage into the realm of passive arrays. This creates more opportunities for AV contractors, consultants and sound system engineers to craft the perfect sound solution for their projects. Utilizing the same complex-steering algorithms as Renkus-Heinz's flagship ICONYX columns, the UBX Series' new Passive UniBeam Technology delivers pristine sound and consistent coverage with minimal distortions or side-lobe artifacts.
The UBX Series hardware addresses each transducer with specially designed all-pass filter networks, gain shading and frequency filtering. With this, it generates a downward steered asymmetrical vertical lobe with constant directivity. This results in clear coverage and speech intelligibility from the front of the room to the back.
The models are available in three weather-resistant sizes — UBX4, UBX8 and UBX16. They also feature an ultra-sleek, unobtrusive cabinet. This can be surface-mounted plumb to the wall to ensure minimal architectural intrusion in any space.
Iconyx Compact Series
The Iconyx Compact Series brings the performance and directivity synonymous with Renkus-Heinz to spaces where even the classic ICONYX arrays might be too large. Iconyx Compact comes with an ultra-narrow profile and exceptional directivity control. Thus, it is ideal for even the most architecturally sensitive houses of worship, transportation hubs and educational facilities requiring the outstanding performance and high intelligibility of beam-steered line arrays.
ICLive X Series
As the intelligent evolution of the small-format line array, the ICLive X Series will also be at ISE 2023, says Renkus-Heinz. This product represents over 15 years of research and development of digital beam-steering technology. With the ICLive X Series, Renkus-Heinz has created a compact, high-output and high-fidelity integrated system to meet the needs of nearly any live sound environment. It is perfect for both portable or performance-based fixed installations. Per the company, the ICLive X Series is the most versatile steerable-line array on the market. Renkus-Heinz notes that it is ready to solve even the most challenging projects with directed, intelligible sound.
The company adds that it designed the ICLive X from the ground up to be the single most scalable sound system ever created. Each mid-sized ICLX module can stand alone or be in an array with up to 12 units to deliver precise and predictable coverage for any venue. The complementary ICLX-118S subwoofer adds powerful low frequency energy to any ICLive X system. Additionally, a wide range of rigging and cabling accessories help simplify integration and deployment of the ICLive X Series. With ultimate flexibility, coverage and powerful beam-steering technology, the ICLive X Series thus offers peak sound performance in a versatile, sleek design.
Directivity Control Series
The first product in the Renkus-Heinz Directivity Control series is the DC12/2. This is an ultra-compact steerable array that brings the clarity, intelligibility and control of the ICONYX digitally steered-line arrays to smaller but equally challenging spaces. This self-powered column-line array features 12 full-range, 2-inch drivers powered by 12 channels of Renkus-Heinz's SA Series of amplifiers.
Also Read: Renkus-Heinz Partners with AV Distributor Matrix Sales
The DC12/2 is the first digitally steered array with control via iOS or Android smartphones or tablets. The DC12/2 features a sleek, low-profile design. According to the company, it is thus ideal for boardrooms, museums and galleries, theaters, restaurants, fitness clubs and many other applications.
C Series
C Series point-source loudspeakers offer outstanding audio quality at a competitive, cost-effective price point. It also features versatile enclosure designs and go-anywhere hardware. Additionally, it has a rugged construction to help solve any sound reinforcement challenges with ease. Thus, the C Series is an ideal option for retail, corporate and education facilities. It is also suitable for churches, theaters and any other install applications requiring both compact size and outstanding sonic performance.
The CA/CX121M 12-inch stage monitor serves as an excellent choice for portable and installed PA functions. It also offers flexibility for use as a pole-mounted side fill or a sound reinforcement system. Moreover, it removes the need for drive unit rotation or reconfiguration. The monitors are also available in four variants. These include one passive and three powered: analog, RHAON and Dante.
S Series and ICONYX Gen5 Series
The S Series features the SA/SX28, a highly compact yet powerful subwoofer, says Renkus-Heinz. This allows for flexible and discreet placement in a variety of install and portable scenarios. It is thus the ideal under-seat subwoofer for houses of worship, theaters and other installations requiring aesthetics.
As part of the ICONYX Gen5 Series of digitally steerable loudspeaker arrays, the IC8-RD combines digital control and steering with audio fidelity. This model also features dual redundant Dante connectivity and the RHAON II System Manager. This is the second generation of the Renkus-Heinz Audio Operations Network software. With this, the model brings a new level of flexibility and control to ICONYX installations. The IC8-RD easily stores and recalls up to 10 configuration presets. It also features slim, low-profile design and powerful audio abilities. As a result, the IC8-RD is ideal for houses of worship, stadiums and arenas, transportation terminals and other reverberant spaces.
If you enjoyed this article and want to receive more valuable industry content like this, click here to sign up for our digital newsletters!