Rihanna Flies High at Halftime Show with L-Acoustics
ATK Audiotek/Clair Global used L-Acoustics' K Series loudspeakers for Rihanna's stunning musical performance at the Super Bowl LVII halftime show.
Leave a Comment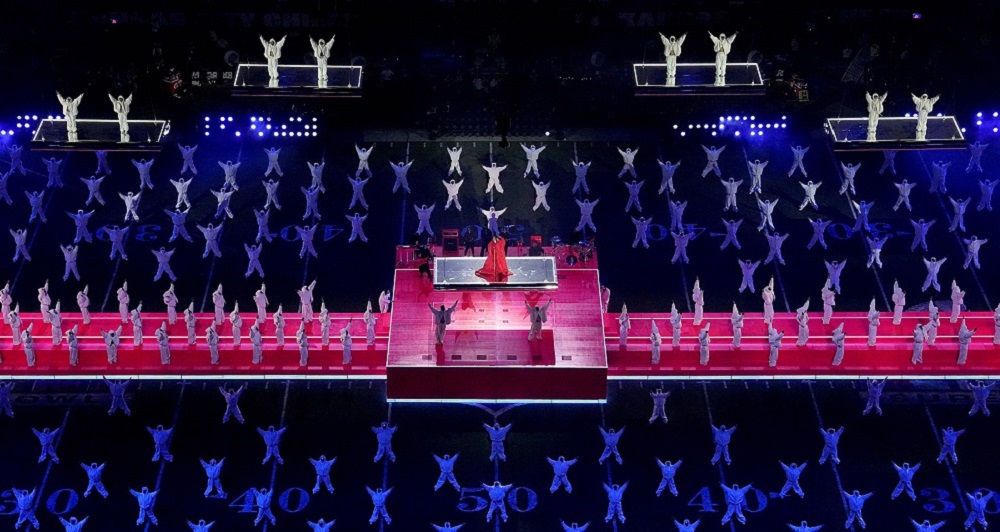 Photos & Slideshow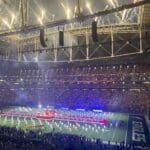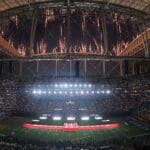 ---
On February 12, nine-time Grammy Award-winner Rihanna took centerstage during halftime at Super Bowl LVII, which pitted the Kansas City Chiefs against the Philadelphia Eagles. More precisely, Rihanna took off, riding a gravity-defying platform flown from the rigging of Glendale, Ariz.'s State Farm Stadium. The production became a spectacle as stunning as her eye-popping red outfit. Indeed, the spectacle of the performance rivaled the game itself.
Rihanna's halftime show comprised 13 minutes featuring the best of her big hits, including "Umbrella," "Work," "Diamonds" and "Run This Town," with a cast of an estimated 100 dancers. Many of the dancers also appeared suspended in the air. As Rihanna's halftime show demanded the absolute best sound possible, ATK Audiotek, a Clair Global brand, deployed an L-Acoustics K2 system.
Flying in the Sound System
The deployment of Rihanna's halftime sound system was very different this year. In the past, the team would load temporary music system on wheeled carts. These could be quickly moved into position as part of the overall halftime production staging. The staging also takes place in a matter of minutes. Here, scores of local volunteers push all of the staging elements together just after the referee's halftime whistle. However, the location of this year's Super Bowl took place at State Farm Stadium. This meant the system would be on the venue's unique but carefully groomed retractable grass field.
Also Read: Shure Marvels Again at Super Bowl LVII
"The NFL mandated that nothing be on the field this year, so that meant no carts," Kirk Powell, engineer-in-chief for ATK on the project, explains. Instead, the team flew in the entire temporary sound system. That, he adds, turned out to be a positive one.
Powell adds, "Going in the air gave us more room, which meant more boxes — over 200 altogether, compared to the 76 boxes we could load on the carts. [This] meant more power and better, more complete coverage, even to the upper reaches of the bowl."
Positioning the System
State Farm Stadium already featured a fixed L-Acoustics system installed in 2016. This primarily comprised a total of 122 K2 and 32 K1-SB enclosures. In preparation for Rihanna's halftime show, ATK supplemented the installed system with six more identical arrays of 13 K2 over four K1-SB. They also added three arrays per side suspended from the venue's Brunel truss system, plus four sideline hangs of KS28 subs. They also flew two 10-enclosure arrays of L-Acoustics K2 plus a single sub hang of eight KS28 at each end zone. L-Acoustics LA12X amplified controllers powered ATK's system. Meanwhile,  LA8 amplified controllers drove the house system.
"We turned off the stadium's end-zone K2 hangs because they weren't in the positions we needed for the show," expands Powell. "They are more of a shower-cluster design and not the right fit for the system we designed." According to Powell, the K1-SB in the sideline clusters have more configuration for low-frequency extension of the clusters. Meanwhile, the eight clusters of KS28 provide the "true" subwoofer performance.
Additionally, the team deployed eight subwoofers for the lower bowl. Thus, there was a lot of power and a lot of subs. And, as Powell observes, they all got plenty of use. "This was a heavy low-end show," he remarks.
Signal transport was over Dante to Focusrite RedNet D16Rs interfaces and from them to the LA12X amps over AES. The system was rounded out by a pair of DiGiCo Quantum338 audio consoles at FOH. Meanwhile, the team used an SD5 console to mix monitors.
Achieving a Spectacular Halftime Show
Dave Natale, who mixed front-of-house for Rihanna's performance, has had a storied career. He's mixed live sound for The Rolling Stones, Prince, Tina Turner, Stevie Nicks, Yes, Mötley Crüe and Fleetwood Mac. Moreover, he has covered the four most recent Super Bowl halftime shows. According to L-Acoustics, he appeared impressed by the performance of the K2 system.
"This was a real 'rock' PA system," Natale says. "It was one gigantic music system made up of the best technology and put together by people who really know what they're doing. It didn't just sound great — it sounded great everywhere. [ATK audio project manager, system designer, and pre-and post-game event mixer] Alex Guessard and I walked through the entire venue, from the 100 level to the 300 level and two levels of suites in between. And every seat sounded great. And that's despite a challenging rigging situation that limited where they could place hangs, which were mostly along the sidelines."
Natale had special praise for the system's low end, especially critical for this show. The combination of the eight-box KS28 sub-cluster in each end zone, the four K1-SB atop each sideline hang, and two hangs of KS28 subs, coupled with the additional eight subs, created a "spectacular" low-end environment, he says. "They had to move a lot of air in there. And they did, with a ton of headroom to spare," he adds. "It was simply powerful."
Having an L-Acoustics PA as the installed venue system was also a huge plus. "We went with L-Acoustics primarily because it's such a great-sounding system and because it really simplified system design and integration with the house system," Powell points out. "It gave us more options, and options are great to have. The show sounded fantastic. And everyone was happy with how it turned out. Everyone was smiling at the end."
If you enjoyed this article and want to receive more valuable industry content like this, click here to sign up for our digital newsletters!