Salamander Designs Will Share the Savings on Premium Electric Stands
Increased production & partnerships have created 'significant cost savings,' to be passed on to Salamander Designs Electric Stands dealers & customers.
Leave a Comment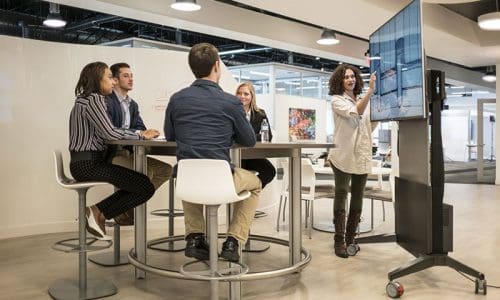 Salamander Designs recently announced that the cost savings realized from recently increased production and sales of their electric stands is being passed on to the channel.
Savings are as high as 21 percent, according to the Salamander announcement.
"It's that 'economy of scale' story with an added value proposition," said Scott Srolis, VP of sales and marketing at Salamander Designs.
"The more electric stands we manufacture, the better the pricing we can provide.
"Our dealings with our dealers and high-volume purchasing global partners have delivered us a cost savings that we're excited to pass on to the market. Our stands are now not only best-in-class, but also the best value."
Tom Dickhaus, project manager for Flat Frog, summed up his view of the Salamander difference saying, "Interactive flat panels need rock-solid carts. Low quality carts move when the screen is touched. Salamander never moves—until you want it to."
Salamander's stands have been an industry favorite for many reasons, says Srolis, including universal compatibility with thousands of screens and interactive flat panels, VESA compliance, ADA compliance, mobility and ability to fit in anywhere and always be available for use.
He added his observation of technologies, where electronics are getting smaller, faster and more affordable; Salamander electric stands are now in line with even more projects.
All Salamander Designs furniture, including these premium-grade electric stands, are made in the U.S. in a 100 percent solar-powered factory in Connecticut and backed by a lifetime warranty supplemented by world-class technical support.
Click here to see Salamander's partners and their solutions or to become a preferred partner.
Salamander unveiled a huddle table built from a "C" frame with a troth and frame system below, which accommodates cabling and connectivity setups, including cable passthroughs, USB charging, etc., at InfoComm 2018. All of these options are interchangeable.