SAVe Partners with Edge at ISE 2023
SAVe and Edge will partner at ISE to take concerted action to achieve the 2030 Sustainable Development Goals (SDGs).
Leave a Comment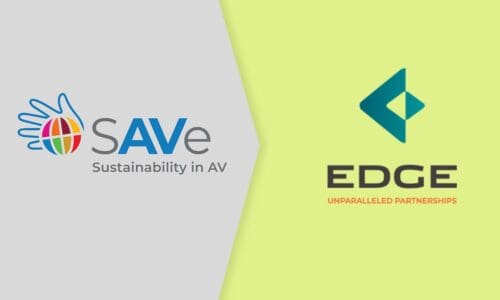 Sustainability in AV (SAVe) announced its partnership with Edge, the global consortium of AV integrators, at ISE 2023.
"We're thrilled to announce our partnership with Edge at ISE 2023," explains Christina De Bono, founder and president of SAVe. "By partnering with Edge, we can work together to raise awareness, increase visibility and educate their entire network of audiovisual integrators and suppliers."
"The status quo cannot continue," adds De Bono. "From climate change and environmental degradation to poverty and inequality, the challenges we face are profound, diverse, and getting worse. We must work together as individuals, as businesses, as educational institutions, and as nations to achieve these critical goals before it's too late."
Also Read: SAVe Joins Forces with HETMA to Support Sustainability
"Sustainability initiatives are a must, and we are excited to see the overwhelming support SAVe is garnering in the industry," says Patrick Whipkey, vice president of Edge. "We have partnered with SAVe since its inception and we are looking forward to working with the organization to drive awareness on a global level in Barcelona. Edge's international partners are committed to making a difference"
Edge and SAVe will host a happy hour reception in the Influencer Lounge area of Congress Square, right at the heart of the Fira. The Congress Square location is in the central aisle between Halls 4 and 6 and Halls 5 and 7.