How Can We Make Pro AV More Sustainable? Discover on April 20
Commercial Integrator and rAVe [PUBS] have partnered on a LAVNCH & LEARN "Sustainability & AV" where industry leaders will speak on sustainability initiatives and actionable steps.
Leave a Comment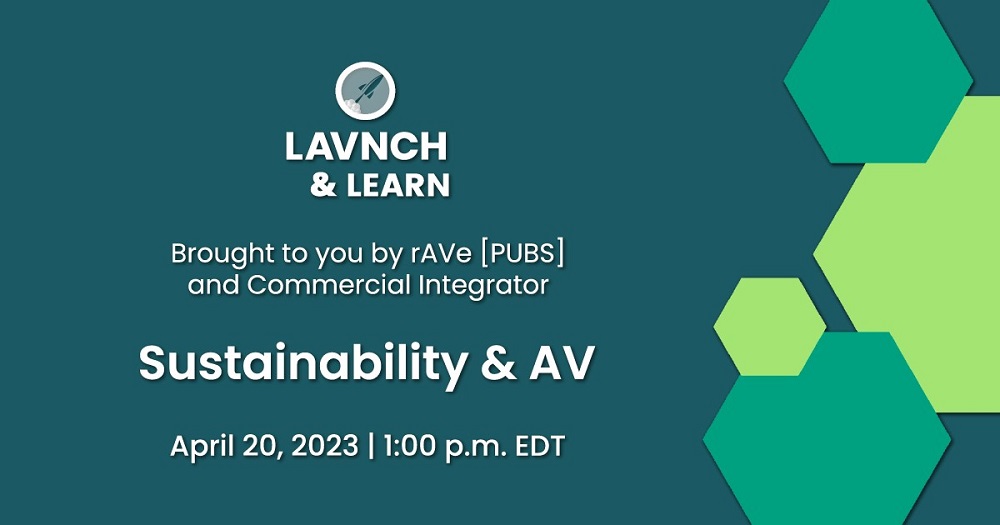 Sustainability is critical to the future of the world — and the world of pro AV. On Thursday, April 20, Commercial Integrator and rAVe [PUBS] have partnered on a LAVNCH & LEARN titled "Sustainability & AV" where industry leaders will gather to chat about their company's sustainability initiatives and to share actionable tips on becoming carbon neutral.
The 60-minute LAVNCH & LEARN will be hosted by Megan A. Dutta, editor-in-chief of LAVNCH [CODE], and Dan Ferrisi, editor-in-chief of Commercial Integrator. The duo will also be joined by Christina De Bono, founder of Sustainability in AV (SAVe), who will share actionable tips for individuals and companies looking to decrease their carbon footprint.
"In 2019 alone, over 50 million tons of electronic waste including displays, cables, power supplies and other AV equipment was generated in North America and Europe, but less than 20% of e-waste is formally recycled," says De Bono. "The AV industry has a large and growing impact on sustainability problems. While we contribute to these problems in several ways, the AV industry is well-positioned to make a direct positive impact in responsible waste management, carbon emission reduction and reduced energy usage. This LAVNCH & LEARN is the perfect vehicle to raise awareness, increase visibility and educate the AV industry on how to tangibly become a more sustainable organization."
The event is sponsored by Legrand AV, PPDS, NETGEAR, Shure and Sony Professional Display Solutions. In lieu of payment for sponsorship, each of the companies has agreed to give $2K or more to the Earth-friendly 501(c)(3) charity of their choice.
Also Read: SAVe Joins Forces with HETMA to Support Sustainability
"I truly enjoy collaborating with the Commercial Integrator team, so I'm thrilled our companies are partnering on this important initiative," says Dutta. "Dan and I are passionate about sustainability and working together for the greater good brings both of us great joy. I'm thrilled we've been able to raise over $10,000 for Earth-friendly charities through this project — and I can't wait for #AVTweeps to learn more about our sponsors' sustainability efforts and successes."
PPDS, for example, has elected to split its donation with $1k going to SAVe and $1K going to Trash Turtles, a youth-focused environmental awareness and clean up non-profit. "Trash Turtles was started by my niece when she was 10 years old," states Alison Maxson, senior marketing manager at PPDS. "Our donation of $1K will go to support her annual Hope Scholarship fund that is giving out to a selected high school senior that has demonstrated their involvement in helping to keep and improve our environment."
Shure has elected to make a $2K donation to SAVe. "Sustainability is important to our associates and our customers around the world," adds Althea Ricketts, vice president of corporate initiatives at Shure. "From the millions of batteries we save from going into landfills with our rechargeable technology, to the updates we've made in greener packaging, to improving energy efficiency at our facilities, Shure takes environmental responsibility seriously because it's the right thing to do."
For more information or to register for the April 20 LAVNCH & LEARN, visit the registration page.
If you enjoyed this article and want to receive more valuable industry content like this, click here to sign up for our digital newsletters!