Why You Should (Virtually) Be A Part of Total Tech Summit 2020
Here's why you should apply now to the Total Tech Summit 2020 – an event for AV integration industry leaders to learn, grow, and network.
Leave a Comment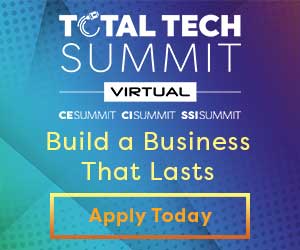 Total Tech Summit 2020 — a virtual event this year — promises to drive extraordinary networking, learning, and more for the commercial, custom, and security integration industries.
The 2019 event's guests generated projected annual revenues of more than $6 billion and more than 250,000 installations.
What is it?
TTS — comprised of the SSI Summit, CE Pro Summit, and CI Summit — is an opportunity for invited business leaders to foster a high-caliber network of industry peers, explore opportunities related to growing and sustaining their long-term businesses, and receive VIP perks for industry leaders.
Total Tech Summit Virtual will be broken into six, two-day experiences and will be on the following dates:
SSI Summit East: Dec 1-2, 2020
SSI Summit West: Dec 3-4, 2020
CE Pro Summit East: Dec 7-8, 2020
CE Pro Summit West: Dec 9-10, 2020
CI Summit East: Dec 14-15, 2020
CI Summit West: Dec 16-17, 2020
Why you should attend Total Tech Summit/CI Summit 2020:
"I've been to almost every single Summit and each one is better than the last. For me, having the engagement is huge. I'm an engaging person, so you get out of it what you put into it. So, it's a combination of reconnecting with the people I already know, but it's also an opportunity to meet a lot of new people." — Tom Berry, CEO, Verrex
And new this year: TTS 2020 Virtual will act as a kick-off to VIP Peer-to-Peer Networking Groups. These year-long group conversations will take place each month and will be guided by the CE Pro, Commercial Integrator, and Security Sales & Integration editorial staff.
Read Next: Introducing VIP Peer-to-Peer Networking Groups from Total Tech Summit
We are so grateful to be part of your very strong, resilient and innovative integration communities.
Your safety and health are of the utmost concern to us, and we thank you for your understanding as we all navigate through this challenging time and hope you will join us for Total Tech Summit Virtual.