Trinity Dynamics Joins AV-iQ Platform, Gets Website Catalog
The Kentucky-based AV/IT solutions provider now has an AV-iQ-powered catalog on its website. You can get one, too!
Leave a Comment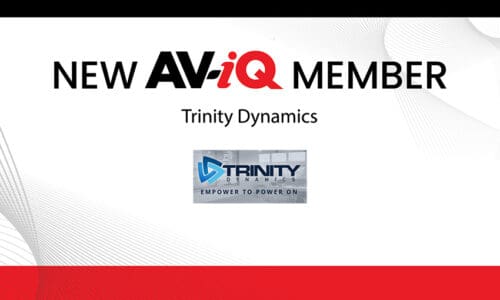 Trinity Dynamics, an AV/IT solutions provider, has joined the AV-iQ platform. Now, it has an AV-iQ-powered catalog on its website.
Headquartered in Louisville, Ky., Trinity Dynamics is on a mission to be the region's premier innovative technology company. It provides system solutions and expertise using the most advanced IT, AV and unified communications technology available. The company provides large corporations and healthcare organizations with state-of-the-art technologies. Thus, they can transform the way they communicate, interact and do business. What's more, Trinity supplies real-time unified communications to government agencies. These include the Department of Justice, the Department of Defense, the Department of Homeland Security and law-enforcement agencies. The firm, therefore, works at the federal, state and local levels.
AV-iQ is the most comprehensive database of commercial AV, production and video products. AV-iQ.com targets industry professional end users and, in fact, provides tools for them to research, compare and stay current on the latest information. Users can sign up for free at av-iq.com/myiq.
Integrators that are interested in having their own digital catalog or data service from the AV-iQ database can contact sales@av-iq.com.
If you'd like to view Trinity Dynamics' AV-iQ catalog, go to proavcatalog.trinitydynamics.net/avcat/ctl19105/index.cfm.
To see Commercial Integrator's previous coverage of AV-iQ, check out our website archives.