TTS Spotlight: Felix Media Solutions' Lionel Felix
For Felix Media Solutions, Total Tech Summit offers opportunities for networking and socialization, as well as to forge key partnerships.
Leave a Comment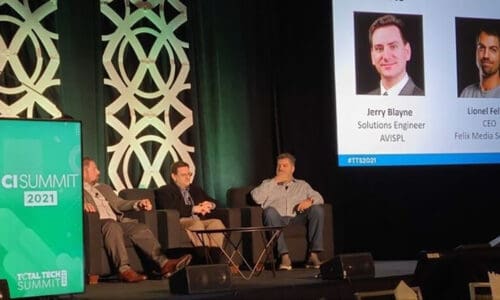 Austin, Texas-based Felix Media Solutions seems like a company built for our times. The integrator's team has robust AV expertise across a range of verticals, but it also boasts an enviable level of technical IT knowledge. Lionel Felix, CEO, says, "Felix Media Solutions was started by IT people who looked at AV in conference rooms and said, 'There has to be a better way.'" Felix Media Solutions has built a deep bench that allows the integrator to solve potentially difficult problems. "We're able to take on some of the biggest projects in Austin," Felix explains, "with a focus on conference, all-hands and training rooms across all types of UC platforms. We travel the world for our clients, and, because of the enterprise IT background, we have a specialty in global procurement."
For Felix, Total Tech Summit (TTS) offers opportunities for networking and socialization, as well as to forge important partnerships. "This year at TTS, it was a real treat to see old friends, check in with vendors we already use and see what's up with some we haven't used yet but now will," he enthuses. In fact, Felix notes, Sharp NEC Display Solutions is now going to be a major display offering for the company. He also underscored the communal aspect of TTS. "My peers [and I] get to talk about things no one else [we] grew up with or are married to can really relate to in the way we can," he reflects. "Not to be too corny, but it's a community."
For Felix, TTS is About Strategic Relationships
Although some bonding is possible with virtual events, Felix makes clear that in-person gatherings like TTS offer a unique opportunity to nurture strategic relationships. He notes, "From the friend integrators I met and exchange work with, to the bonds forged with vendors, we get to really dive in. It just isn't the same over Zoom. There is something to breaking bread and drinking wine with people that makes it more real."
Felix readily offers a list of things he loves most about TTS, starting with the fact that it offers a genuinely shared experience. "While the big trade shows are us and them, where there are vendors and attendees, TTS feels like it's all whirled together," he observes. Felix also looks favorably upon the selection of vendors, calling them well selected and relevant. "This is important," he says, "because I care deeply how my time is spent." Finally, Felix feels the content at the talks is relevant and timely. "I can draw a line through the years of talks back to when I first heard of AV-as-a-service and IT/AV merging," he reflects.
Summing up, Felix characterizes TTS as an event that feels "put together by people who are passionate about the AV community." When people take time away from their busy work schedules, they're looking for tangible deliverables. Felix says, with TTS, the takeaways are actionable, and the friendships are enduring. "TTS is part of what makes Felix Media Solutions a leader," he concludes. "We get solid intel and relationships, and that's where the rubber meets the road."
For previous Commercial Integrator coverage of Total Tech Summit and those who participate, check out our website archives.