WCU Standardization of Extron AV Pays Off
Western Carolina University (WCU) has been an almost exclusively Extron campus since at least 2006 and has yielded tangible money-saving benefits.
Leave a Comment
Photos & Slideshow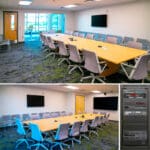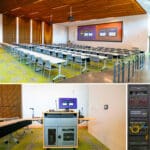 ---
Surrounded by the Blue Ridge and Great Smoky Mountains and recognized as a top adventure college, Western Carolina University (WCU) is well-known for its educational experience. More importantly, a lean AV technical support team consisting of a manager, three full-time staff, a classroom support technician, and an occasional student worker, is responsible for its 379 AV-equipped spaces and just under 2,000 networked AV devices. With such a small team to design, install and maintain such a large equipment pool, WCU standardized its AV system on Extron.
The drive to standardize has yielded tangible money-saving benefits for WCU. This includes seamless designs and better interoperability. It also includes more efficient maintenance, easier upgrades and a consistent AV experience for users in every room. WCU's state-of-the-art, $110.5 million Apodaca Science Building, dedicated in 2021, continues their standardization on Extron AV technology.
Simplifying Operation and Maintenance
The AV system in most of WCU's 110 standard classrooms centers around an IN1608 xi Scaling Presentation Switcher. The switcher features eight inputs supporting a variety of video and audio signals, an integrated control processor, and an integrated audio amplifier. Thus, it provides the flexibility to fulfill most classroom AV needs.
AV program sources for the standard system also include a house PC in the instructor lectern, a guest laptop PC, a document camera, a Blu-ray player, and a ShareLink Pro 500 Wired and Wireless Presentation Gateway.
For voice reinforcement, instructors wear a lapel-type RF wireless microphone. The microphone receiver connects to the analog audio input of the switcher. Each classroom also comes with a projector and a flatpanel display. AV program audio and the instructor's voice come through ceiling mounted Flat Field speakers. Users control the classroom AV through an intuitive TouchLink Pro touchpanel interface.
Having the same AV system configuration in every classroom makes users more comfortable since they need to learn only one AV user interface. Also, AV maintenance technicians become very familiar with setting up and troubleshooting the standardized system. This helps save time. Additionally, reduced-sparing requirements is yet another advantage of standardization.
Quick Transition to Remote Learning
WCU's AV team notes their fortune in having the IN1608 xi in every classroom when the pandemic forced a pivot to remote learning. With extensive audio switching and mic-ducking capabilities, the IN1608 xi in each classroom provided the instructor microphone audio to the lectern PC. The team also purchased and connected document cameras to the USB port of the lectern PC in each classroom. These functioned well as classroom cameras to capture images of the instructor and the whiteboard at the front of the classroom. This created a quick, elegantly simple, yet functional lecture-capture system. It also allowed storage and streaming of classroom sessions via Panopto or Zoom applications installed on the house PCs.
Also Read: Extron Launches MediaPort for Professional Conferencing Applications
Facilitating Remote Tech Support
The WCU AV team that streamlines AV system maintenance also introduced inexpensive IP network cameras in each classroom to provide a live remote view of the AV system displays and projection screens. They also provided views of AV cable connections and touchpanel activity on the instructor lectern. To allay privacy concerns, the cameras are carefully aimed to pick up only technical images, not people. Moreover, they do not record anything. The video from the cameras ports into GlobalViewer Enterprise (GVE). This is Extron's AV resource management system. It allows the AV support technicians to remotely diagnose obvious operator errors and talk users through problem resolution in real-time on the phone.
This augments the already robust remote control and status capability that GlobalViewer Enterprise offers. Moreover, it allows technicians to take control remotely if necessary. Problems like disconnected cables, failure to turn on a piece of equipment, or an incorrect selection on a touchpanel can be diagnosed and fixed simply by checking the observation camera feeds. It is a significant time saver as technicians don't have to make a trip to a classroom to fix trivial issues.
GVE also saves wear and tear on AV equipment by remotely powering-down all AV systems campus-wide during non-business hours. The team can override this in each room manually, or by OCS 100 occupancy sensors installed in many rooms.
The AV team notes that WCU's AV purchases have topped $1M per year for five years to implement a strategic plan to standardize and modernize AV systems across all academic departments and buildings. This plan aims to achieve a sustainable AV standard — anchored by Extron components. Here, limited AV staff can schedule new installations and upgrades, while keeping all AV systems operational every day.
Results
WCU's AV team thus understands Extron AV equipment and software, having attended many Extron training classes over the years. GUI Designer software and Global Configurator Professional software have allowed them to tailor AV control interfaces to user needs and incorporate informative user self-help features. Over time, the AV Team developed an extensive library of configuration templates that fit almost every requirement with little or no reprogramming.
Most of the school's AV systems are designed and built in-house. The school's AV team has averaged 55 new installation projects per year over the last five years.
Some systems are installed by outside contractors, such as in the Apodaca Science Building. Even then, WCU's AV team closely monitors every facet of the project,  including the types and brands of equipment. This is because the in-house team is responsible for maintenance for years to come. Contract maintenance isn't an option; the closest contract maintenance firm capable of handling an institution like WCU is a three-hour drive away.
William Frady, director, instructional technology/desktop services, summarizes the advantages of WCU's longstanding relationship with Extron.
He adds, "We use the gear; we've tested the gear; we've seen the persistence of Extron in providing solutions for our unique AV needs. If something works and I can afford it, then I'm obviously going to go that route."
Frady completes his assessment of Extron, noting, "I consider Extron a partner, not a vendor. They support us. They provide valuable training….But most important to me is the respect and mutual trust built over many years."
Click on "View Slideshow" for images of the campus. All photos courtesy of Western Carolina University (WCU).