ASSA ABLOY IP-Enabled Locks Now Integrates With Matrix Systems
IP-enabled locks offer users more options for expanding security systems using IP-enabled locks from ASSA ABLOY, Corbin Russwin, & SARGENT.
Leave a Comment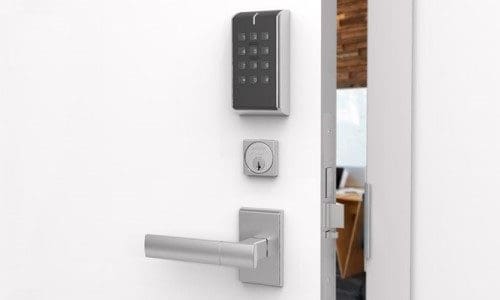 ASSA ABLOY Opening Solutions now integrates its IP-enabled Power over Ethernet (PoE) and intelligent WiFi access control locks with the Frontier Integrated Platform from Matrix Systems.
Bruce Rogoff, CEO of Matrix Systems, says, "The ASSA ABLOY integration furthers our commitment to open platforms and helping customers secure even more of their facilities. Partnering with ASSA ABLOY gives Matrix the ability to help lower access control costs to the enterprise organizations we serve across the country."
The IP integration offers end-users more options for expanding their physical security system easily and affordably using IP-enabled locks from ASSA ABLOY Group brands Corbin Russwin and SARGENT, according to the company.
The IP-enabled range include locks that connect to a host system through an existing 802.11b/g/n WiFi network. The range also includes IEEE 802.3af compliant PoE locks that connect to the Local Area Network (LAN) utilizing a single Ethernet cable for both power and data.
Related: Coronavirus is Making Mobile Access Control More Important
The Frontier Integrated Platform by Matrix Systems is said to provide redundancy and reliability to organizations where security is mission critical. Matrix customers include airports, universities and healthcare systems.
"The Matrix commitment to delivering the precise level of security an organization needs is an excellent fit for ASSA ABLOY," says Mark Duato, executive vice president, aftermarket, ASSA ABLOY Opening Solutions Americas. "The integration with our IP-enabled technology supports that commitment with a solution that makes it easier and more affordable to expand access control deeper into a facility."
In November, ASSA ABLOY announced that its SARGENT IP-enabled IN120 and IN220 Series locks are now available with an optional push-button keypad.
With it, users can configure locks to support PIN only access or can harness additional security by taking advantage of dual authentication using a contactless credential or mobile device combined with a PIN, according to the company.
This story first appeared on our sister site, Security Sales & Integration.