Audinate Dante AV Now Available With New Products Through Bolin Tech & Patton
Audinate announces its building out its line of Dante AV products and is now introducing new products through Bolin Tech & Patton
Leave a Comment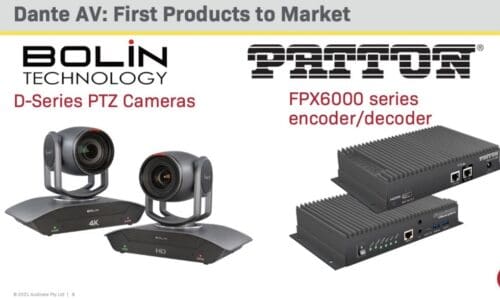 Audinate, an industry leader in AV-over-IP solutions announced it's Dante AV system will be incorporated in Bolin Technologies pan tilt zoom cameras and in Patton's encoders and decoders.
"Today's announcements from Bolin Technology and Patton Electronics bring the reality of easily managed AV-over-IP to life," said Aidan Williams, CEO of Audinate, in a press release. "Complete networked AV systems can now be deployed over 1 Gbps networks with the no-nonsense compatibility, automatic discovery, and one-click signal routing that have made Dante audio the most popular AV networking solution in the world."
The Dante AV network allows integrators to route signals anywhere using the system, route audio and video independently, and send video to multiple screens with no need for matrix switchers.
Bolin Tech, a manufacturer of Pan Tilt Zoom cameras, is now shipping its new D-series PTZ cameras featuring Dante AV. The D-series is available in both HD and 4K resolutions.
The new devices are ideal for use in live production, houses of worship, corporate conferencing, higher education, and broadcast markets.
Bolin is also introducing a Dante AV decoder, enabling many types of AV devices to work with a Dante AV network.
Read: Dante Adds At-Home Capabilities to Broadcasts at University of Miami
Patton Electronics, a manufacturer and OEM/ODM supplier of networking and connectivity solutions for pro AV and telephony, is now offering its FPX6000 series of Dante AV-enabled encoders and decoders. This brings network gateways to non-networked AV products such as cameras, monitors, and video editing stations.
"We're very excited about using the power of Dante AV to develop products the pro AV market craves," said Buddy Oliver, VP Product Management at Patton, in a press release. "Patton has worked in everything-over-IP solutions for many years and adding Dante AV to our capabilities makes sense both from a technical standpoint and for our customers. We can't wait to see the new experiences that Dante AV enables."
The Danta AV network works with all 3,000+ Dante audio devices on the market. "It is an easy layer over the top of the system," said Oliver at a press conference. The new products are now available for immediate purchase through Bolin Tech and Patton Electronics websites.