AV News to Know Aug 20, 2021: New Products, Cool Projects and People in New Places
In this week's edition: brighter screens that drain less battery, Jam Industries becomes Exertis/Jam, loudspeaker systems that rock, and more.
Leave a Comment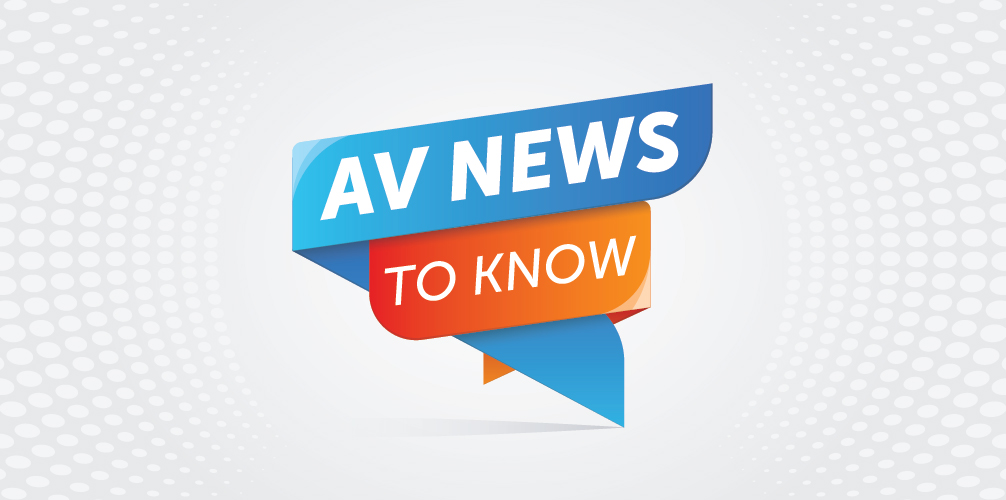 Here's a closer look at some of the AV news, products and projects you might have missed this week. We call it AV News to Know:
New AV Products
MAXHUB Debuts the Raptor Series LM220A18 Integrated LED Wall Display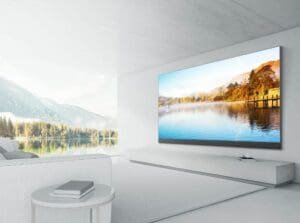 MAXHUB, a provider of collaborative communication and interactive class delivery solutions, introduced the LM220A18 Integrated LED Wall Display. The largest member of MAXHUB's Raptor Series, the LM220A18 was designed with simplified control and setting features—enabling meeting participants and presenters to interact more naturally and completely.
With its 3840 x 2160 screen resolution, the 220-inch diagonal LM220A18 delivers 4K visuals with color accuracy and amazing depth. The result is unforgettable impact, with class-leading brightness and contrast ratio.
Featuring integrated video processing, support for PBP (Picture By Picture) functionality, which separates the screen in half—displaying output from two different source devices simultaneously on the left and right sides of the screen, along with PIP (Picture In Picture) capability, which separates the screen into two parts (one source on the main screen and the other in an inset window, the perfect presentation experience can be configured with minimal setup time. The LM220A18 provides three HDMI inputs and one HDMI output for maximum signal management flexibility.
MAXHUB LM220A18 is a 3-in-1 design that provides everything presenters might require in one package. The control unit integrates a sending card, the Android OS card, and the video processor. The receiving unit incorporates the power supply, the receiving card, and the hub board while the power unit includes the power supply, amplifier, and relay provisions. The result is plug and play installation with easy maintenance.
The MAXHUB LM220A18's audio capability is equally impressive. The display's integrated studio quality speakers enhance voice intelligibility—enabling meeting participants to hear clearly and be more engaged. With an integrated 30-watt internal audio amplifier and dual loudspeakers, the new LM220A18 ensures exceptional audio quality with studio-grade, professionally tuned clarity that must be experienced to be fully appreciated.

Samsung Display Unveils New Eco 2 OLED™ that Reduces Power Consumption, Offers Enhanced Under-Panel Camera, and Features Eco-Friendly Design
Samsung Display unveiled its new Eco2 (Eco Square) OLED™ technology, which further reduces power consumption, and offers an improved Under-Panel Camera (UPC) – a first in a foldable device – and eco-friendly design. The name of the Eco2 OLED™ display itself – Efficient power Consumption + Eco-friendly Component – highlights these benefits.
Available first to consumers as a foldable display in one of Samsung's newly announced smartphones, the Galaxy Z Fold3 5G, this pioneering technology from Samsung Display will cater to the growing demand for low-power devices in the 5G era.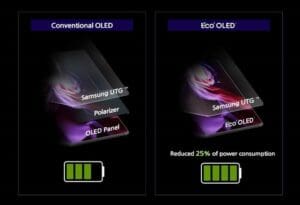 Thanks to its revolutionary, first-of-its-kind integrated polarizer, the Eco2 OLED™ eliminates the need for an additional polarizer layer, an opaque plastic sheet typically attached to displays to prevent the panel from reflecting external light, while increasing contrast and improving visibility. Instead, the Eco2 OLED™ minimizes reflection by leveraging its innovative pixel structure.
Since a traditional polarizer adds a dark layer of film on top of the panel, devices requires more light – and power – to effectively display, with the transmittance rate reduced by over 50 percent.
Based on internal tests, Samsung Display's new low-power Eco2 OLED™ improves transmittance rate by 33 percent, while consuming up to 25 percent less power when compared to previous versions with a traditional polarizer. The result is the best of both worlds – a brighter screen that drains less battery.
The Eco2 OLED™ is a groundbreaking technology that significantly lowers power consumption by improving upon panel design that has been the industry norm for years," said Sungchul Kim, President and Head of Mobile Display Business for Samsung Display, in a statement. "With the shift to 5G and devices with larger, foldable screens, the industry needs energy efficient components that offset the battery life concerns that these technologies can bring. In addition to the Eco2 OLED™, Samsung Display will continue to optimize technologies and produce organic materials that reduce battery drain."
An added benefit of the Eco2 OLED™ design is that it allows for an innovative, upgraded UPC – and the first UPC on a foldable device – with a seamless display that eliminates the need for distracting camera notches and bezels.
The Eco2 OLED™ panel not only optimizes the pixel density, but with the added benefit of eliminating the polarizer, more light is exposed to the UPC, thereby increasing transmittance on the camera module. And with minimal pixels applied on top of the camera hole, the Eco2 OLED™ provides a true full-screen design and increases viewable area so users have an unbroken canvas to access their favorite apps, entertainment, and games.
Since the polarizer layer is made of plastic sheets – and with plastic components in displays known to emit volatile organic compounds – the Eco2 OLED™ cuts down on plastic use for a healthier and more environmentally friendly product.
The Eco2 OLED™ is now a fully patented technology approved in seven markets, including the U.S., Korea, United Kingdom, China and Japan, marking a significant advance in Samsung Display's low-power technology development.
The Eco2 OLED™ will allow Samsung Display to expand its leadership in the display market worldwide and will serve as the foundation for the company's future product innovations.
Kramer launches VIA Connect2
Kramer is extending its VIA family of sharing and collaboration solutions with the launch of VIA Connect2. This newest VIA is designed to facilitate hybrid meetings and learning in the Hybrid Generation ('Generation H') for the enterprise and education markets.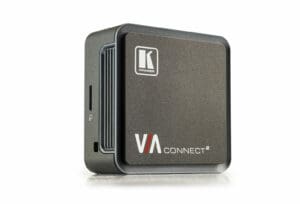 With its ease of use and enterprise-level security, VIA Connect2 enables infinite ways to engage, transforming any room into a collaborative space.
VIA Connect2 provides businesses and organizations the flexibility they require for employees, clients and consultants to engage with each other, collaborate and maintain productivity in hybrid work environments. School districts and universities have a similar need to create smart, wireless hybrid education classrooms for in-class and remote learning to strengthen student participation and engagement.
VIA Connect2 creates one Unified Communications & Collaboration (UC&C) experience, with flexibility for wirelessly sharing, engaging, and collaborating anywhere, from any device, with any video conference platform. It also features a wired HDMI input for automatic switching to an in-room 4K or HD display.
Users can Bring their Own Meeting (BYOM) either using built-in VIA apps for mobile and desktop, or app-free over local networks via AirPlay® and Miracast® for a fast and touchless connection.
Once paired, every meeting and class benefits from the VIA Connect2's ability to add professional in-room AV equipment via USB. This flexibility includes adding displays, cameras, microphones, speakers and more, delivering the best AV performance for in-room and remote participants. Alternatively, the Teams™ or Zoom® client can be launched with one click directly though VIA Connect2.
Simple, flexible, and secure, VIA Connect2 is designed for Generation H.  It enables any Windows®, Mac®, Chromebook™, Android®, or iOS® device to instantly and wirelessly join a meeting or class with enterprise-grade security. In the office, remotely from home, in-transit, or the other side of the world.
Like the entire family of VIA solutions, VIA Connect2 can be centrally deployed, managed and configured using VIA Site Management (VSM). The software management platform enables IT administrators and integrators to maintain hardware remotely via the cloud or through on premises networks.
beyerdynamic becomes Barco ClickShare Alliance Partner
beyerdynamic, a manufacturer of headphones, microphones, and conferencing products, announced that its wireless Bluetooth® speakerphone, PHONUM, has been validated to be compatible with Barco ClickShare Conference, a leader in professional meeting room visualization and collaboration solutions.
"With this partnership, we turn every room into a hybrid meeting room by merging the ability to speak freely on one-to-one calls or conducting meetings with several people with ClickShare's wireless conferencing and unified sharing experience," said Chris Norris, beyerdynamic's sales manager, Communications.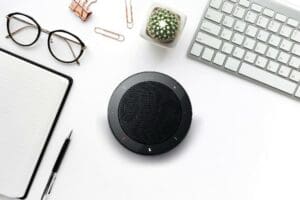 PHONUM is ideally suited for all types of discussions, meetings and presentations thanks to its highly developed and precise microphone technology and intelligent down-firing speaker. Using audio or video call apps such as Skype or Zoom, PHONUM is ideal as a portable handsfree solution in home offices, huddle spaces and small meeting rooms. It is easy to connect to smartphones or PCs via Bluetooth and USB and has excellent voice transmission thanks to Gecko 360° technology and special microphone arrangement.
Some of PHONUM's features are:
Beam-forming microphones

360-degree pickup that detects the voice of the speaker, and noise-cancels in all other directions
Everyone in a conference room can get picked up by one device – no need for multiple mics

Down-firing loudspeaker tuned specifically for human voice
Volume control and mute button right on touch-panel – anyone in the conference room can adjust volume or mute, not just the person with the connected computer
Simple connection via USB
Crystal-clear audio for people on both sides of the conference call
Compatible with all major conference call platforms (Team, Zoom, WebEx, Google, etc.)
"Barco allies with top players around the world to build the best conferencing solutions available," shared David Fitzgerald, vice president, Global Alliances at Barco, in a statement. "By combining complementary strengths with beyerdynamic, we can bring better hybrid meetings to our customers. As a result, customers can enjoy one simple, one-click wireless conferencing solutions with guaranteed compatibility for their workplace."
ClickShare Conference, the wireless presentation and conferencing hub, makes hybrid collaboration flow in one click. It removes the frictions that typically come with hosting a video conference and allows everyone to be part of the conversation, working seamlessly with any device or conferencing software and with a broad range of USB peripherals.
Extron and NETGEAR Announce Interoperability Enabling Easier Deployment of AV Over IP
NETGEAR®, Inc. a provider of networking products in the proAV market, announced another milestone for the M4250 and M4300 Pro AV series switchesj.  AV technology innovator, Extron, has certified these versatile switches to work seamlessly with NAV® Series of Pro AV over IP products creating a powerful solution for today's IP-based AV workflows.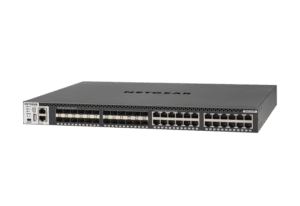 NETGEAR designed the new M4250 series switches with an easy-to-use web interface and profiles to help integrators overcome the typically tedious task of AV over IP switch configurations. The installer need only select the protocol and vendor, then select the applicable ports, and the NETGEAR switches automatically set the correct configuration parameters, resulting in less time spent by the installer on bringing up the AV system.
"AV market leaders like Extron are enthusiastic about the NETGEAR AV line," said Laurent Masia, Director of Product Line Management for Managed Switches for NETGEAR.  "Extron's products are used in a range of AV applications around the world and this interoperability certification between NETGEAR switches and Extron's NAV products will result in a higher level of system and solution assurance for customers."
Rigorous interoperability testing of the M4250 and M4300 series included not just Extron's patented PURE3® codec on their NAV platform, but also included commonly used AES67 and Dante audio setups.  Additionally, the Extron test team relied on NETGEAR's IGMP Plus™ to ensure optimal functionality for multicast implementations.
Electro-Voice launches MTS series point-source loudspeaker systems for large venues
Electro-Voice is expanding its portfolio of sound solutions for stadiums and sports venues with the introduction of the MTS series of full-range, high-output, long-throw, point-source loudspeaker systems.
Each MTS model is equipped with four 15″ woofers and dual coaxial mid/high frequency compression drivers. The system is capable of generating more than 151 dB peak SPL with exact directivity for very-long-throw applications.
MTS represents a holistic approach to loudspeaker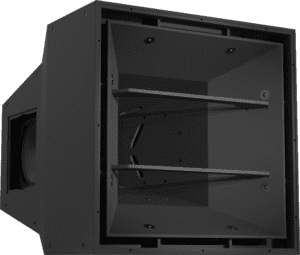 design. Loudspeaker geometry, complementary amplifier matching, and digital processing are computer-optimized to ensure precisely distributed SPL that remains balanced and controlled throughout the entire coverage area – even at full output. Four slot-loaded, high efficiency low-frequency drivers are symmetrically coupled to the same full-range waveguide as the compression drivers to create a true point-source with substantial bass response, eliminating the need for additional subwoofers in many applications.
The MTS series includes sixteen unique models. These are based on two standard three-way configurations (MTS-4153) with 60° x 40° or 40° x 30° coverage, and two cardioid configurations (MTS-6154) that provide the same coverage patterns with enhanced low-frequency directional control.
The 60° x 40° models can deliver extremely high SPLs: 151 dB peak (music) and 154 dB peak (speech) down to 55 Hz at -10 dB; the 40 x 30 models are capable of 152 dB peak (music) and 155 dB peak (speech) down to 50 Hz at -10 dB.
Each version is available with black or white finish, and each is available in a partially weatherized (PW) version for sheltered use or in a fully weatherized (FW) version for full exposure to the elements.
All MTS loudspeakers have an IP55 rating, indicating that they are highly impervious to dust and water ingress.
The MTS series leverages EV's engineering resources as part of the Bosch Group. The loudspeakers were designed using exclusive High-Performance Computing (HPC) clusters, running proprietary modeling software designed by EV engineers.
The engineering team iterated hundreds of FEA simulations to achieve ideal system performance. This work led to new EV technologies, including the dual lossless Hydra waveform converter that that drives a large constant directivity waveguide with a coherent arc source, ensuring pattern control to below 350 Hz.
MTS design files are available now for project planning. MTS begins shipping in Q4 2021. Talk to your regional EV rep for more details on availability.
Audio Visual Projects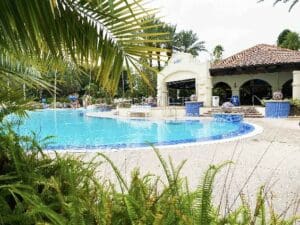 The Hard Rock Hotel knows how to rock, and they needed a system that could keep up with their parties and events that would not compromise on quality. The Lead Engineer worked with K-array before and insisted that K-array would provide the perfect solution for the project.
Fed up with their old, portable system that had to be set up for every event, the Hard Rock needed a permanent install for their pool deck area that could easily switch from background music to live performers/DJs. They also needed weatherproof solutions as this resort gets ample rain and sun.
The Hard Rock Hotel is known for its focus on music and a fun, party vibe. The Beach Club rocks day and night now with 4KY102Ws, 4 KF210s, 4 KU212 subwoofers (to really feel the bass), all hooked up to a KA84 amp.

People and Places
DCC Technology forms Exertis North America Business Unit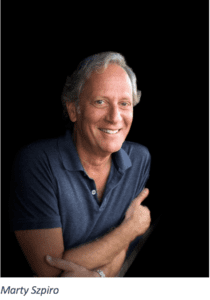 DCC Technology, an international technology distribution specialist announced the formation of a new business unit, Exertis North America, to manage the operations of its recent acquisitions of Jam Industries and Stampede.
Marty Szpiro, the long-time President and CEO of Jam Industries, is stepping up to serve as President & CEO of Exertis North America. Stuart Frenkel, Jam Industries' current CFO, will become the new President of the renamed Exertis/Jam. Stampede, which rebranded as Exertis in 2020, will operate under the Exertis Pro AV banner led by John Dunne, its President and Managing Director.
Exertis entered the North American market in 2018 with its purchase of Buffalo, New York based Stampede, a leading nationwide Pro AV distributor. The same year, it acquired Montreal, Canada based Jam Industries, the leading Pro Audio, MI and CE distributor in Canada and the US. Both businesses have since grown organically and by acquisition including the acquisitions of JB&A in San Francisco and The Music People of Hartford, CT within the last year.
Expanding "Plug-in to Exertis ProAV & Tech Tour" Highlights Growing Range of AV, Broadcast, and Enterprise Solutions!

The traveling technology roadshow, Exertis ProAV  announced the Big Book of AV Tour & Conference Series will now be called the "Plug-in to Exertis ProAV & Tech Tour" that kicks off in Chicago on September 15 before proceeding to New York City on October 15, Los Angeles on November 10, and Atlanta on December 16.  Registration is now open for Chicago here.
"The acquisition of JB&A Distribution significantly strengthens our ability to serve resellers as a complete one-stop source for all their AV, broadcast, production and networking solutions," stressed Exertis North America Senior Vice President of Marketing Ashley Flaska, in a statement.
"Just as important, as a global brand, Exertis plans to continue the expansion of the Plug-in series of events in markets around the world to support our specialist business units."
In Chicago the tour will take place at the Westin Chicago Northwest, Itasca, IL.  Locations for the New York, Los Angeles and Atlanta stops will be posted shortly.
The New York City Plug-in to Exertis tour stop is part of NY Digital Signage Week. In addition, attendees will see Exertis at the Global LED Summit as well as the DailyDOOH Gala Awards in NYC on October 14.
"Vendors participating in all or some of the Plug-in to Exertis tour features manufacturers across all major product categories, including Atlona, BOSE, BrightSign, Draper, ELMO, HuddleCam, InfiLED, Jabra, JOAN, Legrand, LG, Lumens, MAXHUB, Mustang, TAPit, MaxHub, Newline, NewTek. Optoma, Osprey Video, Planar, Philips, PTZ Optics, Quantum, Samsung, ScreenBeam, Sharp/NEC, SONOS, SHARP and Telestream.
The "Plug-in to Exertis ProAV & Tech Tour" features exhibits from industry leading manufacturers from every product category in addition to CTS certified training sessions. This full day conference provides resellers the opportunity to meet one-on-one with manufacturers providing the latest technologies for audio, video, display, projection, lighting and staging, digital signage, conferencing, digital content creation, networking, signal distribution, and much more.
Each attendee receives a $500 Exertis Credit for attending the event, with a limit of one $500 credit per Exertis Account. Credit can be applied to any order over $5,000 placed with Exertis within 30 days following the tour stop. Limit one credit per customer account.  Each attendee can also earn a $50 American Express Gift Card just for attending the show.  In addition, each attendee is automatically entered into a drawing to win a 55" 4K UHD TV.
If you enjoyed this article and want to receive more valuable industry content like this, click here to sign up for our digital newsletters!